Are you worried that your precious and expensive flooring wouldn't last long? Or is it too noisy upstairs? No matter what the problem is, the solution is to install the best underlayment for hardwood floors.
We have reviewed different types of underlayment to meet different requirements. For moisture protection, sound resistance, and increasing the flooring's longevity, you should install it.
In this article, we have covered different underlayments so that everyone can find a suitable option. From thick to thin, expensive to inexpensive, our review has everything homeowners may need.
Another interesting read: Best Joint Compound For Skim Coating
Do I Need an Underlayment for Hardwood Floors?
Is underlayment necessary for hardwood floors? There is no straight answer to that question. Because it depends on the floor material and the quality of the hardwood. Some companies require you to have underlayment with specific features to install the floor.
If you are nailing down the floor, you probably won't need an underlayment. However, there are several benefits of using it before installing your hardwood floor.
The most useful cases of using underlayment are engineered or laminate floors. It is wise to consult with a professional in your area and follow his/her guidelines. Before we start the best underlayment for hardwood floors reviews, let's talk about the benefits.
Best Underlayment for Hardwood Floor:
1. Roberts 70-193A Super 360 sq 60 in. x 72 ft. x 3 mm Felt Cushion – Best Underlayment for Hardwood Floors
Roberts 70-193A is the best underlayment for hardwood floors for its moisture-resistant and sound-absorbing capabilities. Whether it is a concrete or wooden subfloor, you can use this product to protect your hardwood floor.
A full roll of this super felt cushion can cover up to 360 square feet of floor. We won't say that it is the cheapest product on the market, but the overall cost is definitely reasonable.
It assures that both the IIC and STC test results are satisfactory and are enough to install in the residential areas. Its 3mm insulating layer can decrease the intensity of the sound above it dramatically.
If you care about nature, you will be glad to know that this product is made from recycled fibers. The manufacturer uses a special manufacturing process called the high-heat compression technique.
That is why it can effectively stop moisture from passing. Also, it keeps the floor comfortable in both winter and summer seasons. Every roll has a 1¾" adhesive strip and a 3″ overlap for easy installation that helps link multiple units.
Finally, you may have seen some people talking about how difficult it is to cut the material. The reason behind their complaint is the use of normal scissors or knives. Use a utility knife, and you won't face a single issue. Moreover, having no grid lines may seem troublesome, but you can solve it by using chalks.
Pros
Easy to install
No additional adhesive needed
Ensures even ground
Firm and stable
Cons
Summary
If you care for quick and effective seaming, you will love this one with adhesive strips and overlapping plastic. It is easy to install and made with durable, high-quality materials so that you don't have to worry about it for years.
2. Schluter-Ditra XL 5/16″ Underlayment 175sqft Roll by Schluter Most Durable Underlayment
Sale
The main reasons for not choosing Schluter-Ditra XL as our top picks are the expensive price tag and hard-to-cover edges. It also doesn't have any adhesive strips, so you need to buy additional items for installations.
But this one has other good reasons to use as it is one of the most suitable underlayments for your hardwood floor.
Homeowners who are planning to install a 3/4″ thick hardwood flooring should buy it. The underlayment has a grid structure making it easier to measure and cut during installation.
The roll has up to 175 sq. feet of products with gridlines. Moreover, this one's thickness is 5/16 inches, which is perfect for ¾" hardwood floors.
Among the major benefits of this underlayment, notable ones are water resistance, heavy load distribution capability, and moisture resistance.
The design and making of this product make it easy to install and use. Due to its polyethylene uncoupling membrane, the whole process becomes less hassle. You can also easily make the ground even where the subfloor is not.
Pros
Durable
Easy to use
Prevents moisture
Easy to cut
Lightweight
Cons
Summary
Uncoupling, waterproofing, and vapor management come at a price, and Schluter-Ditra XL is the proof of that. Get this expensive but easy-to-install underlayment for the maximum protection of your hardwood floor.
3. FLOORLOT SHOP. FLOORS. DELIVERED. 200sqft 3mm Laminate Flooring Vapor Barrier Underlayment Best Budget-Friendly Foam Underlayment
When we were having a hard time finding a product that would cost less yet have the basic features and specs, we suddenly found this one. The cost per sq. feet is unprecedented. Don't underestimate by assuming poor quality because your assumption is wrong.
It has a thickness of 3mm, and the foam material works perfectly to protect the gap between the floor and subfloor. Every roll has an area of 200 sq. feet, which is very easy to install.
Its build quality and material feature make it absorb sound to a helpful extent. Moreover, the package includes overlap and tape so that DIYers can install it without any professional help.
Pros
Good vapor barrier
Easy to install and use
Reasonable pricing
Sound barrier
Cons
Summary
Finding 3mm underlayment for hardwood floors that costs only $0.20 per sq. feet is tough. But here it is, gets this product that covers a lot of space and comes with the necessary features as the top picks.
4. Manton Cork Underlayment, 100% Natural Best Cork Underlayment for Hardwood Floors
Cork underlayment is very special because they are environment-friendly, and the material is recyclable. Apart from working as a moisture barrier preventing damage to the hardwood floor, it works as a sound barrier.
Those who are planning on installing a radiant heat system should consider this product because of its compatibility. You can do the whole thing all by yourself if you have the right tools and mindset.
The compression protection feature also reduces cracking chances due to stress. You can easily and quickly place it on the subfloor without needing a special cutting tool.
Pros
Compatibility with radiant heat installation
Easy to cut
Versatile usability
Quick installation
Cons
Not-so-good sound-resistance
Summary
If you want flooring where the people downstairs can't hear your footsteps, you should go with this cork underlayment for hardwood floors. It is a bit pricey, but you won't regret its benefits. The easy cutting and installation of the product make it an all-time favorite for DIYers.
5. STEICO Wood Fiber Flooring Underlayment Best for Absorbing Sound
Till now, we have seen different types of underlayment with some common features. But those who are particularly looking for a product that can offer superior sound resistance must check this one out.
It is a 6mm thick natural, eco-friendly soundproof padding that is made from wood fiber. Because of its material properties, you won't have to worry about losing its shape over time.
After a US-certified test that involves storms of challenges, you can now rely on its processes. Also, it doesn't contain any poisonous emissions, VOCs, glues. It is very lightweight and easy to handle.
Without any expert help, one can install it easily by leveling, cutting, and nailing it to the wall or ground. You can even use it under your carpet besides hardwood flooring.
The product can naturally prevent mold and mildew growth, maintaining a proper airflow throughout the layer. So, you can keep the environment of your house healthy as well as be a good neighbor.
Pros
Quick and easy installation
Easy to cut with simple scissors
Great sound absorption
Proper air circulation
Cons
Creates green dust for a few days
Summary
No other product on the list has the same level of sound-resisting capability as STEICO Wood Fiber Flooring Underlayment. Also, if you don't want a springy feel while walking, you must get this one.
What Are the Types of Underlayment for Hardwood Floors?
There are mainly 4 best underlayment options for hardwood floors to consider: felt, foam, cork, and rubber. Let's talk in detail about what to put under hardwood floors.
Felt
The main benefit of felt-type products is that they are great at preventing moisture from reaching the hardwood, engineered, or laminate flooring. From expensive to budget, you will find all in this category. Though felt underlayment resists sound, it is not as effective as the cork or rubber types.
Foam
Foam underlayment is almost like felt, and the only difference is that felt is denser than foam. Also, the felt type is made from recycled material, making it more environment-friendly.
Cork
Cork underlayment is not as durable as felt ones, which is why it comes second in terms of popularity. The main benefits of this type are great sound absorption and renewability. Depending on your requirements, you should select the thickness of the product.
It is the best category for those who want green products to renovate their homes, offices, or studios. Also, cork type is great for cold and hot insulation making the floors comfortable in all weathers.
Rubber
It is the least popular type of underlayment because of the cost. The same features and benefits are available in felt products. For that reason, we did not review any product from this category. However, it also resists sounds, almost like the cork type. If you want, you can check out IncStores Pre-Cut 100 Square Foot Rubber Underlayment Rolls for Hardwoods.
Another must-read: Best Underlayment for Metal Roof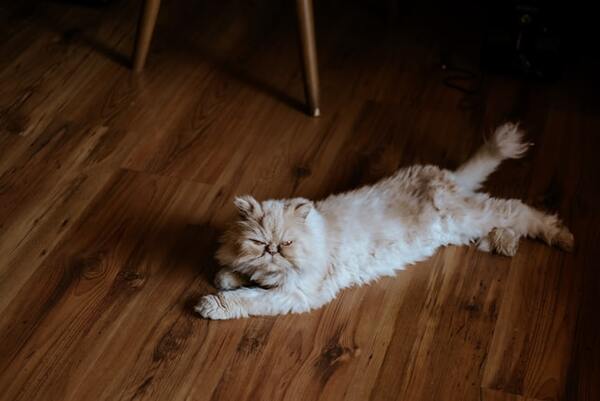 What to Consider While Buying the Best Underlayment for Hardwood Floor
The best underlayment for engineered hardwood floors on concrete is easy to find if you know some product characteristics. Here, we have listed the parameters we ensured while making our top list.
Subfloor material
First of all, the subfloor condition and material are important because you need to choose the underlayment material based on it. Here, we are only concerned about concrete subfloors as it releases moisture over time. If you are installing hardwood floors over a concrete subfloor, you should lay a layer of moisture-resistant underlayment in between.
For the plywood subfloor, the wisest choice is to go for semi-permeable materials. That is how the air circulation keeps optimum, preventing mold, and mildew growth.
Purpose of the room
The location and use case of the room is another factor to consider. Upper floors in a multi-storied building should get something that can absorb sound. Based on the intensity of the situation's sound or sensitivity, you should decide the thickness of the sound-resistant underlayment.
Requirement for heating
Not all but some underlayment is compatible with a floor heating system. If you live in a cold region, you may want to install a radiant heating system. So, consider this parameter while finalizing a product for your home.
Meet the manufacturer's requirements
It is also important to keep the standards defined by your floor manufacturer in mind. Otherwise, you won't be able to claim the warranty and end up spending more cash. So, don't always go for the cheap ones, and buy only the ones that meet the manufacturers and building requirements.
Budget
Finally, a budget per square foot will help you make a final decision. Those who don't have the restrictions by their floor manufacturers can have anything they like. In our reviews, you will find different products with different price tags.
What Are the Benefits of Using Underlayment for Hardwood Floors?
Among many advantages of using an underlayment for hardwood floors, we have discussed the most significant ones.
Moisture Protection
Concrete subfloors release moisture that gets trapped during construction. So, it is a must to install underlayment and prevent moisture from damaging your wooden floors.
Noise Reduction
Some types of underlayment are very effective at absorbing sound. If you have a multi-storied building and the floor makes a lot of noise when someone walks on it, you should use this product and remodel the floors. These are so effective that people also use them in between the walls' hollow layers to make a soundproof room.
Compression Resistance
Some apartment areas have heavy traffic, which means that those are common spots that everyone passes frequently. These areas are more susceptible to get compressed, creating uneven ground. By installing the right type of hardwood floor underlayment, you won't have to worry about your hardwood floor ever again. With this product in between the floor and subfloor, no spots or areas get compressed.
Cover-Up Imperfections
While constructing subfloors, they stay uneven in some spots most of the time. That is where the underlayment help making it even and help the main flooring be even.
Provides Stability
Floating floors are prone to more damage and expansion, making them unstable. Here, underlayment works as a stabilizing joint between the subfloor and floating floor. It doesn't let moisture or external pressure damage the floor material and ensure stability.
Insulation Compatibility
Wooden or other types of floors stay uncomfortable to walk on bare-footed most of the time. So, people prefer radiant heating systems under the floor, and some underlayment is compatible or supports that arrangement.
How Do You Install Underlayment On Hardwood Floors??
Installing the best underlayment for nail-down hardwood floors is easy if you have the right tools. Let's see how to install without the help of a professional.
Step 1: Firstly, lay the product perpendicular to the hardwood to get the best results.
Step 2: Secondly, nail down one end of the underlayment to the wall and roll down it to the other end of the room.
Step 3: Next, pull off the self-adhesive strip, fold the sticky part over, and stick it to the next one.
Step 4: Finally, repeat the above 3 steps until you have covered the whole room and you would be ready to install the hardwood floors.
Conclusion
Considering all aspects, Roberts 70-193A is the best underlayment for hardwood floors. However, there are other models on the list that are specialized in different features.
Some are more durable, some have sound-absorbing capability, and some do not need professional installers. So, which one do you need? Set the requirements and order at the best available price from our links.
Another must-read: The Best Basement Wall Sealer