Are you searching for a chainsaw that suits you? Then you might be confused to choose between an electric vs gas chainsaw. And you know, you're not alone in this group to select between them.
People always get confused while choosing between Electric vs Gas Chainsaw. Both of these chainsaws have unique characteristics. A user needs the perfect tool for his job to get it finished.
So, you should read this article to know in detail about both chainsaws. The factors that need to be considered before buying a chainsaw are described properly in the article.
Another must-read: Echo vs Stihl Chainsaw
Electric Chainsaw
Sale
If you are looking for a lightweight and easy-to-use chainsaw, then an electric chainsaw is the way to go for. It is suitable to cut down trees, and it's a matter of joy that it doesn't need any power source nearby where you're going to use it. Using an additional cord or multi-plug may increase the chainsaw's range, though the range is still not much compared to other chainsaws.
However, you'll also find cordless electric chainsaws in the market. Unlike an electric cord chainsaw, it can be used wherever the user wants. Though the battery cannot hold power for longer, and the cordless chainsaw runs out of charge pretty quickly.
Electric chainsaws, corded or cordless, should not be used in the rain. The water can damage the chainsaw and cause a short circuit. As a result, accidents may happen due to this chainsaw. So, users must be extra cautious about rain and dump places.
Pros
Electric chainsaw can easily cut down branches that are situated on higher elevation.
It does not need much maintenance.
Only pressing a button can turn the chainsaw on and off.
It does not produce much noise.
Cons
Electric chainsaw is not suitable for jobs that have a bigger scope.
Cordless saw cannot perform more than sixty minutes.
Why We Like It
An electric chainsaw is suitable for a family to use in their house. It does not make much noise, so the neighbors will not complain. It does not need much maintenance.
So, it saves people from spending the holidays cleaning their chainsaws. However, it comes with easy and comfortable maintenance. The chainsaw is easy to start and stop. Only a click on a switch is required to turn it on or off.
Gas Chainsaw
If you are looking for a chainsaw that can do bigger tasks, then a gas chainsaw should be your pick. It will make a lot of noise, so it might not be suitable for a residential area. Gasoline and oil mix are used as the fuel of gas chainsaws. However, you need to break the volt to purchase fuel for this type of chainsaw.
Pros
Gas chainsaw alone can cut down big trees with many branches.
You can work with this tool for a long time until you need to inject fuel.
Users can choose the bar length they prefer.
Cons
The chainsaw will create a lot of noise.
The cost to maintain the chainsaw is relatively high.
Why We Like It
A gas chainsaw is suitable for people who use a chainsaw for tasks that have a bigger scope. For example, a small forest behind the house needs to be cut, and a gas chainsaw is a tool for you.
It can cut down big trees that contain many branches. A gas chainsaw can work continuously. It does not need time to get recharged. Based on the user's preference, they get the chance to pick the perfect bar length for themselves.
The Race Between Electric vs Gas Chainsaw
Choosing the perfect chainsaw between electric and gas chainsaw is important. If chosen the wrong chainsaw, then the job will not be done; instead, it will increase the probability of accidents occurring.
If you need a chainsaw to clean the soft bushes beside your porch, then an electric chainsaw is the right pick. On the other hand, if you have a small forest to clear with a chainsaw, then an electric chainsaw is a bad pick. You should consider getting a gas chainsaw to get the job done.
Factors that should be considered while choosing between the above two are given below:
Cutting Speed
However, it's one of the important factors that you should think about before buying a chainsaw. The test was conducted in three sets so that the judgment can be fair. Three different wood types were used to cut by both the chainsaws to find out which can cut faster. After three sets of tests, the result was found that both the chainsaws have almost equal cutting speed.
Ease of Use
The tool you're going to purchase should be easy to use. Here, you can turn on and off an electric chainsaw with a single click. The gas chainsaw does not have a switch to turn it on. In most gas chainsaws, a wire needs to be pulled several times in order to turn on the chainsaw. This process is not very handy. So, the electric chainsaw is the clear winner here.
The electric chainsaw is lightweight. So, it is easy to work with. It does not create much noise either. So, an electric chainsaw is suitable for a family house. The gas chainsaw is heavy. When you work with this tool, it'll create a lot of noise. So, it is usually used in shops or factories.
Workability
The electric chainsaw does not need any fuel or water. It only takes electricity to run. However, the chainsaw needs to be connected to electricity all the time. As a result, the chainsaw can only be used within a small area.
A gas chainsaw is perfect in this sense because it doesn't require any electric connectivity. So, the user can take it anywhere they want and do their job. It provides this freedom to users.
Besides, you don't need to refuel it many times. Usually, the gas chainsaw has a large fuel tank that contains enough fuel to run the chainsaw for a longer period of time. So, the gas chainsaw is the winner in terms of workability.
Appearance
The appearance looks nice in an electric chainsaw. It is a small chainsaw that will be used for small tasks. So, the producer tries to make it eye-catchy to its customers.
The appearance of a gas chainsaw is not so great compared to an electric chainsaw. For example, different size bar length is available for different tasks. The goal of the gas chainsaw is to get the hard tasks done. So, the gas chainsaw sells itself.
Maintenance
The electric chainsaw does not need much maintenance. The user does not have to pay maintenance costs for an electric chainsaw. Cleaning the machine after use is enough in terms of an electric chainsaw.
The gas chainsaw needs maintenance. As it is a machine that runs from fuel, so the fuel should be changed from time to time. As the gas chainsaw does hard tasks, the blades need to be clean and sharpen during free time in order to maximize the outcome.
Another interesting read: Who Makes Echo Chainsaws? 
Safety Measure
According to statistics, over thirty thousand accidents related to chainsaws occur every year only in the United States of America. So, safety is a concerning issue above all. A machine is great to make our life easier, but it can easily cause accidents that might cause permanent damage to our lives. So, people must consider safety measures before choosing a chainsaw.
The electric chainsaw is lightweight. So, it is easy to transport. The electric chainsaw is not so powerful, so even an accident occurs with an electric chainsaw; the damage will be minimal.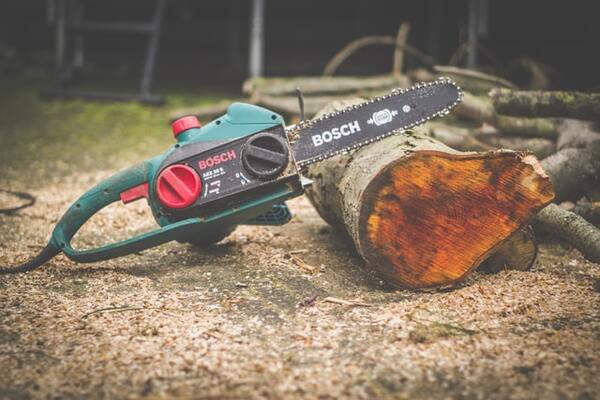 Who's the Winner?
The gas chainsaw is known for its workability. The goal of using a chainsaw is to cut heavy thick trees at ease. If an accident occurs while using a gas chainsaw, the injury might be fatal. People may lose their life as well.
The chainsaw comes with several safety measures to prevent accidents. For example, a chainsaw comes with a chain brake feature. The chain brake is there to prevent accidents due to kickback.
While working with a chainsaw, if the chainsaw is not handled properly, the chainsaw might be thrown back towards the user. This phenomenon is known as a kickback. It might cause major injuries to the user.
So, the chain brake feature is there to turn off the chain if kickback occurs. Push back, pull in are some other phenomena that may occur while using a chainsaw.
Different safety measures are provided in different chainsaws. A user must choose a chainsaw that ensures enough safety measures for himself and others around him.
Final Words
Hopefully, you've a clear idea about gas vs electric chainsaws. So, the electric and the gas chainsaw are not to be compared where these two are suitable for different types of tasks.
A user must identify the factors he should consider before choosing which chainsaw to go for. An electric chainsaw is suitable to do household tasks. A gas chainsaw is suitable for large tasks that need a stronger tool.