It's quite essential to know how to convert a garage into a bedroom without removing the garage door before you start working on the project. Without knowing the steps and proper planning, it might end up in a mess and costly approach. Don't be troubled.
In this article, I'm going to show you ten simple steps to do the garage conversion properly. I'm sure it will help you to make a foolproof plan and save some money in the process. Without any further delay, let's get straight to the business.
How to Convert a Garage into a Bedroom without Removing the Garage Door?
1. Set Your Plan & Apply For The Necessary Permission
Without proper planning beforehand, the conversion is not going to work for sure. If you want to complete the conversion without many hiccups, do some paperwork first. Set your plan and write down those on paper.
Consider budgeting the whole project as you have to include some objects to the room like windows, ventilation, etc. You have to raise the floor, insulate the wall, decorate the room, add heating, and cooling systems, and all these.
So, writing down the estimated cost and preparing with the money before starting the project would surely be a good idea. Next, consider taking the necessary permission related to converting a garage into a bedroom.
Complying with the local code is essential to avoid any unwanted circumstances. Depending on the location, you may have to take assistance from an architect to get proper floor planning before applying it for permission.
The plan should reflect the building codes regarding the number of windows, exits, entry points, the total number of outlets, height from the floor to ceiling, etc. You have to meet the zoning requirement, and to get the proper information in this regard; you better go to the city's zoning department.
The cost of garage conversion varies. If you need any variance, then it will cost even more. This way, you have to do all the prior tasks before starting the garage conversion.
Another interesting read: Best Paver Sealers for a Wet Look
2. Consider Your Utilities
No wonder your garage doesn't have the same number of utilities like outlets as your existing bedrooms have. So, to convert the garage into a bedroom, you need to consider including all the utilities.
You might have a few lights and one or two outlets in your garage. Consider adding some more outlets of different types like three-pronged, two-pronged, or GFCI, etc.
You will have to install the required switchboards too. Not to mention, you need to consider adding an air cooler, room heater, fan, more lights, ventilation, etc. Depending on your location, all these might be subject to take permission based on the local codes.
3. Add Insulation
Since you are converting a garage into a bedroom without removing the garage door, you must insulate the garage door. Otherwise, it will cost you extra money both in winter and summer.
It's a proven fact that insulated garage doors help to keep the room warmer in winter and cooler in summer. You don't want to miss this opportunity, right? Fortunately, you will get a high-quality insulation kit for your garage door from various brands.
You must consider insulating the wall and ceiling. One effective way to reflect some of the heat is to paint the outer part of the garage door white.
4. Build a Wall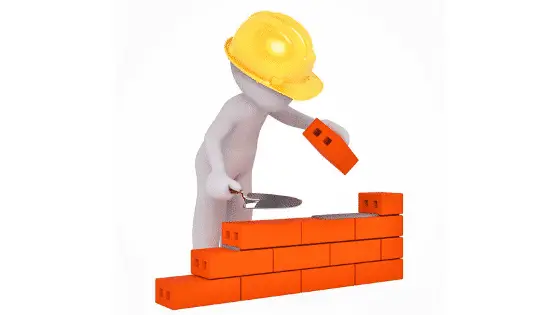 Building a wall around your room is a compelling idea to add some more insulation to your house. How? Look, if you build a wall keeping a distance from the garage door, it will offer some extra insulation, and it will help the room soundproof too.
If you make a wall a few feet from the garage door, you can easily use that space as storage too. So, building a wall won't hurt you too much but will give you several benefits. On the downside, it will eat up the room space and make the room smaller.
5. Water Seal/Waterproofing
You must consider waterproofing the room entirely if you don't want any mess during the rainy season. Waterproofing includes not only upgrading the roof but also bottom sealing the garage door.
If your garage door is already bottom sealed, then no need to worry about this. But if not, then consider adding a bottom seal. A door bottom seal can be of different types like – T-type bottom seal, J-type bottom seal, bulb seal, bead seal, etc.
If you have an uneven floor and want to install a door bottom seal, then this guide on bottom sealing uneven floors will help you to understand the whole process.
6. Design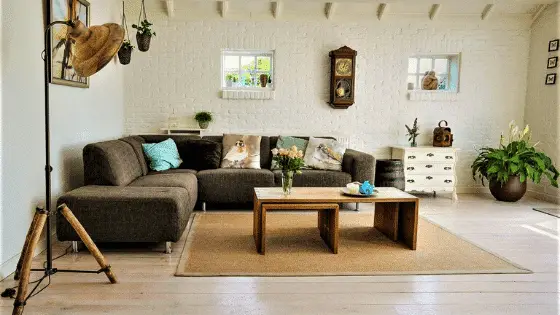 Either you can make a whole new design and decorate the room accordingly, or you can convert some of the existing garage interiors into a bedroom like the design. It depends on your needs, taste, and of course, budget.
Building a wall that I discussed above will surely help you to do the design. However, doing something extravagant won't be a wise step for sure. Look, converting a garage into a bedroom itself is somewhat costly. That's why I don't prefer doing so many things regarding designing if you are on a budget.
Nonetheless, if money is not an issue, you have all the liberty to hire even an interior designer to do the task correctly.
7. Flooring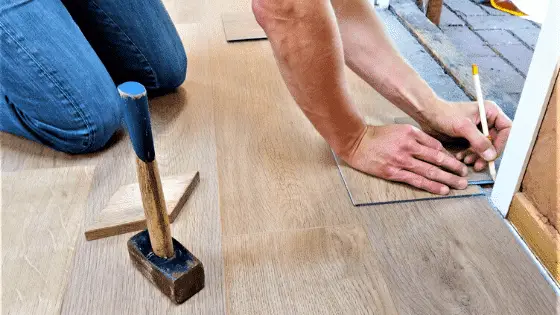 If your garage floor is uneven, then what?s quite usual. Nevertheless, it's not something you want for your bedroom. For your bedroom, you will want to even the floor by adding to it. Raising the floor will let you add some insulation as well.
Luckily, you have several handy flooring materials like hardwood, bamboo, carpet, stone, vinyl, cork, etc. to upgrade the floor. Keep in mind, once you are done with the flooring, you should be able to close and open the garage door without any trouble. Otherwise, consider any alternative flooring option.
8. Lighting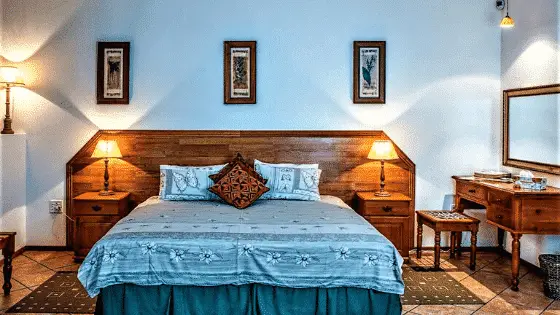 To make the room usable at night, you must add some room light. However, for daytime, you have three options. Either you will want to get the natural lights, or you want to use the electric lights or both.
Typically, a garage doesn't have enough windows or no window at all. So, to get the natural light, you have to make windows if possible, considering the scope and permission from the authority.
If you can't make a window for any reason, consider using some room lights of different shapes. Or you can go for making a window and installing electrical light both at a time.
9. Paint Job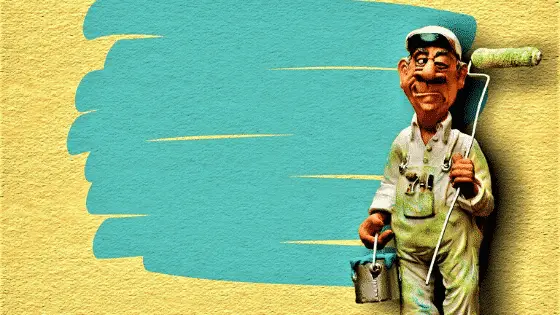 Painting the whole room with the door is essential to increase the aesthetic of the room. As I said earlier, you should paint the outside of the door white to let the heat reflect. I will help during the summer. The color inside the room entirely depends on your choice of color.
I don't prefer dark colors and want to keep the room always light. But as I said, it?s totally up to you.
10. Arrangement
Now it's time to implement all the plans adequately based on the guidelines I've provided above. Don't rush. Arrange the utilities, necessary furniture, and other items properly to get a better room for living.
Frequently Asked Questions (FAQs)
How much does it cost to convert a garage into a bedroom?
It depends on several factors like – the room size, the professionals you need to hire for different tasks, the cost related to taking the permission if you require plumbing, kitchen set up or not, etc.
If it's a DIY project, then the cost will range from $5000 to $19,000 (as per HomeAdvisor). So, the thing is you need to plan according to your budget.
You can easily restrict the cost to $5000, including permission costing. Taking permission requires something between $1000 to $1500.
What is the best flooring for a garage conversion?
You have the liberty to choose from several types of flooring for a garage conversion based on the nature of the converted room.
You can go for options like – acid-stained concrete, floor tiles, epoxy floors, vinyl, carpet, wood, ceramic tile, stone, etc.
If it's going to be a bedroom, then you can choose either wood or carpet for flooring for safety and comfort.
Do garage conversions add value?
Not really. Yes, garage conversion has multiple benefits, but at the end of the day, it doesn't add any significant value.
Converting a garage into a bedroom is easy and can be a DIY project, and it adds up to your living space. As the basic structure is already there, it would save some of your money and time too. However, it won't increase your property value. Instead, you will have to sacrifice some storage space and parking space.
How long does a garage conversion take?
You have to make plans, apply for the necessary permissions, do the flooring, build the wall if required, insulate, waterproof, so and so forth. Everything might take anything between 2 to 4 weeks to complete the garage conversion.
Can I put the carpet in my garage?
Yes, you can. Using a carpeted floor has both its upsides and downsides. Nonetheless, so many people use carpets on the garage floor. It makes the floor soft, works as an insulator, absorbs the noise, is easy to vacuum clean, etc.
On the downside, chemicals can damage the carpet over time, and it's difficult to remove the oil and grease mark from the carpet.
Final Words
So, these are all the steps involved in converting a garage into a bedroom without removing the garage door. If you've gone through the steps, I'm sure it's an easy-peasy job for you now. Nevertheless, it costs some money, and you can always minimize the cost by not making any expensive modifications during the process.