Whether you are an occasional woodcutter or a professional woodman, you know how important it is to have a sharp splitting maul. But the unfortunate fact is that splitting mauls cannot keep their sharpness forever. That is why you have to sharpen your favorite maul from time to time.
Sharpening a maul, however, is not an easy task if you don't have previous experience in this field. And to help you avoid troubles while sharpening your maul, we have come out with 3 of the best methods of sharpening out there. Let's go deep into the article to know more.
Different Way to Sharpen a Splitting Maul
There are different ways to sharpen a splitting maul. I am briefly discussing the three best ways to sharpen a maul. If one follows these steps carefully then one must do that oneself.
These ways are:
Easy Sharping Method
Middle Sharping Method
Exhaustive Sharping Method.
To make easily job done, one should follow properly any of the methods among the three methods.
Another interesting read: Differences between a hookaroon and a pickaroon
1. Splitting Maul By Easy Sharping Methods
Bastard File is the main tool to do this job by hand. In the market, there are many sizes of Bastard File. But we suggest 12 Inches that are the right size. This Bastard File is not only used to sharpen a Maul but also all kinds of related tools and cases.
Step 1: Take a table, if you are stand. Or take a bench/stool, if you are sit. This may depend on your flexibility. Now keep the splitting maul on the table/bench/stool. Noted that, place the maul as a way so that the sharp edge is at the right side of your body.
Step 2: Make sure the slight angle of the maul as like upward fashion. Now rub the Bastard File across the edge of splitting maul. To get the best performance, you may use fluid strokes. You should start run the Bastard File from the closest edge. Finally, stop at the verge. Do this process again and again. Approximate 50 times have to do and stop. Now check the edge but don't touch. Because maul and File friction will generate high heat.
Step 3: Now turn the maul and do this process again. This is an easy process but does not mean ineffective. By this process, your maul must have to be sharp that perfectly carve any timber easily.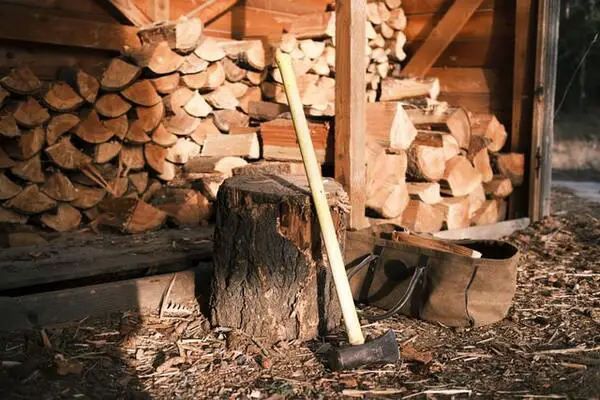 2. Middle Sharping Methods
To perform this method, you need two sharpening tools. One is Grinding Wheel (Angle Grinder On Amazon) and another is a round hand sharpening stone (wet puck) and safety gloves. Grinding Wheel is used to grind the splitting edge of the maul. A wet Puck is used to removing any burrs or rough edges due to grinding.
Step 1: Set up the Grinding Wheel. And tightly lock its nut with C-clamp.
Step 2: Everyone should consider that Safety is First. So, firstly, cover your two hands with gloves as well as use safety glasses to protect your eyes. Now, Switch on the grinder and bring the splitting edge of the maul to the rotating wheel.  Remember that, maximum 10 seconds is enough time for one edge. Turn the maul and repeat the same process for 10 seconds.
Step 3: Add water on sharpening stone. Now look over the maul edge. If you think that maul edges sharpen perfectly then use the lighter side of the stone. Otherwise use the dark side of the stone to make sharper as circular clockwise rotation. Continue the process for both sides to reach your desired level.
Another must-read: Best Wood Axe Brands
3. Exhaustive Sharping Method
The necessary tools for this method are the Bastard File, Grinding Wheel (Angle Grinder On Amazon), Round Hand Sharpening Stone and Honing Steel. it's not only an exhaustive method but also exclusive. Because after completing this method, the splitting maul will be such like you can cut your fallen hair. Let me remind you again that "Safety is First". So put the gloves on your hands and use protective glass on the eyes.
Step 1: Firstly, Follow the Easy Sharpen Method that are enlisted. After that follow the instruction of Middle Sharpen Method.
Step 2: We may know about the honing steel. It's completely manufactured from steel but not coated. Basically it is used for knife sharpen when a knife loses its sharpness a little bit. If you see a point of rough edge on the maul then just at that point rub with honing steel. This process is similar to the knife sharping. You may do it 5 to 10 times for perfect results. But if you don't reach your desired level then you may continue.
If you follow one of these processes then you must get a good result. Someone uses the belt sander to make sharpen more but I don't suggest it. It may harmful to maul because extra sharpness may cause of brake down.
The lifetime of a maul depends on many facts. One of the remarkable reasons is that how perfect maul have you bought. Nowadays, many brands say they are the best. Now, I will tell you about the best brands of maul. you can buy it without any doubt.
If you're still unable to sharpen your splitting maul then you should buy a new one and here is our top pick for splitting maul:
TABOR TOOLS Wood Splitting Maul
Tabor Tools is a very familiar brand in the tools industry. Maul is one of the best products of them. They have added some extraordinary features to make it different from others. Its total length is 35 inches whereas 32 inches is the fiberglass handle. As a result, it is ideal for any type of user like taller or small. If you want then you may split the handle for your flexibility.
The main attraction of TABOR MAUL is a nearly unbreakable handle. It must help to keep away free from mental tension at wood cutting. The handle is covered by a non-slip rubber grip which reduces hand strain and shock absorbent. It has an optimal anti-shock surface structure to ensure user comfort.
The total weight of the maul is 8.95 pounds. The head of this maul is fully balance-able because it is made of steel-cut durable materials.  So, it provides a faster and effective swing. No chance to make a silly slip of head from cutting edge. Its precision-ground ensures the clean-cut with less resistance.
The head has a protective coating layer which makes it free from metallic rust. And the cutting blade is fully coated by a steel color coat. As a result, TABOR TOOLS SPLITTING MAUL may be longer than your life.
The majority of the TABOR MAUL user has shared high expectation. Many users have agreed that it's a superior maul ever they have used. Why don't they like it? Its lightweight features, easy to swing, and very sharp and easy to sharpen criteria have made it super.
How to maintain a maul
Moisture is the main enemy of a maul. If you put a maul in a wet or dirty place then disintegrate must be occurred. So, don't put a maul in wet or dirty. You may remove rust from the head to use vinegar.
After using a maul, firstly clean the handle. To clean the handle, you may use Soap. After that use light oil or rem oil to clean the head. You should avoid micro corrosion by drying or oiling the blade after use.
Every woodcutter should remember that they must avoid cutting or chopping on the ground. If suddenly, a chop hits on the ground then the blade must be damaged.
Final Thoughts
A good quality sharp maul can ease the daily working of the woodman. So, when you will buy a new maul, at that time must be careful about its quality and warranty. After use 3 or 4 days of continuous working, you should sharpen it again to get more effective performance. Overall, a good quality sharp maul can last longer than one's lifetime if one's is careful about it properly.