When it comes to joint compounds, you can't finish describing how inevitable they are! Be it for a new house or a cracked old one; it can fix endless problems. You can use various types of joint compounds in indoor and outdoor chores.
If you're a newbie in repair stuff, it's pretty baffling for you to understand the divergence of this thing. And for you guys, we've brought something worth it!
In this article, we've chronicled the types of joint compounds and some basics of them. Let's check them out!
Another interesting read: Joint Compound Vs Spackle
What is Joint Compound?
The joint compound is fundamentally a gypsum component mixed with water that features a cake frost texture. You can also refer to it as a Mastic or drywall compound. This gypsum-based drywall mud offers you a stunning appearance. From drywall tape, securing the joints to concealing nails head, it perfectly handles all.
Usually, a joint compound is used with paper and fiber joint tape for attaching joints between drywall sheets. It initially looks like white powder and takes up a mud appearance after mixing with water. The product is said to consist of gypsum, talc, mica, dust, etc.
Types Of Joint Compound
There are varieties of drywall joint compounds available in the market. And if you're not familiar with them, you'll have difficulties in understanding which one to choose. Luckily there are two significant varieties that you should be familiar with.
1. Dry Type Joint Compound
That's the most common type of variety available in the market. You can refer to it as drywall mud as well. Usually, dry-type composites come in pre-mixed versions. If you've got to cover up a small area, go for the one-gallon box. And working with various rooms may need a 5-gallon bucket.
There are many bright sides to purchasing this product. This pre-mixed joint composite won't require any preparation before you use it on your walls. If you have to cover up small patches in the room, you pay for the tiny box.
And for your indoor ceiling, you can buy a large bucket. And you know what? You can save up some extra compound and use it later if you want! You're less likely to occur wastage with this type.
There are three types of dry-type joint compounds. All-purpose, topping, and taping compound. Let's have a quick overview of 'em:
All-purpose compound
The name clearly signifies how handy it is. You can use it all drywall chores. Leveling the texture or taping your final coat, this cream of the crop works in all phases. Even though it is not as withstandable as a topping and taping compound is, you can use it for every purpose.
Topping Compound
If you're scouring for a compound for the final coat, the topping compound will work wonders for you. This compound dries quickly, is easily usable, and feels smooth. You can seal it over all-purpose compounds without any difficulty.   
Taping compound
For the second coat, you can use a taping compound. It has a dry texture and shrinks a little bit. This compound resists cracking like a snap!
2. Setting type joint compound
Unlike random joint composites, this one is a bit unusual. It's very hard and dries through a chemical reaction. You can buy it as powder, and it needs 5-90 minutes to dry perfectly based on temperature. You can apply multiple coats after the initial coat has dried.
For small areas, you can use it without being skeptical. It'll not take more than 90 minutes to dry. No matter on which surface you use it, it serves you with inevitable bonding ability. If you notice mainstream mastics, they're not as hard as they claim. But this A-1 product offers you hard coating and doesn't even shrink.
If you're in a rush and you need to fix the corner of your wall immediately, go for this one. You'll get to have a smooth coating without much effort. As you can mix the quantity based on your needs, you can avoid wastage. The notable point is, the drying time massively depends on temperature, humidity, and mixture consistency.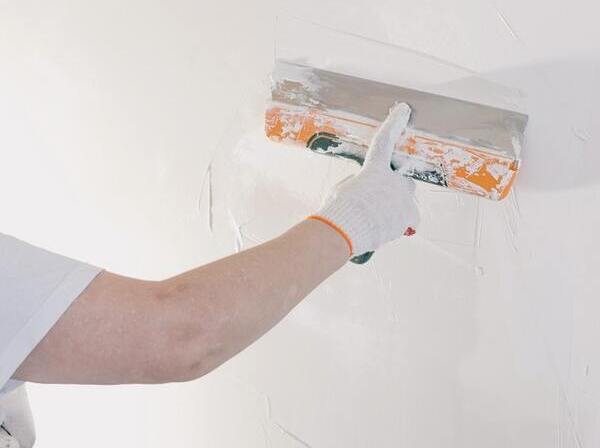 Which Type of Joint Compound Is Best for You?
If you're going to work with joint compounds for your next project, you need to know which one is the best for you. Every category has its very own plus points. Choosing the right variation for the right job will make things astounding!
All-Purpose Compound
An all-purpose compound is such a boon that you can use it for every purpose. No other categories of mastic will ever do so much for you. From skim coating, texturing to sealing the walls, concealing joint tape, finishing-you can always have all-purpose compounds by your side. As it comes with less drying time, you won't have to worry if you're a noob. Plus, it gives you walls a very lightweight coating. You can use it for the first or second coating.
Taping Compound
When it comes to adhering to joint tape for the first time, nothing can beat the taping compound. In the initial phase of drywall joints, the taping compound plays a substantial role. The experts also believe that the taping compound works well-concealing plastic cracks. Taping compound has the ability to bonding cracks amazingly.
Topping Compound
The topping compound can be used as a final coat after the previous two layers have dried up completely. But you can't use topping compound for adhering to the crack or joints altogether. The topping compound can be a top-notch preference as a final coat. It'll cover the previous two coatings simultaneously.
Settings Compound
Settings compound is comparatively less familiar to common people. Usually, the experts use it for tiny patches. This compound dries quicker, bonds better, is crack-proof, and offers harder coating. Unlike cheap drywall mud, it won't take hours to get dry. It gives you the opportunity of quickest drying within 20 minutes! You can seal the second coat after the first one dries up.
How Toxic is Drywall Joint Compound?
The debate over health issues about joint compounds is nothing new. And no one wants to renovate their place using something lethal, right?
Drywall Compound or Mastics is not something so lethal that harms you. But it can be toxic to breathe. Even though it doesn't smell disgusting, the elements in them are unhealthy.
Working with this drywall composite will expose you to talc, mica, gypsum. They can be a cause of irritation in the nose, throat, eyes. Working with them barely for a very long time can make you suffer from coughing and breathing problems.
However, wearing a dust mask while working can safeguard you from unwanted threats. You can also use plastic sheets and coverings when you're going to the wall of the area. And there are no issues left once it dries completely. You can breathe easily after the drying process.
Another must-read: Joint Compound vs Plaster
Tips on Using Joint Compounds
Applying this composite on cracked areas is as easy as cake. But some efficient tips are never unworthy, right?
Dust-off the area around the seam
You can use a light brush for cleaning the area you're going to fix. Buy a light brush from any local mechanical shop if you don't have one nearby.
Apply a tiny amount of the mixture inside the seam.
Use a drywall knife to apply the dry mud into the area. Don't be too harsh while applying the coating. Use the knife blade to smoothen the area. Using a meager amount of compound will work wonders while applying drywall tape.
Slash and apply dry tap into the seam
Cut out the adequate length of tape and cover the seam. Delicately apply the tape over the seam. But make sure that you press it firmly.
Apply a coating
You can use a knife to apply a coating of joint compound over the tape in sections. Don't make the coating too thick; a thinner coating will give a smooth finish and dry faster. Continue the process simultaneously until the whole taped section is covered.
Let it dry
As we've discussed earlier, individual drywall mud takes different time to dry. After the whole area has dried, you can give it a nice finish using sandpaper. If you see the tape coming out due to sanding, apply another coat of joint compound. And then use sandpaper over it.
Conclusion
If we talk about dry mud compounds, there are many varieties available in the market. You can pick any of them depending on what you prefer is best for you. The types of joint compounds have nothing to do with its application. Once you know the right way to apply it, you'll have an inimitable performance.
We've tried out best to quench your thirst about facts related to joint compounds. We've been through several brainstorming hours and painstaking research to serve you with this article. Let us know if you have any further queries.