If you are doing a home improvement project, the chances are that you have to deal with some sheet metal somewhere. This is a material commonly used in the construction of roof flashing, gutters, and ducts.
Well, cutting this material can be a hurdle if you lack the right tools. This is where the aviation snips vs tin snips debate comes in. Which of these tools is better for cutting sheet metal? What the heck sets them apart anyway?
Let's dig deeper into it and get this debate settled once and for all. We will explore the uses, features, pros, and cons of each of these tools to find out which one is ideal for which tasks.
Aviation Snips vs Tin Snips
Product Title
MIDWEST Aviation Snip Set
Aviation Snips Uses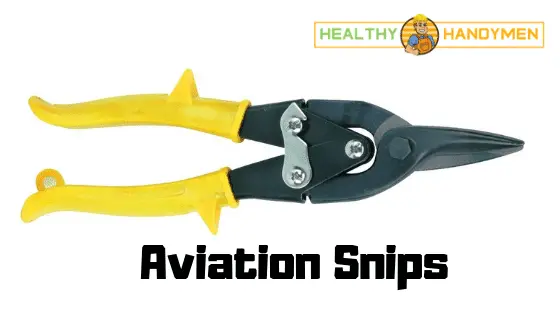 You are possibly wondering who named these sheet metal shears' aviation snips'. Well, these snips were initially used within the airplane manufacturing industry to cut sheet metal.
They also go by the name 'compound snips' because instead of having one pivot point, they have two.
These two pivot points make it easier to cut through sheet metal without using too much effort. This, coupled with the fact that the snips are spring-loaded, calculates into reduced physical strains and fatigue for the user.
There are three styles of standard aviation snips that come in color-coded handles to avoid confusion. Some retailers sell each of the snip types individually or as a set.
The tool with red handles creates straight, left-angled cuts with tight curves, while the one with green handles creates straight, right-angled cuts, also with tight curves.
The aviation snips with yellow handles create straight cuts, but with wide curves.
Sheet metal is not the most comfortable material to work with because it is stiff. You need these three variations of aviation snips, especially if you want to make long cuts at the center of your sheet metal.
Irrespective of the type of aviation snip you use, you will gain a mechanical advantage when working.
When compared to tin snips, aviation snips are more versatile. They allow you to achieve a range of cutting styles and you can work on all sorts of materials, including titanium, aluminum, and stainless steel.
They also offer a better grip on a workpiece because of the teeth-like structure that minimizes sliding.
Another must read: Dead Blow Hammer vs Rubber Mallet
Our recommended Best Aviation Snips on Amazon?
More versatility compared to when using a tin snip
Enhanced mechanical capacity when working
You can achieve different cutting styles; hence greater flexibility
Can be used to cut various materials, including stainless steel, titanium, and aluminum
[/joomdev-wpc-pros][joomdev-wpc-cons]
Specialized features make the snips cost more
Requires more maintenance
The whole tool needs replacement if a part wears out or breaks
[/joomdev-wpc-cons][/joomdev-wpc-pros-cons]
Tin Snips Uses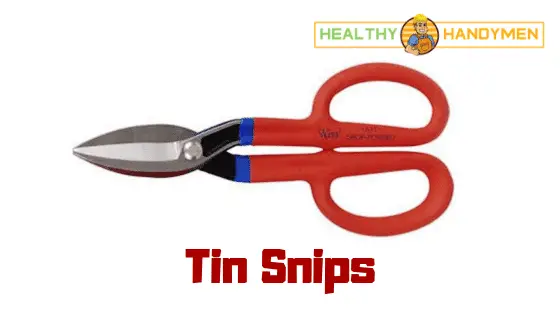 From a distance, you may think that a tin snip is a pair of scissors. It has a simple design, and this brings about some pros and cons.
First, it makes this handy tool cheaper compared to the aviation snips. The basic model also makes tin snips remarkably easy to use.
In terms of disadvantages, let me start by clarifying that sturdy tin snip models are durable, and you merely need to sharpen the blades regularly. However, those that are not heavy duty, tend to break easily or develop malfunctions.
Giving the tin snips a closer look, you will notice that the handles are longer while the blades are shorter. As you need to wear gloves when working on metal sheets, the openings on the handles are larger, and this allows you to slip in your hands, even when wearing your gloves.
There are about nine types of tin snips, and the regular ones are often used to create long, straight cuts. However, you could also use them to create gentle curves.
Other varieties such as the duckbill tin snip have a tapered blade and can create sharper curves, although it cannot cut through thick metal sheets.
Popular tin snip brands provide three main blade styles. Left cut blades cut left from tight curves, while right cut blades cut right from tight curves. The straight cut blades, on the other hand, cut both slight curves and straight cuts.
Tin snips lack a compound lever mechanism. Even though this helps to make them more user-friendly, it also means that you must put in more hand strength and manual effort to cut through metal sheets.
This causes user fatigue and makes specific tasks more time-intensive to accomplish.
Read also: Hammer vs Mallet
Our recommended best Tin Snip on Amazon:
Considerably cheaper than aviation snips
The basic structure promotes ease of use
Sturdy models can last a lifetime
Fewer parts and hence less maintenance needed
[/joomdev-wpc-pros][joomdev-wpc-cons]
The basic design limits their usage
The tool lacks a compound lever mechanism
[/joomdev-wpc-cons][/joomdev-wpc-pros-cons]
Aviation Snips vs Tin Snips: Which One is the Best?
Skilled home improvement contractors and mechanical engineers understand the importance of checking the thickness of metal before choosing the cutting snips to use.
A sure way to get your hands sore and possibly even damage your tool is to try cutting through a heavy-gauge piece of metal using light gauge snips.
What am I driving at? Both the aviation snips and the tin snips are considered the two main metal-cutting shears. The aviation snips, however, are best for cutting thicker metals while you can use the tin snips on softer materials.
The aviation snips come in handy during precision or curved cutting. They can cut through at least 18-gauge carbon steel, 16-gauge aluminum, and 22-gauge stainless steel.
Tin snips, on the other hand, are only suitable for about 26-gauge stainless steel and 22-gauge cold-rolled steel. Do note that sheet metals use a retrogressive scale, meaning the higher the gauge numbers, the lower the thickness of metal.
So, which one between the tin snip and the aviation snip is best? To make the right choice, you must consider the cuts you need as well as the toughness of the metal you want to cut.
Final Words
Now, we can conclude the aviation snips vs tin snips debate. If you are handling simple jobs that involve using lighter metal sheets, we recommend that you grab your pair of tin snips.
When you need to make angled cuts through thicker metal gauges, your aviation snips are your best friend. It's that simple!
I find it useful to have both tools because my project needs to keep changing. Now that you understand what sets these two tools apart, and where they are most useful, making your pick should be a piece of cake.