Dishwashers are incredibly useful, especially if you have a large family and have a large volume of dishes to wash on a regular basis. However, they can be loud at times, and people often opt to put their dishwasher inside a cabinet.
Building a dishwasher cabinet isn't as hard as you may initially think, provided that you have the right tools on hand and have a little DIY experience.
In this article, I will cover some key information on how to build a dishwasher cabinet and things to consider during the process.
Keep reading to find out more.
How to build a dishwasher cabinet
Before you can build a dishwasher cabinet, you need to first establish a few things that I will go into more detail below.
Size 
First of all, you'll need to know the size of your dishwasher to know how big you need to build the dishwasher cabinet. The standard size of a dishwasher is roughly 35 inches in height, 24 inches wide, and 24 inches deep.
A regular 24-inch dishwasher has a capacity for 12-14 standard place settings and is relatively easy to install. Many dishwashers come with legs, meaning that you can easily adjust the height of your dishwasher for the perfect fit.
If you live in an apartment or would rather save space in your house, you should try opting for a compact sized dishwasher. Typically speaking, these dishwashers are about 18 inches wide, 24 inches deep, and 35 inches high and will hold up to eight place settings.
That being said, you can also get portable dishwashers that are slightly higher and measure 36 to 37 inches, with the same depth and width as a standard dishwasher. 
You will need to do your research on the specific model of the dishwasher that you want, but you can use these measurements as a general guide for building your cabinet.
You should be able to find a dishwasher to fit inside the cabinet perfectly if you get the measurements right.
Another interesting read: Best Barn Door Hardware Kit for Cabinets
Materials
The next thing you need to consider is the material that you will make the cabinet out of.
Wood is an affordable and durable option to consider when you're researching what to use to build your dishwasher cabinet. 
While wood is the favored material for kitchens, there are others that you can also use for this project. For instance, the nitrogen-based compound, melamine is often used as well as laminate siding, epoxy sheets, and resin-treated plywood.
It is also worth mentioning that if you're at a loss and don't have much DIY experience, you can always buy a pre-made cabinet from large retailers that arrives in a flat-pack format, such as IKEA. 
That being said, this project isn't too tricky and you shouldn't struggle if you have prior DIY experience. The boards should be at least ¾ inch thick to handle the machine and to ensure that your dishwasher isn't too loud.
You will need to make sure that the boards you purchase are two inches larger than the machine. 
A guide on how to build your dishwasher cabinet 
Tools you will need
A drill 
A hand saw
Screws
Sandpaper block (If there are any raw edges to be sanded)
Note: A handsaw should cut through your material easily, but use a drill to cut out holes for thicker or more durable materials.
Instructions
Step one: To begin building your dishwasher cabinet, gather all of your materials and tools.
Step two: Next, it's time to measure up and cut the pieces of wood down to size. If you find that there are any raw edges after you have cut the pieces of wood to size, then you can sand them with a sandpaper block.
Step three: Now it's time to start building the box. You are going to use the taller boards to create the sides and the shorter boards to create the foundation and top by attaching the pieces together with screws. 
Step four: Drill through the top board and into the side boards before attaching the base, creating a hollow square.
Step five: Once you have the hollow square of your dishwasher cabinet, you can add a backboard to your creation if you wish. 
Step six: Cut holes to accommodate any hoses or electrical cords so that they are free and clear of the cabinet and don't get bunched up, which can cause serious damage to the machine and cabinet. 
Once built, you will have extended your counter space with a surface for small appliances to be easily accessible!
Can you put a dishwasher in a cabinet?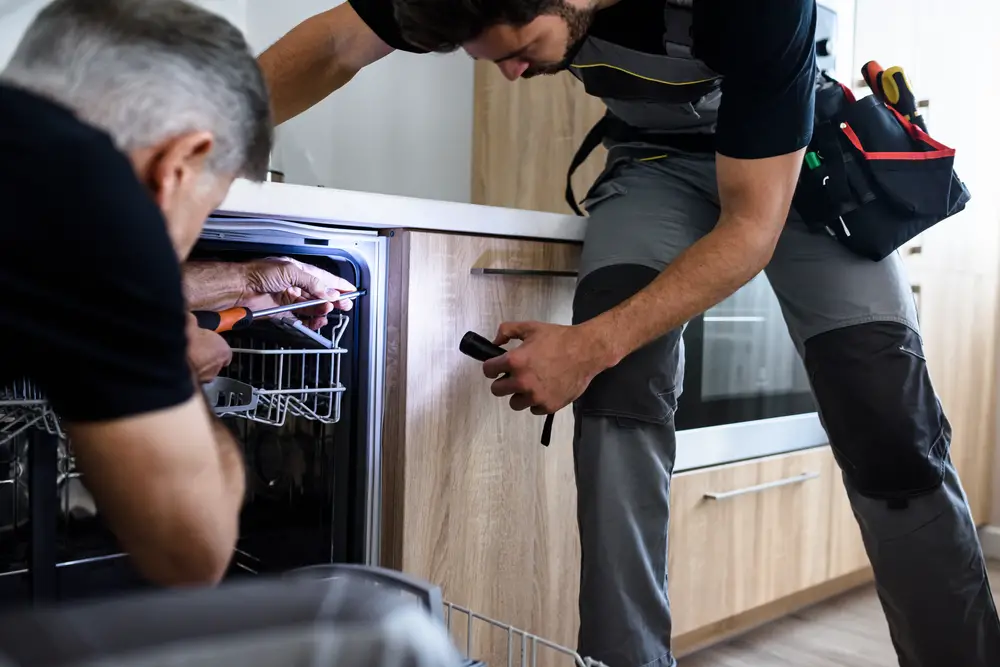 Yes – you can put a dishwasher in a cabinet you already have if you don't want to build a new one. However, you will first need to measure up the space carefully to ensure that the dishwasher is going to fit in the space well.
As I mentioned earlier, dishwashers come in standard sizes. However, the same concept applies to the opening left in the majority of cabinets. There are exceptions, of course, such as if a cabinet was built around a specific model that had out-of-the-ordinary dimensions. 
To get a better idea of how much space you have to work with, you will need to measure from inside edge to inside edge of the opening, noting the height, the depth and the width of the opening. 
That being said, you can ignore any decorative overlays that may have been included, as these can be removed if necessary. Once you have taken these measurements and know exactly how much space you have left, you can start looking at dishwashers for the area.
In summary 
Building your own dishwasher cabinet is fairly simple with some previous DIY experience and with the right equipment to hand.
If you're not particularly confident in your DIY abilities, you can always opt for a pre-made cabinet from large retailers that arrives in a flat-pack format or ask for some help from a relative!
Happy renovating!