If you think of putting laminate flooring in your house, don't forget to have an underlayment attached. It is a layer of material installed under the laminate to reduce the subfloor's imperfections.
Underlayment is a permanent solution to keep your floor moisture-free that helps the materials last long. It reduces sound through absorption and works as thermal insulation.
In this article, I aim to assist you in finding the best underlayment for laminate flooring on concrete. I will also discuss a few factors to consider before buying an underlay for your subfloor.
Another interesting read: What Is The Best Basement Wall Sealer
1. Roberts Felt Cushion Roll Laminate Flooring Underlayment
Roberts 70-193A is the best underlayment for engineered wood and laminate flooring to use regardless of the concrete or wooden subfloor. The product excels with extreme moisture resistance and sound absorption capabilities.
The IIC and STC tests measure sound transference from an upper-level room to a lower-level room. Our top product achieves satisfactory scores in both of the tests. It illustrates that the high-quality felt cushion roll underlayment is perfect to be used in any residential area.
The Roberts super felt premium underlayment comes with a 3 mm thick insulating layer that absorbs noise instead of deflecting it. This way, it reduces sound transmission.
If you are concerned with the environment, you will be glad to know that the felt underlayment is made from recycled fibers. The fibers are compressed using high heat during the manufacturing process.
The film overlay protects laminate flooring from any moisture from the subfloor. Each roll includes a 1-3/4-inch adhesive strip, and 3 inches overlap to link multiple rolls. Also, the layer is capable of Keeping floors warmer in winter and cooler in summer.
The full roll of the cushion covers up to 360 sq. ft. The premium quality product is quite expensive than the other products available in the market. But, it's worth every bit.
Pros
Tested as a good sound absorber
Eco-friendly raw materials
Maintains uniformity throughout the length
Cons
Summary
Roberts 70-193A super felt premium underlayment is easy to install. The adhesive strip and overlapping plastic make quick and effective seaming. If you search for a long-lasting solution under your laminated floor, this product is for you.
2. FLOORLOT Laminate Flooring Vapor Barrier Underlayment
If you want to install foam underlayment under laminate floors with a reduced noise level, Floorlot Vapor Barrier Underlayment should be at your top list. The layer is easy to install and provides superior moisture protection that makes your life a lot easier.
The Floorlot product helps quiet sounds from the foot traffic. It reduces noise in households & minimizes the hollow sound connected with floating floors. Each roll covers 200 sq. ft, and its thick 3mm foam has natural sound absorption.
The layer also includes an extra thick .04mm PE moisture barrier plastic film that ensures no other films are required. It's tape and overlap system provide a strong seal so no moisture can emerge from the concrete slab.
The 3mm cushioned layer helps smooth out minor subfloor imperfections & irregularities that result in comfort on the laminates. It includes an adhesive strip for fast seam sealing & easy installation.
Pros
Easy to install
Includes adhesive strip
Perfect value for money
Includes vapor barrier
Cons
Summary
Floorlot Blue underlayment will protect your floors for years to come. The attached vapor barrier, noise-reducing foam, and easy installation are what make Floorlot Blue a great buy.
3. AMERIQUE Premium Thick Super Quiet Floor Underlayment
If you are concerned about the price yet want a quality underlayment for laminate floors, AMERIQUE super quiet floor underlayment can be a smart option. It is widely renowned as a "quality product at a fair price."
If you are allergic to dust, to your great concern, we are happy to state that the product is non-allergenic. Also, its anti-microbial materials and vapor barrier provide mold and moisture protection.
The 3mm closed foam technology offers sound reduction, and anti-crush technology promises excellent performance & long life. The foam layer is compatible with underwood, Bamboo, and laminate floors.
The best underlayment for a basement in the budget also includes an adhesive strip and an overlap system. So, it's also easy to install.
Pros
Non-allergenic
Affordable and long-lasting
Includes adhesive strip and tape
Cons
Starts to rust after a while
Summary
Even though you are getting the premium foam underlayment is low-price, it doesn't compromise with the quality you seek. The rolls are easy to cut and lay down. It's the best product around in budget.
4. QEP 72003Q Cork Underlayment
The QEP 72003Q is the best cork underlayment in the market. It's easy to install in both glue-down and loose-lay configurations. Again, it's compatible to cut with a utility knife. It is reasonably firm and thick with ¼ inches of thickness.
Those who look for an under-pad to keep the floor nice and warm can definitely go with it. It has an effective floor heating system that reduces thermal transmission and retains heat.
Cork is eco-friendly and known to have anti-microbial benefits naturally. So, this underlay will give you protection from bacteria and fungi.
Again, if you love to have soundproof flooring, then this is for you. With a high STC rating of 60 and an IIC grade of 61, it will give you superior noise reduction.
It can reduce sound transmission from both the surface of a floor and through the floor to the living spaces below. So, if you don't want to annoy the neighbors living down below, get this underpad.
Pros
Easy to cut and install
Perfect thermal insulation
Great noise reduction
Contains anti-microbial properties
Cons
As it comes rolled, it gets curled
A Note: We suggest using Roberts Cork Adhesive and a 75-pound roller for the best installation practice. You can also use 3M Super 77 Multipurpose adhesive spray.
Summary
If you're looking for anti-microbial flooring to keep your home healthy and free from mold, then go for it. The best underlayment for thermal insulation is the perfect underlay to keep your floor nice, warm, and soundproof.
5. IncStores 5mm Rubber Underlayment Rolls
If you want a rubber underlayment that offers superior sound insulation at the best price, then IncStores pre-cut 100 square foot rubber underlayment is perfect for you.
The 5mm thick rubber underlayment is great to use in areas where water may be present. This is also mold and mildew resistant, which is due to the fact that the rubber does not hold water.
The thickest underlayment for laminate flooring is also soundproofed. It can also be installed directly over concrete or wood without the requirement to adhere to the system via adhesive.
The rubber underlayment is a popular choice for hard surfaces such as hardwoods and natural stone. However, it is not recommended for vinyl composite tile (VCT), vinyl, and linoleum.
Pros
Better sound absorption than foam
Made of over 80% recycled material
Mold and mildew resistant
Cons
A rubbery smell comes out
Summary
The IncStores is the best underlayment for laminate flooring to reduce noise. The thick layer ensures comfort in your living on the laminated floors. It also lasts for years, so you need not worry about changing layers too often.
Why Is Underlayment For Laminate Flooring Necessary?
We've heard many people ask, "Do I need an underlayment for laminate flooring?". The answer is – you may not need to use any layer under the laminate floors in your home. But installing one offers you several advantages. A few of them are discussed below:
Moisture Protection
Moisture is a killer that can migrate upward from any concrete slab. This causes loosening of gums, floor twisting, and growth of mold and mildew. Fixing a moisture-proof underlayment or vapor barrier on concrete can eliminate the problem.
Thermal Insulation
Concrete floors make your feet cold regardless of the thickness of the laminates. An underlayment layer offers thermal properties that keep your floor warm. Felt-type underlay offers the best thermal insulation.
Sound Absorption
Laminate flooring is not so thick as solid hardwood. Also, it is made of low-density fiberwood. Hence, there are high chances the sound passes from floor to floor when applying laminate flooring in the house. An underlayment increases the sound absorption capability of the laminate.
Softens Footfall
While installing thin laminate flooring on a hard surface like concrete, you need an extra underlayment to make it easy and soft to walk on. Laminate flooring with denser underlayment can make you feel good while walking as you feel a solid basement under your feet.
Corrects Subfloor Imperfections
Concrete subfloors are not perfectly flat and featureless. They are often dotted with gaps, nail holes, pit, and splinters. If you were using solid hardwood, that could run directly over concrete, ignoring the imperfections. Also, the ceramic tiles can bridge small gaps and pits to work nicely. But laminates can't handle all imperfections because of their less-denser quality. So, you need to apply underlayment on the concrete to correct the imperfections.
Ensures Stability
Laminate flooring without underlayment is more prone to damage and expansion, making them unstable. Installing an underlayment provides stability that joints the floor with concrete.
Another must-read: Best Joint Compound For Skim Coating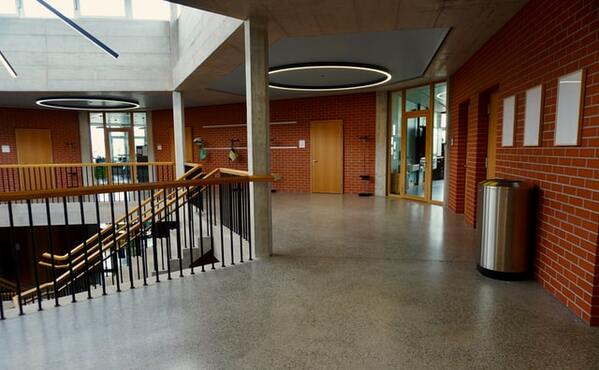 What to Consider Before Buying underlayment for laminate flooring?
The right underlayment can enhance the feel of your laminated floor like never before. And the last thing we want is you ending up wasting your money on the wrong one. Check these factors given below to find the perfect one that meets your needs:
Room Location
If you're living on the upper floor of an apartment, then consider buying an underlayment that absorbs noise. Because without the proper underlay with a high sound reduction rating, noise can easily transfer.
Subfloor Type
The subfloor material plays the most significant role in determining the type of underlayment you'll need. If you have a concrete subfloor installed or plan to use, then go for the underlay with a vapor barrier. Because concrete is porous and retains moisture. This can cause the adhesive to loosen, flooring to distort, and mold to develop. So, get the underlay that comes with moisture resistance.
If you've got a plywood subfloor, then install the underlayment that contains semi-permeable material. Doing so will help with air circulation and prevent mold buildup.
For the wood subfloor, moisture resistance is not mandatory. Consider other factors like noise reduction and all.
Thermal Conductivity
The concrete subfloor makes the laminated floor cold. If you hate that or live in a place where it's freezing, get an underlay with a higher R-value. More R-value indicates less heat will be able to pass through it. That means it will hold the heat and make your feet feel warmer.
Usually, foam underlay has less R-value than fiber or felt underlayment. So if you want a nice and warm floor, go with fiber or felt underpad. Their R-value is about 0.5-0.6.
Noise Reduction
The only limitation of the laminated floor is it makes a hollow-like sound. Lucky for you, it can be efficiently reduced by the underpad that comes with a good STC and IIC rating.
Now, the STC or Standard Transmission Class indicates the protection against airborne noises. Again, IIC or Impact Isolation Class determines the impacts like drops and footstep sound reduction capability.
So, for the rooms where a peaceful environment is needed, like the bedroom or study, get the underlay with a higher STC and IIC rating.
Anti-microbial Properties
Depending on the environment, you might need the underlayment that comes with anti-microbial properties. Some under-pad like cork come with natural anti-microbial benefits. Again, some underlays are designed by the manufacturers to be anti-microbial.
So, to prevent your floor from bacteria and fungi buildup, go for the anti-microbial underlayment.
Types Of Underlayment For Laminate Floors
There are mainly four types of underlayment options you have to fit on concrete for laminate flooring. Apart from serving basic requirements, each type offers special benefits. Let's find them out in detail.
Felt
Felt-type underlayment is great for preventing moisture from migrating upward to the laminates. The products are very popular to be used with laminate, hardwood, and engineered flooring. The best thermal insulation under laminate flooring products also keep the floor warm in winter and cool in summer.
Because of the heaviness and high-density materials, felt products are excellent for sound absorption. The materials used are mostly recycled fibers. As a result, the type of product is the most environment-friendly.
Foam
This is the most commonly used type of underlayment because of its easy installation process. As a homeowner, you can install it by yourself without needing any help from others. The products are one of the cheapest options. Regardless of the low price, the type ensures moisture barrier and sound absorption.
Cork
It is another type of underlayment made of the bark of cork trees. The type is the best for its capability to absorb sound. If you laminate on a floor with downstairs neighbors, it's really important to ensure no sound is passed through. The cork materials are proved to be extremely efficient in case of sound absorption.
Cork is also eco-friendly because of its green raw materials. This type of product is very durable that eliminates the hassle to change after a few years. The anti-microbial nature of raw materials helps it preventing the growth of bacteria or mold. This results in a healthy home environment.
Rubber
This is the least popular type of underlayment. It also offers high-quality performance made from rubber materials. The products provide a strong layer to reduce the passage of transmitted noise.
Verdict
Attaching an underlayment ensures sound reduction, moisture-free healthy, and comfortable living if you install laminate flooring. Foam is the cheapest option, while felt is the most premium option. However, all types of underlayment can effectively do their basic duties.
We hope our article will help you choose the best underlayment for laminate flooring on concrete. Don't forget to check back the buying guide for an effective purchase.
Another interesting read: Best Underlayment for Metal Roof