Herringbone Laminate flooring is an excellent illustration of how a design feature can be utilized to complement any style. Your home will be more attractive and unique with the herringbone pattern. It has been shown to boost the sale value of homes. Your house will benefit from the extra durability, elegance, and color provided by a variety of solid hardwood flooring.
Consequently, it's no wonder that herringbone flooring is widespread, yet many people are worried about the cost. You should budget between $3,000 and $6,500 for a 200 square meter space.
Herringbone flooring is more costly to install than tile. Two elements that impact installation price are labor and specific material costs. For some services, the price may be as low as $2,200 per 200 square feet.
Herringbone wood flooring is more challenging to install than other types of hardwood. This is due to the zigzag design, which is unique among hardwood flooring. As a consequence, you would think herringbone flooring is costly.
Herringbone flooring is often more expensive to install than other types of flooring. This part will look at the costs of installing a herringbone carpet. What you should know about it is as follows.
How Much Does Herringbone Laminate Flooring Cost to Install?
Some people like to lay herringbone over an existing floor, which is unusual. Expect to cost between $4 and $7 per square foot if you're covering an existing floor with herringbone. The technique is more costly since it requires more effort to ensure that the previous floor is excellent.
According to experts, an existing floor should not be covered with herringbone tiles. When the previous floor is entirely removed, the cost per square foot for herringbone installation decreases.
For more intricate projects, the price per square foot might be more than $8. Adding a new hardwood floor or rebuilding your subfloor might cost up to $10 per square foot.
Another interesting read: How To Replace Bathroom Flooring?
How Much Does It Cost To Install 1000 Square Feet of Herringbone Laminate Flooring?
Herringbone flooring may cost anything from $7,015 to $11,150 to install on a 1000-square-foot area. On the other hand, many homeowners spend $8,000 to $9,000 on professional labor and materials.
When it comes to deciding the cost of hardwood flooring, the size of the surface area is usually an essential aspect. The more herringbone boards you require and the more costly it will be, the wider the coverage area.
A 2000-square-foot structure might cost anything between $6 and $9 per square foot. Removing and replacing old flooring in a 2000-square-foot home would cost $1750, plus $100 for 1000 feet of herringbone. Rectangular parts are more uncomplicated to measure than square rooms. Take the region's width and length dimensions and multiply them to determine the square foot of your area.
Installing herringbone wood flooring with high-end materials might cost between $15 and $25 per square foot. For a 1000 square foot space, this cost is almost $20,000 per square foot.
Because the cost of installing herringbone laminate flooring is typically charged by the square foot, below are some standard room sizes and the prices of having them placed.
Factors That Influence The Cost Of Installing Herringbone Hardwood Flooring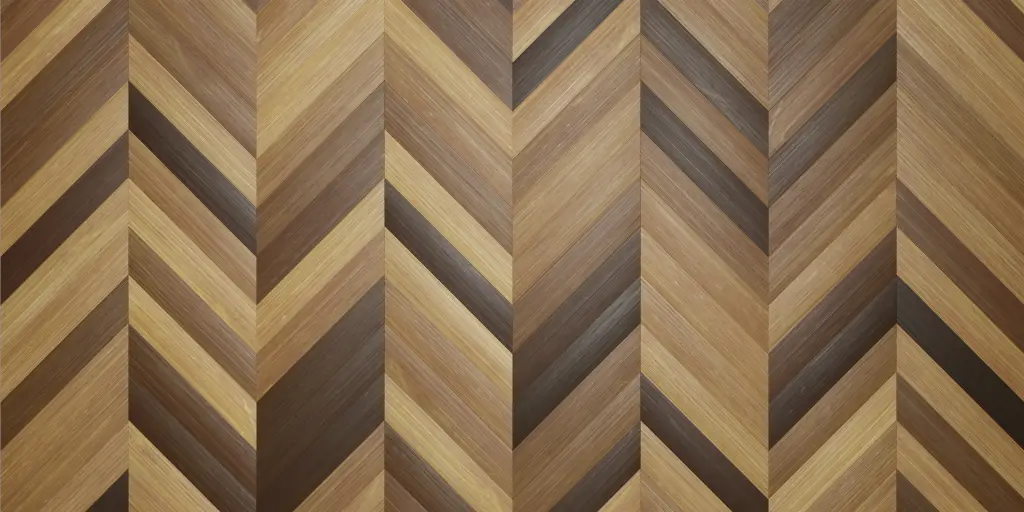 Several variables influence the total cost of installing herringbone laminate flooring. Due to the following mitigating conditions, it is unlikely that you will find specific pricing for laying herringbone.
Location
Because of the increased complexity of the work, installation costs will be higher if you have tiny places, tight angles, and closets in your location. You'll undoubtedly have to spend extra for installation if you're flooring your staircase, for example.
Wood Species
Hardwood flooring comes in various species, treatments, and designs. For herringbone laminate flooring, domestic hardwoods are less costly than imported hardwoods. The rarity of exotic hardwoods, on the other hand, makes them more expensive. Not to mention the expense of shipping them.
Although unfinished hardwoods are cheap to buy, they are pretty expensive to install. It costs between $300 and $450 per square foot to install unfinished hardwood. Because they must be finished and sanded before being installed, they are costly.
Prefinished hardwood floors are more costly to buy and install than unfinished hardwood floors, but they are also less expensive. The cost per square foot varies between $100 and $200. You'll receive excellent results regardless of the style of flooring you choose. Only the price difference separates them.
Finishing Method
The kind of surface finish you pick affects the price of laying herringbone laminate flooring. Refinishing a hardwood floor will cost between $5 and $10 per square foot. Every hardwood floor must be finished to protect it from scuffs, wetness, and scratches.
Polyurethane, polyurea, resins, waxes, varnishes, and oils are just a few of the ingredients used in herringbone flooring. One of the most popular finishes for herringbone flooring is lacquer.
Because herringbone has more character than regular flooring, you should budget up to $20 per square foot for refinishing and finishing. Because they need more labor to install, hand-scraped floors are more costly than polished floors.
Herringbone wood flooring is both fashionable and affordable. The materials and labor prices, on the other hand, provide the impression that this is not the case. Below is a list of the most prevalent forms of finishing and their prices.
Thickness
Higher-quality timbers like Douglas fir or redwood might cost anywhere between $300 and $100 per square foot. On the other hand, thinner woods might cost between $100 and $150 per square foot. Thicker boards are more expensive than thinner planks because they can withstand several refinishing processes without losing durability.
A High-Quality Finish On solid Hardwood
Engineered herringbone hard flooring costs anywhere between $5 and $17 per square foot, depending on the wood species. Engineered hardwood isn't as long-lasting as natural hardwood, but it works excellently for a minimal initial investment. They're also water and damage-resistant. They are also more resistant to dampness and longer-lasting than wool.
Engineered hardwood planks are a cost-effective solution for homeowners interested in installing herringbone laminate flooring. On the other hand, solid hardwood ranges in price from $10 to $25 per square foot.
Heart pine, acacia, and Brazilian cherry are among the hardwoods that work well with it. Solid wood boards benefit from being able to be sanded and polished several times.
Style and Pattern of Herringbone Laminate Flooring
The price is also affected by the quantity of varied herringbone laminate flooring types and designs available. Wood tiles cost between $20 and $25 per square foot or around $1000 and $2,800 in total. The blocks should be put out in a "V" pattern when installing this kind of herringbone flooring.
It takes a little longer to install herringbone. It's no wonder; therefore, that flooring expenses have increased by 30%.
How to Calculate Herringbone Laminate Flooring Installation Costs
It's simple to calculate the cost of herringbone flooring per square foot. To do so, all you need is some simple math.
Here's how to figure out how much herringbone flooring will cost in your home:
• Measure your floor's length and breadth.
• Add 10% to 15% to account for job losses, layoffs, and other unforeseen circumstances.
To calculate square footage, multiply the length by the width. Your square footage is 120 square feet if your room is 10 x 12 feet, for example.
• Finally, multiply the total square footage by the per-square-foot labor and material cost. When calculating, don't forget to include extras like nails, thresholds, and moldings in the price.
The following formula is used to calculate the total price: The total cost equals the square footage multiplied by 10% to 15% of the whole area.
Is Herringbone Laminate Flooring Affordably Available?
Depending on how you manage your resources, the cost of installing herringbone laminate flooring may vary from inexpensive to costly. To acquire a high-quality herringbone floor, you don't need to spend hundreds of dollars. You may save money on installation by buying pre-cut boards and getting materials at a discount.
Conclusion 
If you're wondering if herringbone flooring is worthwhile, the answer is yes. It increases the value and beauty of your home. Herringbone has a classic charm that will not go out of style for many years. Herringbone flooring is a terrific alternative for the home, regardless of the overall cost.
We hope that you found this guide useful and that you now have a good idea of what it will cost to get this type of laminate flooring installed. 
If you want to learn how to install laminate flooring or vinyl flooring yourself so you can cut back on installation costs, then you should also have a look at some of the other guides we have on