When you are looking for a few bags of sand, you will get in touch with two types of it – Paver Sand vs Play Sand. As a consequence, you may get perplexed to choose one of them. But there is nothing to worry about it.
For your convenience, we are going to discuss the ins and outs of both paver sand and play sand. As a matter of fact, this article will guide you to know the difference between them, application procedures, their usability for different purposes. Let's dig it out without further delay!
Another interesting read: How to Use Polymeric Sand
What is Paver Sand vs Play Sand
Paver sand, which is also known as polymeric sand, is basically a complex blend of special additives and fine sand. Typically, this type of sand is used to prevent paver separation, anthills, and weed growth.
On the other hand, play sand is a type of sand containing non-staining, non-toxic, and sub-rounded grains. In general, we use play sand to let our children play and run safely.
Another must-read: Best Polymeric Sand Reviews
How to Apply Paver Sand Properly
When it comes to applying paver sand, you must do it correctly. Otherwise, you will probably waste both your time and money. We, however, have provided step-by-step guidelines to help you install paver sand effectively. Let's have a look!
Step 1: The first step you need to take while installing paver sand is to fight the prevailing weeds in your patio. In order to implement the goal, we recommend you use a non-selective herbicide.
Step 2: Now you have to take the biggest challenge on your way to installing polymeric sand. The challenge is to avoid staining. It is the biggest challenge because polymeric sand is prone to get stained. For this purpose, it requires you to make sure the pavement is dry before installation. Also, you need to clean dust after the installation of your sand.
Step 3: Once you are ready with the prep works, it's time to apply the sand. We recommend pouring the sand on the pavers. After pouring the sand, you have to sweep it into all the joints that are all around.
Step 4: When you are done with the application of the sand, you need to approach watering the pavers. At the time of watering, make sure you are not overwatering. This is because overwatering can make the polymers of the sand float away.
Step 5: Stop both pedestrian and vehicular traffic for a certain time. To be specific, we suggest you prevent vehicular traffic for 3 days and pedestrian traffic for 1 day. You can cover the area with either a tarp or plastic while trying to stop traffic.
Step 6: Finally, it's time to apply a sealer, which plays a significant role to protect pavers from staining and color fading. However, if you want, you can avoid this step. But it's a prudent decision to use a sealer as it is not an expensive product.
Another read: Best Polymeric Sand Alternatives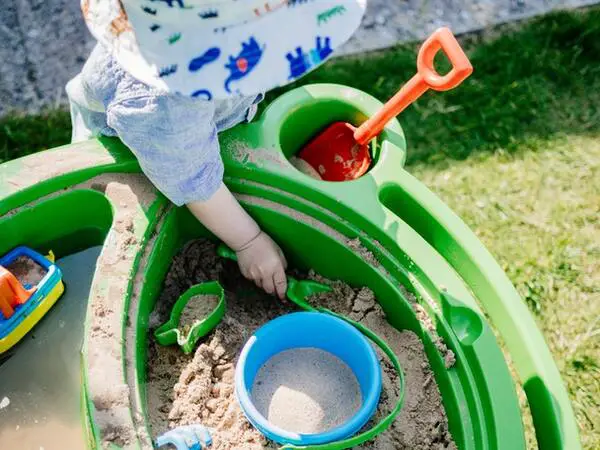 How to Apply Play Sand Without Troubles
Like paver sand, play sand also requires proper and effective applications. For your convenience, we have discussed some steps that are highly effective to install play sand. However, we should remind you that you must avoid play sand while filling pavers. Let's learn how to use play sand for a sandbox!
Step 1: The first and foremost thing you have to do is to choose a perfect place for the sandbox. We recommend choosing a place that is well-balanced between the sun and shades. You should also make sure that the place doesn't get overcrowded with fallen leaves and debris.
Step 2: Make a sandbox having a perfect size. We suggest making the frames of the sandbox with wood. Not only are wooden frames safe for kids, but they also increase the beauty of the box.
Step 3: After making the sandbox, you can put a tarp on the bottom of the box. However, you shouldn't use plastic tarps as they will prevent drainage. Instead, you can use either a piece of shade cloth or a weed mat.
Step 4: In order to make the sandbox appealing, we recommend painting with an attractive color. By the way, the color you have chosen must match the environment where you are placing the sandbox.
Step 5: Pour the sand that you have bought for the box. To give you an idea, you need approximately 25 bags of sand in a 6×7 feet sandbox.
Step 6: After pouring all the sand, you have to make them even with the help of a shovel. Once you do it, you are all set. Now it's time to let your kids play in the sandbox.
Another interesting read: Polymeric Sand VS Regular Sand for Pavers
Paver Sand and Play Sand for Sandbox
You have already come to know that play sand is inappropriate for pavers. Now you may wonder whether you can use paver sand for a sandbox or not. For your kind information, we have discussed the ins and outs of using both types of sand in a sandbox.
Paver Sand for a Sandbox
Paver sand is the best choice for filling crevices in pavers. But it is not a good pick when you want to fill a sandbox. This is because this type of sand undergoes neither cleaning process nor ingestion testing. Therefore, paver sand is unhygienic for kids.
Play Sand for a Sandbox
Play sand is completely dust-free and hygienic. Before coming to the market, this type of sand has to undergo different trials. The goal of the trials is to provide children with safe sand. So, if you really want to use uncontaminated sand, then you must approach getting play sand for your sandbox.
Wrap-Up
Considering all the facts discussed above, we can come to the point that both play sand and paver sand are good for use. But you need to use them for different purposes. If you use paver sand for sandboxes and play sand for pavers, it will certainly be a blunder.