Have you ever thought of tightening or loosening nuts and bolts without using a wrench? I'm sure you use a wrench to do those tasks.
A torque wrench comes in handy when you want to know the amount of torque that you are applying. Fortunately, you will find different torque wrench types out there, and the way they work varies too.
Different Torque Wrench Types Explained
In this article, I am going to discuss 4 types of torque wrenches, how they work, and finally a brief about torque wrench sizes.
Let's get things underway.
#1. Beam Torque Wrench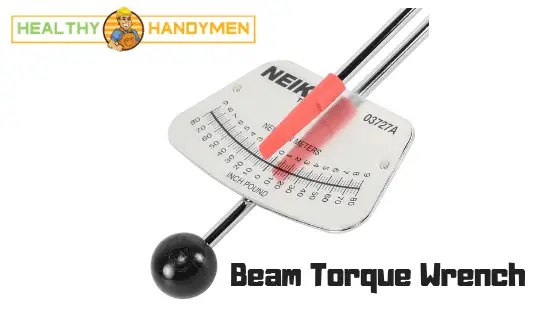 So, what is a beam torque wrench, and how does a beam type torque wrench work? Well, this is the most basic type of torque wrench out there.
You will see two beams in the case of a beam torque wrench. One beam is used to apply the torque to the bolt/fastener. The other beam is used to give the reading of the amount of torque being applied. This beam stays on top.
A scale is attached to the first beam. Initially, the second beam stays at zero (on the scale). Once you start using the wrench one beam (that is attached with the handle) will act as a lever and do the tightening or loosening.
Another must-read: Hookaroon vs Pickaroon
The other beam (free at one end and remain on top) indicates the amount of torque being applied by acting as a pointer on the scale. It gives the reading like a weighing scale with a needle pointer.
A beam wrench is inexpensive and requires minimum maintenance.
Is beam torque wrenches accurately? The answer is Yes. Beam torque wrench measures the amount of applied torque quite accurately without any doubt.
#2. Click Torque Wrench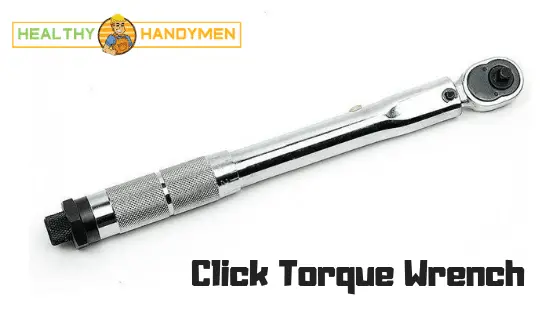 Click torque is the most common type of torque wrench people are currently using. By default, people tend to mean a click-type torque wrench when they refer to a torque wrench.
Now, what is a click torque wrench, and how does a click torque wrench work? Like any other torque wrench, a click torque wrench is also used where you want to apply a certain amount of torque.
Let me explain how it works and how to use it.
First, adjust or set the torque wrench to the desired amount of torque you want to apply. How?
Go to the bottom part of the wrench and loosen up the little knob down there. This lets them handle to freely move back and forth.
You will see two types of units written on two sides of the wrench. Make sure to use the correct unit as per the recommendation of the bolt manufacturer. I assume you use a foot-pound.
Now rotate the handle so that the zero (0) meets your desired amount of torque (e.g 100 foot-pounds).
Then lock the little knob by rotating it clockwise.
Now put your socket on the wrench then put it on the nut that you want to tighten up and then start working.
You will hear a click sound when you meet your desired torque. You are done.
As simple as that!
#3. Dial Torque Wrench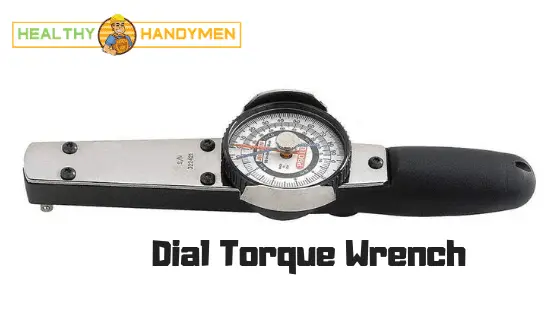 The dial torque wrench is another reliable way to meet the desired amount of torque when you are tightening a fastener. You guessed it right.
Now I am going to answer – what is a dial torque wrench and how does a dial torque wrench work? In the case of a dial torque wrench, a simple memory pointer system shows when the pick point is achieved.
Typically you will see a dual scale dial (inch-pound and newton-meter) to feature the range of the torque. 
Another interesting read: How To Haul 16 ft Lumber In Pickup
First, rotate the dial to move and set the dial indicator to zero. Then also set the min-max pointer to zero.
Once you start using the wrench, the min-max pointer will measure and keep the maximum torque you've reached and the dial indicator will indicate the actual torque you are using at this moment. Usually, this is an expensive type of torque wrench but the most accurate one as well.
#4. Digital / Electronic Torque Wrench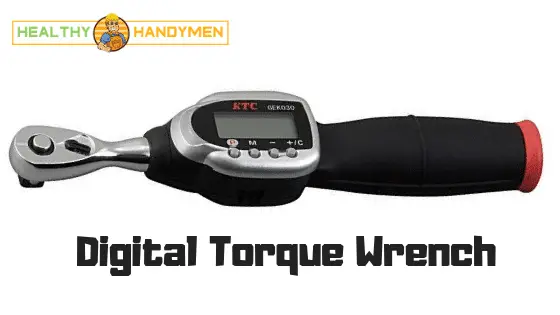 As the name suggests you will see everything digitally unlike the other torques where you had to depend on the analog scale. You will see a display board near the handle of the wrench.
Let's see how a digital torque wrench works.
Typically you will see a power button, which is used to turn the wrench on and off. You will have a button to change the units. For example- ft-lb to inch-lb or to n-m.
And two more buttons to set the amount of torque. You can preset the amount of torque and start using the wrench. When you will reach the desired torque the wrench will beep or vibrate or both. Some wrenches have an LED indicator too.
Torque Wrench Sizes
3/8-Inch
This is the smallest size and is used for tightening or losing small nuts and bolts. This particular size is a good choice for automotive work where you need a range of 4 to 21 ft-pounds. Typically you will want to use it for motorcycle types of automobiles and small electronic devices.
1/4-Inch
This versatile size is suitable for working with the majority of automobiles and light trucks. This size is also used for different engineering works like tightening spark plugs. The fitting range for this size is from 15 to 75 ft-lb.
1/2-Inch
This is the most common and default drive size for a torque wrench if you don't mention any particular drive size.
Larger nuts and bolts require this size and the suitable range for this size is about 30-250 ft-lb.
3/4-Inch to 1-Inch
Most of the time you won't need this drive size. This drive size is used for special applications. For example: working with tough lug nuts.
Final Words
I'm sure you are now quite up to date with the 4 popular torque wrench types and how they work.
Use the best one as per your requirement.
Remember; don't apply more than the recommended torque against the fastener. See the manual to know the amount of torque that you should apply. Otherwise, you are going to damage the fastener.
Hope I answered all your questions regarding these tools. Still not sure? Comment below to get in touch.