Things were easy when it used to exist solely rather than having so much variation! Isn't it? Just like that, you have numerous paving types that convey the curiosity to acknowledge everything about it and clarify the confusion.
You may already know about pavers, which are also known as concrete sealers. These pavers are applied to different paving types or paving stones such as brick, metal, tiles, stone, etc.
Now, to apply paver sealers, you ought to know what type of paver you have! To narrow it down today, I am going to tell you about the paving type variation briefly. Let's get started!
Another must-read: Best Paver Sealers for a Wet Look
Paving Type Variations Explained
What Are They Made of?
Before understanding what they are made of are, you have to know about pavers. So, what are pavers anyway? Pavers are usually made out of brick stone, stone, tiles, or brick-like materials to build up a complete outdoor flooring. They come in a variety of shapes, sizes, and colors. You can install them literally on any exterior flooring by yourself or professional staff.
For applying them, you have to spread some cement first, then put down the pavers according to your preferable pattern and shape. And for your further convenience, I would recommend you to grow the habit of regular maintenance. Try to apply paver sealers occasionally to retain the same look as always.
Now a paver can be made of stones, bricks, or concrete. And these are also the types of paving you are going to know about below!
Main Paving Types
Here I am going to talk about 6 types of paving variation. But some other pavers are warmly embraced in the construction community.
For instance, there are interlocking pavement sealers, which are now used as an alternative to bricks and tiles. These are being used for over 1000 years, and still, you'll see plenty of people recommending this one over pavers. So, without further ado, let's jump into the main types of pavers!
1. Concrete
First, we have concrete. This exists everywhere. You are going to see concrete buildings more often in your locality. Surprisingly they are used way more than steel, plastic, wood, and other materials. So you can say it's a universal compound that is frequently used everywhere.
Now concretes are a composite material with a fine blend of cement and some hardening substitute. It's notoriously durable and ensures a decent finishing every time. You can add water-based or other substitutes to enhance the texture, density, and other properties.
2. Rubber
It's widely known for its high resilience. These come from rubber trees in latex form. They can be applied alone and with a combination of other materials as well. Rubber-made pavers aren't used that immensely like bricks or concrete, but people who prefer waterproof, durable, and an extensive stretch ratio will choose rubber-made pavers over concrete.
3. Brick
These are also building materials commonly used for constructing walls and pavements. Bricks can be applied in a consecutive row, both vertically or horizontally. It comes in a rectangular shape with a mixture of a clay mask.
Now, what are they made of? Well, bricks are fortified by clay consisting of soil, concrete substances, sands, limes, etc. However, they can be made out of an enormous variety of materials, types, classes, and sizes. You need to choose your category, depending on your project. For instance, you have fired and non-fired bricks. Usually, you'll notice that walls are made out of bricks. Also, paver patios and driveways can be built with them.
4. Limestone
Limestones are sedimentary rocks with a blend of some calcium carbonate crystals such as minerals and aragonite. Interestingly, you will find fine similarities between dolomite and limestones. It's generally a composite of concretes, which is vastly used as building materials for its significant features such as this contain numerous calcium properties which help to grow plants. This means you can install limestones in your garden paving.
Mostly these are decorative additions to a construction project. People who want to add more versatility and elegance to a particular project choose limestone.
5. Gravel
These are like a loose collection of rock fragments, which can be classified according to their sizes and shapes. Usually, you'll see gravels on many driveways, roadways, aquariums, sea beaches, parks, etc. The greatest benefit of gravel is it doesn't break or crack. Hence it's just perfect for driveway paving because in other circumstances due to loads of weight and harsh brake of vehicles, your driveway might get damaged.
However, gravels aren't used for building materials, but they are alarmingly used in making different kinds of roadways. For instance, in Russia, you will see thousands of roads made out of gravel.
6. Tiles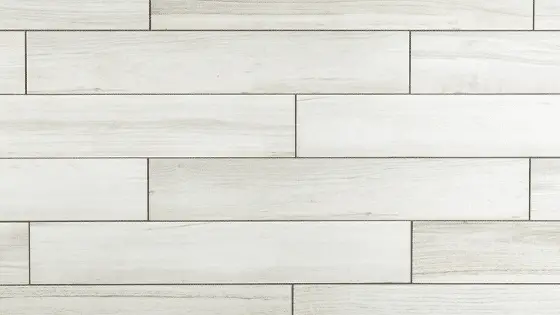 Equivalent to other types of pavers, tiles are also used for building construction. It arrives in a rectangular shape but in different sizes, colors, and textures. And if you've heard about ceramics, then you may be astonished to know that tiles are made out of ceramic.
These are used to mount building walls, floors, tabletops, seats, and other alternative projects and can be manufactured as ceramic, baked clays, glasses, etc. Just like concretes, tiles exist universally. These can be both expensive and cheap, and the properties also differ regarding their quality.
On the other hand, they bear a nugget full of benefits such as water resistance, low maintenance, affordability, durability, easy application, easily washable properties, low VOC, etc.
Frequently Asked Questions (FAQs)
Here we have some of the most commonly asked queries regarding different types of paving:
What are the different types of pavers?
There are different types of pavers, such as concrete, bricks, stone, tiles, gravels, etc.
What are the paving materials?
Bricks, stones, cobblestones, glass, tiles, woods, etc. are the paving materials.
What type of pavers are used for driveways?
Generally aggregated rocks like gravels, brick pavers, concrete pavers, timber sleepers, clay-like pavers are used for driveways. But professionals highly recommend gravels for constructing driveway pavement.
Is limestone paving good?
Limestone paving is good. And one of the utmost advantages of having them is you can install them anywhere in your house because it's a decorative material.
Also, paver patios, driveways, pathways, countryside walkways, or urban club parking areas can have limestone paving.
Final Words
Alright! I am pretty sure now you have a basic idea about the paving type variations. Still, there's no downside to acknowledging more! And in reality, you're gonna see different types of paving except these, but for now, I guess this article will help you to understand the variations precisely and know their uses adequately!
Make sure you leave a comment, and if you know more about paving materials, do feel free to share your experience. Good luck!