A ball-peen hammer is one of the most versatile tools you can own and is a great tool for homeowners. But what exactly is it used for? And why would you want to use one? Let's answer these questions and more in this article.
Previously known as a sledge hammer, the name ball-peen hammer came into use after World War I when the ball-peen was introduced as an improvement to the original sledge hammer. Ball-peen hammers have a small ball on one end that allows them to bounce back and hit the object they hit with maximum force. They are used to drive screws, to flatten rivets and nuts, to shape metal, and for just about anything else you can imagine doing with a hammer. 
We can consider hammers as one of the oldest tools and can't deny their purpose in various workplaces. Based on the work type, we have differently shaped and categorized hammers too.
Mainly there are three types of hammers- the claw, ball-peen, and club. However, today we are only focusing on the ball-peen hammer category.
Another interesting read: Dead Blow Hammer vs Rubber Mallet
Product Title
Real Steel Ball Pein Hammer
What is A Ball Peen Hammer?
Mainly, a ball-peen hammer has two ends on its head, one side round-shaped and another side flat like a regular hammerhead. The handle is just the same as other hammers, with many material options available like steel, fiberglass, and wooden.
The ball-peen hammer's head weight can be (four to thirty-two) ounces maximum. This hammer's designing purpose was to peen or shape the metal types of materials and when we need a bit heftier option than a claw hammer.
A Ball-peen hammer is also known as a machinist or engineer's hammer.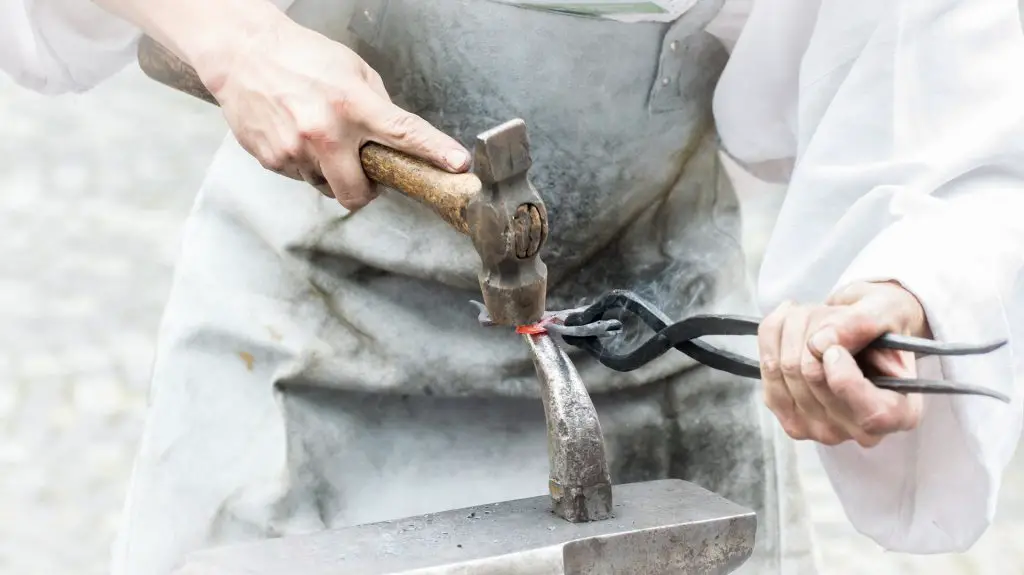 What are The Ball Peen Hammer Sizes?
Ball-peen hammers are available in different sizes like four, eight, twelve, up to thirty-two ounces. Depending on which work we are going to use, we can pick a suitable-sized ball hammer.
For example, to drive a cold chisel requires enough weighted head of the ball-peen hammer, but we require a hammer with less weight when we need to shape metal. It seems a contradictory theory, right! It is. If we use a larger hammer to strike any metal, then it will distort the material. If we use a smaller one for cold chisel driving, it will not work either.
What is A Ball Peen Hammer Used For?
Although mostly used by blacksmiths, silversmiths, and coppersmiths, the ball peen hammer is a very versatile tool that everyone should own. It has many uses. 
Shaping Metal
A ball-peen hammer is a very convenient option for giving textures to the metal by flattening or shaping because this hammer can peen metals that are welded together. That's the reason for vastly using this type of hammers in metal jewelry manufacturing tasks and metal fabrication.
Armor, Sword, and Knife Making
You could use a ball-peen hammer to make armor and forge knives and swords. Once the metal is cast into a knife blade, you should file it to the desired sharpness, and afterward, peen it into shape using a ball-peen hammer. You'll need a solid metal surface to be used as an anvil while peening a blade using such a hammer.
Woodworking
Generally, in woodworking tasks, ball-peen hammers are not needed. But it can be an asset where we need a hammer with more weight and hardness than a claw hammer like driving or striking punches, chisels, or heavy nails type of tasks.
Dent Repair
Another frequent use of a ball-peen hammer is for shaping, smoothing out, or removing dents. Because of its extra hardness or heft, this hammer does not leave any scars on the material while repairing. The round end of the ball-peen hammer's head helps expand and flatten out the metal surfaces.
Peening Rivets
Also, ball-peen hammers are preferred to peen the rivets. A ball-peen hammer can be used in peening rivets and expanding the ends of the set rivets too. The shape of the ball-peen hammers are perfect for manually setting up rivets into metal and we know that the extra bar of the rivets to be cut act as a strong joint for the metal sheets, and this hammer ensures exactly that with few steady strikes only.
Which Hammer Head Should You Choose?
The ball-peen hammer head has a wider striking face than the flat-peen hammer head. This wider striking face allows the user to strike more effectively at the work piece. The problem is that the ball-peen hammer head is a bit difficult to control and it tends to leave a large mark on the surface of the workpiece. The flat-peen hammer head, on the other hand, has a narrower striking face and is easier to control. It's not uncommon to hear stories of people who have used the ball-peen hammer head and then switched over to the flat-peen hammer head.
When selecting the right head size for your project, it's essential to remember that there is a tradeoff between the size of the head and the length of the handle. As the size of the head increases, the weight and size of the hammer will also increase. Nevertheless, when you choose a hammer with a large head, you'll get better penetration and a larger striking area. When you choose a hammer with a smaller head, it will be more maneuverable and easier to control. 
Another must-read: Mallet Vs Hammer
What are the best ball peen hammers?
1. Estwing Ball Peen Hammer – 12 oz
Sale
This ball-peen hammer has the head and handles forged in one piece of solid metal of steel along with an attractive blue UV coating. Estwing hammers reduce vibrations caused by impact and also offer comfort and durability in use.
2. TEKTON 30401 Jacketed Fiberglass Ball Pein Hammer, 8-Ounce
These ball-peen hammers are made of a high-strength fiberglass handle core that is light-weighted and virtually unbreakable. The high-strength fiberglass handle core absorbs the vibrations and, the soft non-slippery grip gives a more comfortable experience.
3. Real Steel 0506 Non-Slip Ball Pein Hammer 32-Ounce
If you are looking for a ball-peen hammer with more strength, durability than a fiberglass handle and can help you with strong, striking power then, this is the one because this hammer is made with an exclusively profiled, drop-forged, and heat-treated head.
Conclusion
Ball-peen hammers have a long history dating back to the 19th century. They were invented by a blacksmith who wanted a harder working tool than the original hammer he was using. They are usually used to work metal, but there are many other uses for them. You can use them for woodworking, home repair, and even DIY projects. This is an awesome tool to own and you should give it a try!
Frequently Asked Questions (FAQs)
What are the three types of hammers?
Ball Peen, Claw, and Club
What is a ball peen hammer best at?
Who might use a ball been hammer?
Blacksmith, Silversmith, or Coppersmith. Although, it is a versatile hammer that everyone can use.
Another interesting read: How to Cut Wood Without a Saw Using Other Wood Cutting Tools