It is tough to choose the right sealer for expensive travertine tiles. The reason is that the wrong products can damage the surface as well as the looks.
On the other hand, the best travertine sealer can preserve the natural color, and fight against everything that can be destructive. However, going for cheap alternatives would also increase the hassle even if it is compatible with the tile.
Whether you are planning to coat indoor tiles or outdoor and get a wet finish or matte, we have found the most suitable solutions for you. Let's start with some important info, and then move on to the review section.
Another must-read: Best Redwood Sealer
What Is Travertine?
Travertine is a naturally formed rock that has a smooth finish, and rich color. It is not the same as limestone or marble as you can only find Travertine in hot springs. Places, where limestone is commonly found, and there is calcium carbonate in groundwater, are the main source of this natural stone.
After the cutting and polishing processes, it comes as a tile that you can use as building materials. Though it is a hard material and lasts decades, you need to clean and seal it to maintain its natural glow. Let's see a more detailed answer on why you need to seal Travertine.
Why Do You Need to Seal Travertine?
We have come to know that Travertine is a natural and porous stone. It means the stone has tiny little holes. You can't see them in naked eyes, but they are there.
So, when a colorful liquid falls on the stone, it becomes permanently stained if not sealed. That is why you should seal your travertine tile with one of our reviewed sealers.
The Best Travertine Sealer: Our Review
1. Best Overall: Aqua Mix Sealer's Choice Gold Quart
Behold the no-sheen water-based penetrating sealer for travertine stones as well as grouts. Aqua Mix Sealer's Choice Gold can bring out the natural beauty of the stone tiles, and preserve it for a few years.
The product has the most advanced formula to ensure maximum protection against stains. A perfectly sealed surface with Aqua Mix can last more than 10 years. If you compare it with the durability of its competitors, you won't find another economical option.
It is very popular for both interior, and exterior uses. Even professionals rely on this sealer to complete commercial jobs. Besides its quality and protective features, people use it for its easy-to-use application. After applying the first coat, you don't need to sit for a very long time to do a second one like other sealers.
Though we have reviewed another water-based model, and safe kitchen uses, this one is also food safe, and you can use it on countertops. From sealing bathroom floors to pavements, you can rely on this one.
Suggestion
The grout can become a problem sealing Travertine with Aqua Mix. So, you should pour baking soda paste to lift the soiled grout, and give it a day to dry. After that, you can apply the sealer all over, and it would create a waterproof layer successfully.
Pros
Dries fast
100% waterproof
Thin, and easy-to-apply
Cons
It smells, and proper ventilation is needed while applying.
Who Should Buy?
Though the company suggests that you can use it both indoors, and outdoors, using it inside the house can give the best results. If you are tired of the failure of cheap sealers, you should buy this one. After 2 or 3 coats, you will be able to understand the difference immediately.
Tip: If you are planning to apply the sealer on a vertical wall, using a roller will cause more trouble, and waste this expensive product. Try to use a brush-tip-on-a-bottle-type applicator.
2. Runner-Up: Armor WL550 Matte Wet Look Enhancer Sealer
We have placed Armor WL550 as our runner-up, but the sealer is worthy of getting the same rank as the top pick. It is the best outdoor travertine sealer, and it has a wide range of uses. The only issues are, it is slightly toxic, and has an odor. Otherwise, the solvent-based sealer has amazing features, and durability, which are worth mentioning.
After applying this sealer, you won't have to worry about it for the next 3 or 5 years. Its water-repellent properties and UV protection keep the tiles preserved.
It is a breathable material that doesn't trap gases even with its layer of protection. Here, some people get concerned about slipping issues because of that layer. As stone surfaces are already slippery with water, it doesn't add more to that nature. That is why you can also regard it as the best travertine sealer for pools.
Very toxic acrylic sealers provide a wet look, which you can't get from applying Armor WL550. It is because the sealer is a siloxane type, which is close to the water-based sealers. Even with all the issues that we have mentioned earlier, it won't be very harmful to you, your family, or house animals.
Suggestion
Apply the sealer on unsealed surfaces after cleaning. When you are sure that the surface is free of any contaminants, pressure-wash the area, and let it dry for at least 24 hours. Finally, the ground would be ready, and you would get the best results.
Pros
Nice matt gloss
Durable
2-coat finish
Cons
It is not 100% waterproof like the top pick.
Who Should Buy?
If you want a matte wet-look on your driveway or pavement with excessive foot traffic, Armor WL550 will be the best solvent-based travertine sealer for you. It is a low-VOC, UV-resistant, and breathable solution that lasts longer than its competitors.
Tip: The best time to apply the sealer is late afternoon or early evening. By doing this, the fresh coating won't get affected by high temperature or early-morning moisture.
3. Best Budget: Miracle Sealants 511GAL4 511 Impregnator, Gallon Penetrating Sealers
Miracle Sealants 511GAL4 511 Impregnator Sealer, Gallon, Clear, 128 Fl Oz
For use inside or out on a variety of surfaces including sanded grout, ceramic tile, porcelain tile, glazed tile, stucco, travertine, marble,...
We usually expect a noticeable price difference between the premium and budget options. But the price differences are marginal in the world of sealers. Among all, we have found Miracle Sealants 511 that has the lowest price and comes with almost the same quality as our top pick.
The 511 is a professional choice that actively protects against water, slippage, and stains. Its transparent layer of protection also prevents oil and other weather elements from damaging the stone surface.
Another point that makes it the best budget travertine sealer is the capability of sealing almost 4000 square feet with every gallon. After a coat or two, you will notice that the water on the tile surface is beading up nicely.
As the formula doesn't have a color, it can supplement the natural color, and preserve it. Considering the features, you can think of it as the best sealer for a travertine shower. So, check out some reviews about it, and make a decision.
Suggestion
The best practice is to use a Miracle sealer applicator for coating travertine or other stone surfaces. Otherwise, it would not seal the surfaces properly, or you might waste it. Don't forget to wear masks while handling the product.
Pros
Seals properly
Prevents stains
Makes the surface less slippery
Cons
Its indoor uses can make you uncomfortable as it smells.
Who Should Buy
Compared to other products on the market, you will notice that the price differences are marginal. After hours of research, we found this budget model that has the same quality as our top pick. If you are planning to seal outdoors or well-ventilated travertine surfaces, this is the one you should buy.
Tip: You should wait for 3 to 5 hours before wiping out the excess sealer so that it can get enough time to penetrate. Also, make sure that the treated surface is free from liquids for at least 72 hours.
4. Best Food Safe: Granite Gold Sealer Spray Water-Based Sealing
Granite Gold Water-Based Sealer Spray Protection for Granite, Marble, Travertine, Natural Stone Countertops, 24 Fluid Ounces, 1-Pack
Granite Gold Sealer creates a barrier providing maximum surface protection against stains from oil, water, coffee, wine, and other liquids,...
There are not many differences between Granite Gold Sealer Spray and other water-based sealing agents. One unique characteristic of this product is that you can use it around food preparation areas.
Its formula doesn't contain anything harmful to our health and well-being. For those reasons, we think of it as one of the best sealers for travertine tile.
Another interesting fact is that it is the easiest to apply among all other products on the list. For others, you need several items to do the coating. Here, the liquid comes in a spray bottle. So, all you need is a lint-free piece of cloth to wipe off the excess sealer of the surface.
Moreover, it doesn't take long to get dry and only needs a 20 to 30 minutes gap in between the coats. So, this can be the perfect choice for your kitchen and travertine countertops.
Suggestion
You can check whether the countertop is sealed properly or not by doing a quick test at home. Pour one or two tablespoons of water on the surface, and wait for a few minutes. If you see a dark marker ring, you should recoat that location. Do the test on several spots, and be 100% confident.
Pros
Spray bottle included
Safe around foods
Easiest application
Cons
It is expensive and not economical for outdoor uses.
Who Should Buy
For those who have a busy kitchen, and a countertop that never gets a break, Granite Gold Sealer Spray would be the best food-safe option. It costs more than other sealers, but the investment is worth the quality.
Tip: Never apply the sealer on even slightly wet surfaces. Otherwise, it might make the surface black, and you would have to redo the coating.
5. Another Option: DOMINATOR Stone, Low Gloss Stone Sealer, and Clay Brick Sealer
Nothing extraordinary, DOMINATOR Stone is another typical water-based travertine tile sealer. Don't expect that it would deepen the color of the tile or give a glossy finish. As it is a water-based solution, you have to be happy with a matte finish or wet look.
However, it is a durable and preferable product that can protect tiles from heavy rain. After completing two coats without missing any significant step, you will love the outcome.
It is easy to apply, and you can cover almost 1000 square feet per gallon, which would be the best sealer for travertine pavers. As no professional help is needed, you can even save some more. If you were going for something less toxic, you should check this one out.
6. Another Option: Black Diamond Stoneworks Wet Look Natural Stone Sealer
The travertine tiles that are already polished should not use Black Diamond Stoneworks Sealer. It is intended to give a glossy finish to the exposed surfaces that are still not treated.
The sealer is perfect for both interior, and exterior to protect surfaces from various damaging factors. After the first coat, you may panic at the strong purple color.
But don't worry as it would disappear overnight after drying. If you don't get a nice wet look, you can apply a second coat maintaining a 24-hour gap. Despite its performance and features, we couldn't give it a higher ranking.
It is because of the complaints of the users that state its durability issues. Within a month or two, the look becomes less attractive, which is not acceptable. However, it is not the case for every customer, and you can consider it for your home.
Another interesting read: Best Asphalt Driveway Sealer
What to Consider Before Buying the Best Travertine Sealer?
Only the best-rated travertine sealer can bring out the natural look of your paver, and protect it from damages. Staining, sun-bleaching are a few of them. Now, let's see what things you should put on your checklist before choosing the right one.
Water-Based or Solvent-Based
The only choice you are going to get while choosing a sealer is whether it is water-based or solvent-based. Both are tough, durable, waterproof, easy-to-apply, and UV-resistant. So, don't worry about its performance or protection capabilities.
However, there are some differences, and they are in their appearances and toxicity.
Water-based natural stone sealers appear to be milky white and provide a matte-glossy finish after curing. Also, it is non-toxic, non-flammable, odorless, and some are even safe for countertops.
On the other hand, Travertine sealer wet look is only possible with the solvent-based ones as they can penetrate the stone, and concrete surfaces very well. But it is a little bit toxic and has an odor.
So, if you need a low-VOC sealer that is safe for your health, and your pets, go for water-based ones. Otherwise, you can choose solvent-based sealers for outside uses that can give you a nice glossier finish.
Durability
Regardless of the type, some sealers last longer than others. When you buy one, check out how many years it can keep on protecting the travertine surface. Also, know how many coatings it needs to provide that kind of durability.
Finishing
As we have already discussed in the comparison section at the beginning of this guide, you should decide whether you like a glossy finish or a matte finish. Once you have selected, order one from our reviewed models at the best price available.
Protective Features
Protection from water or other liquids that can stain Travertine is a must, and you should buy a sealer that can provide that kind of protection.
Now, if you are planning on sealing a surface that is not exposed in direct sunlight, you can choose something not UV-resistant. But for the outside areas like driveways or patios, you must focus on the UV-resistant feature of the product.
Application
Some sealers are non-toxic, and you don't need to worry about a lot of things while applying. Just getting an applicator, and a clean towel is enough. However, you have to be careful around toxic solvent-based ones. While coating with such a product, you must wear a proper and protective mask. Also, make sure that the place has enough ventilation.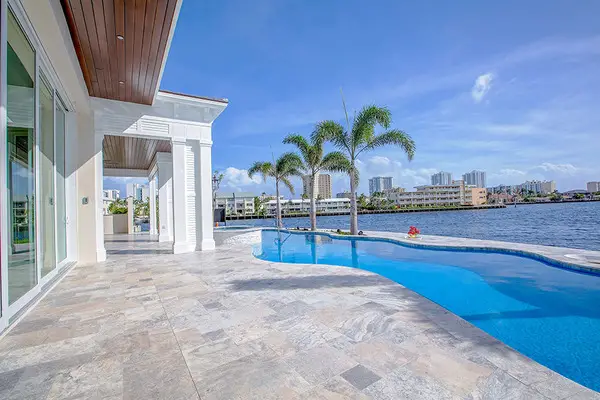 How to Seal Travertine?
Before you start applying one from the best travertine sealer reviews, you have to clean the natural stone tile properly. After that, you can apply the product on a clean surface, which is recommended by the manufacturers. Now, arrange the following items, and follow the steps described below for the best results.
Items Required:
Cleaning product
Sealer for Travertine
Water-filled spray bottle
Clean clothes
Roller brush
Procedure
Firstly, read the manual or instructions from the company that produces your selected marble or travertine sealer. As there are different instructions for different products, we can't mention a particular procedure.
Secondly, use that spray bottle to sprinkle water on the entire surface. After that, wipe it using the clean piece of cloth, and wait until the surface is completely dry.
When you are sure that there is no water, you can use the roller or other suitable applicator to apply a thin layer of coating. Here, you can wipe off the excess sealer by using the cloth.
Finally, repeat the third step after 24 hours, which would be the second coat. Experts recommend such waiting periods to let the sealer penetrate through the natural stone.
Two coats of the best sealer for Travertine can last from three years to five years. Now, let's answer some of the most frequently asked questions below.
What Are the Advantages and Disadvantages of Sealing Travertine?
Like all other options, there are some advantages and disadvantages of using a sealer on travertine tiles.
Advantages
Sealing can prevent stains and mildew.
As the sealer can penetrate the natural stone, it preserves its natural look.
A thin layer on top stops any liquid from going inside the small pores.
Disadvantages
It requires resealing from time to time.
Adds additional cost to the maintenance of the pavements or other structures
Frequently Asked Questions
Should Travertine be sealed?
Yes, Travertine should be sealed for preserving its natural look, and smoothness.
Does sealing travertine make it slippery?
Sealer doesn't make a travertine tile slippery. It can become slippery only when there is water on the tile.
How many coats of sealer does Travertine have?
Normally, 2 coatings are enough for sealing Travertine. But if you are not satisfied with the finish or overall performance of the coating, you can add another layer.
When Should a Sealer Be Applied to Travertine Tile?
Based on the quality of the product, you may need to reseal the surface using the best travertine tile sealer every three to five years.
Conclusion
Most of us tend to not give enough attention to the marble surfaces in our homes. We think that nothing can harm the mighty stones, and it would last more than a lifetime.
But the reality doesn't align with our conception. Travertine and even granite are porous materials that get faded and stained over time. If you don't seal and maintain them properly, you will lose the natural look.
So, invest some more in the best travertine sealer, and you don't have to worry about a thing. We recommend you to get Aqua Mix sealer, which is the best water-based travertine sealer in the market. It is a human and pet-friendly product with outstanding durability. Check the link, and order at the best price right now.