Cleaning is a part of our regular activities. So, you are searching for an efficient solution regarding this. And also to know the way of saving time and money. However, a blower can be a top-notch way to develop your cleaning experience.
Besides, it's a powerful tool for cleaning operations while generating air pressure to blow out your cleaning object's debris. You can use it to remove grass and leaves from your garden and car easily.
Well, let's think from a common ground about selecting a blower from the market. We will consider the easiest starting procedure. The engine is the main operating blower. So we will consider a strong engine. Besides, construction and air pressure are also important to choose the best one. Let's start our journey with Stihl bg 50 vs bg 56 blowers for a more detailed comparison.
Another interesting read: 5 Best Lithium-Ion Cordless Leaf Blowers
A brief discussion on BG 50 Blower
After having a brief idea on blowers, have you already started searching on the web to buy a suitable one? But you may get confused while choosing from the internet.
You may find many brands in the market, but they are not providing the details on the internet. So, it's mandatory to have the proper knowledge to identify your perfect blower. So we are introducing the BG 50 blower in front of you.
If you are searching for a powerful blower, then BG 50 can be your option. BG 50 is a gas-powered handheld blower with an easy holding construction. This product is made in the USA.
The weight and power ratio of this blower is more efficient than other brands on the market. You will get proper comfort from this product. The balanced ratio of power will provide you an efficient output of cleaning operation.
Right now, we are discussing some features of BG 50 blowers. This blower has a gas-powered double-stroke engine. You will get a max of 159 MPH airspeed with a maximum air volume rating of 412 CFM. Besides, it is a portable and handy blower. Stihl BG 50 weighs 7.9 lbs with a powerful engine.
The lightweight blower will help you to hold it easily. But only gasoline cannot run this blower.  You need to mix oil with gasoline in a ratio of 50:1 ( 50= gasoline, 1= oil).  You will find a unique feature called variable speed setting to help you maintain speed as per your work. You also get the noise reduction system on it.
Pros
Double stroke engine.
Easy to hold and handle.
Variable speed setting.
Endurable noise.
Lightweight construction.
Maximum airspeed and volume.
Cons
Complications in the refueling system.
A brief discussion on BG 56 C-E Blower
If you want a better fuel holding capacity, then BG 56 can be the best alternative for you. After studying BG 56, we are facing complications in making a comparison between them. But we have found some unique qualities in the BG 56 blower.
The product ensures an easy and hassle-free starting system that has made it handy. But you won't find them an easy starting feature in the BG 50 blower. But it's not a drawback, and I think because every product has some stronger limitations in other fields.
But it's important to contain all the basic features of a product. However, this blower comes with a better fuel capacity than BG 50.
A blower's power is an important feature where BG 56 has 412 CFM max air volume and a max airspeed of 159 MPH. There is a unique feature of the easy holding system. You can carry it as a backpack.
This product weighs 9.3 LBS and is constructed with a 2-stroke engine that boasts a displacement of 27.2 ccs. You can also get a speed variable system for multiple tasks. The fuel tank capacity of this tool is 18.3fl.oz.
Besides, you'll find a sign C-E in the title that indicates the easy-start feature. The ego start technology is a unique feature of this tool. The refueling system is the same as the BG 50.
Pros
Powerful engine.
More fuel holding capacity.
Variable speed setting.
Endurable noise.
Backpack holding system.
Ego starts technology.
Cons
The weight ratio is higher than other brands.
Stihl Bg 50 vs Bg 56
Well, we've already taken a glance at these blowers, and the following comparison will let you make a precise decision.
Power and Weight ratio
Power is the main feature of a blower. If you think of buying a blower, you need to choose the powerful engine and the appropriate ratio of power and weight.
The BG 50 has a gas-powered double-stroke engine. You will get a max of 159 MPH airspeed with a maximum air volume rating of 412 CFM. The weight of this product is 7.9lbs.
Moreover, the BG 56 has 412 CFM max air volume and a max airspeed of 159 MPH. It also has a gas-power double stroke engine. This product weighs 9.3lbs.
After seeing this, you can find that BG 56 is lighter than BG 50, and the power is the same. So the efficient ratio indicates that BG 50 is ideal for your job.
Another must-read: Echo vs Stihl Chainsaw
Handling
Handling is important for efficient output. You have to do the cleaning operation by holding the blower for a long time.
BG 50 is easy to handle. You can easily carry and store it. This product is also lighter than the BG 56.
BG 56 is also easy to handle. But it is heavier than BG 50. But you can get a backpack system that will help you to hold and carry easily.
Easy Starting
Blowers are made to save your time and energy. So, to complete your cleaning operations more efficiently than traditional cleaning techniques. Easy starting can be the key to this.
After studying about BG 50, we did not find any technology regarding the easy start. So consumers cannot learn about the starting.
BG 56 has an ego-start technology that will help you to perform an easy start. You can easily start a 2 finger pull.
Fuel Holding Capacity
It is very disturbing when any intervention has come to the middle of your work. For avoiding this intervention, your blower needs a better fuel holding capacity.
BG 50 has the capacity of holding 14.5 fl. Oz fuel. That is on an average rate considering the other brands.
BG 56 has the capacity of holding 18.3 fl. Oz fuel. That is comparatively better than BG 50.
If your blower has less fuel holding capacity, then you need to face the refueling intervention more.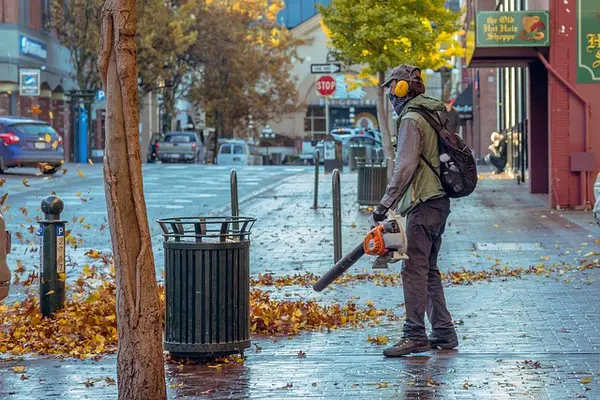 Frequently Asked Questions
Are those blowers appropriate for all types of cleaning operations?
No. Those blowers are ideal for clearing leaves and grass. But the misuse of those power tools can cause serious and fatal injury.
Is the BG 50 appropriate for the refueling system?
No. You may face some complications when you use octane on it.
Final Words
So we are at the finishing line of the competition between Stihl BG 50 vs BG 56.  After comparison, we can see that BG 5o is more efficient in the ratio of weight and power. BG 50 can do the same job with less weight.
From part handling, we have 2 justifications. Firstly, if you are searching for a lightweight, then BG 50 is ideal. But considering the holding techniques, BG 56 is more efficient. The fuel holding capacity of BG 56 is greater than BG 50. BG 56 has an easy starting procedure.
But we did not find any information about the alternative power source. The engine capacity of those products is the same. Besides, you can also judge the price where BG 56 is more ideal than BG 50.
Another interesting read: Echo vs Stihl Blower