Are you looking for a good chainsaw? If yes, you should look out for the Craftsman chainsaw. This company has been known for decades as they are a very reliable and reputable brand among all the companies. If you check out this company, you may be impressed with how they treat their clients.
But when you look for the craftsman chainsaw manufacturer, you may get a question in mind, 'Who made old craftsman chainsaws?'
In this article, we have discussed the craftsman manufacturer. You can find out your answer to the question, who makes Craftsman chainsaws and clear all your confusion.
Another interesting read: Husqvarna 460 Rancher vs Stihl Farm Boss
Product Title
CRAFTSMAN Electric Chainsaw
CRAFTSMAN V20 Cordless Chainsaw
Are Craftsman Chainsaws Any Good?
Before buying a Craftsman chainsaw, you should ask yourself a question that 'Are Craftsman chainsaws good?' The truth is, we cannot answer in just yes or no. It is difficult to say because there are many things you need to consider.
It will help if you consider the manufacturer first as a different company made each Craftsman chainsaw. So, it will be best if you do your research first on the manufacturer. Now we can say about Craftsman that this company is very reliable. And they offer good tools.
With this in mind, you may have plenty of confidence when buying a Craftsman chainsaw or any other type of tool. It may be a good chance that you're going to be completely satisfied with your investment in the long run.
Who Makes Craftsman Chainsaws?
If we assume that Husqvarna makes Craftsman chainsaws, it would be logical as the Craftsman brand is associated with the Husqvarna group. Again, this assumption should be true as Husqvarna makes most of the part of Craftsman chainsaws. After all, Husqvarna is a highly respected manufacturer for making top-quality chainsaws.
People sometimes ask the question as Craftsman chainsaws closely resemble Poulan and Poulan Pro chainsaws as the components seem to be identical. The common fact is Husqvarna, as they also own the Poulan and Poulan Pro brands.
The exception would be for Craftsman chainsaws as it bears the "Incredi-pull" logo, and MTD makes these. So, Craftsman chainsaws are made using technology from several sources, predominantly Husqvarna.
The production of Craftsman tools has always been outsourced. No one can say surely one company which made the tools for Craftsman chainsaw. One thing about Craftsman is it is still a mainstay of the Sears hardware department. Although Craftsman chainsaws are made by Husqvarna or one of their subsidiary companies, they are generally cheaper than those from the Husqvarna brand.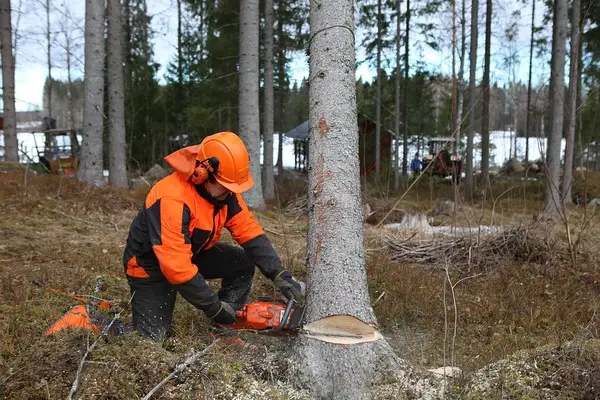 About The Manufacturer
Husqvarna originated in Sweden, and the Swedish company had first owned it. The company started as a weapons manufacturer, but early in its development, the company began to diversify its manufacturing enterprises, including sewing machines, kitchen equipment, and bicycles.
In 1903, Husqvarna started manufacturing motorcycles, and they are one of the world's oldest motorcycle manufacturers. After manufacturing motorcycles, they became one of the top manufacturers of race-winning, lightweight trail bikes.
As Husqvarna manufactures powerful and reliable lightweight engines, In 1947, they started manufacturing gas-powered lawnmowers. Later, Husqvarna launched its first chainsaw in 1959.
Husqvarna company is quite legendary when people ask for chainsaws and a whole range of power equipment. It owns many popular chainsaws and power tool brands, including Craftsman, Poulan, McCulloh, Diamant Boart. Now, Stanley Black & Decker is the owner of Husqvarna and all the brands which Husqvarna had owned.
Although this is traditionally a Swedish company and most of its manufacturing plants are located in Sweden and Western Europe, Husqvarna has expanded its business into many other countries like the USA and China. There are 6 Husqvarna manufacturing facilities in the USA and China.
Husqvarna USA has the largest market share, and many Husqvarna products are made entirely or partially in the USA. For example, Husqvarna 455 Rancher, the engine and body are made in Sweden, but the Oregon bar and chain are made in the US.
Another must-read: Poulan Chainsaw Reviews
What Are the Types Of Craftsman Chainsaws Available?
There are three types of Craftsman Chainsaws available: gas-powered, corded chainsaw, and cordless chainsaw.
Gas-Powered
These types of chainsaw engines are mainly powered by gas. The gas-powered chainsaws have a high output engine to deliver steady power. They have a law-kickback bar and chain, which go through even the toughest wood quickly and easily. A gas-powered chainsaw is equipped with easy start technology and an anti-vibration system.
Corded Electric chainsaw
The power source of these types of chainsaws is corded electricity. They have a powerful motor for tough cuts with a low kickback bar & chain. These types of chainsaws also have an auto-oiling system.
Cordless chainsaw
These types of chainsaw's power source a battery. As they need a battery for power and it gives high quality extended runtime.
What Are The Best Craftsman Chainsaws?
Among several models, the following 3 models are the best in the Craftsman Chainsaw lineup. From small to heavy-duty cutting, you can find all the suitable models in this list. For more details, you can check out our Craftsman chainsaw review.
1. CRAFTSMAN Electric Chainsaw, 16-Inch, 12-Amp – Compact size and powerful motor
Auto-Oiling, Tool-Free Chain Tensioning, 12 Amp Motor, 16 inches Bar and Chain
2. CRAFTSMAN V20 Cordless Chainsaw, 12-Inch – Powerful option without cord or gas
Sale
Bubble Level for precision, Auto Oiling, 4.0Ah Battery pack, 12 inches Compact design
3. Craftsman CMXGSAMY426S 46cc 2-Cycle Full Crank 20-Inch Gas Powered Chainsaw – Best option for heavy-duty cuttings
No products found.
3-point anti-vibration system, aluminum handle, Adjustable automatic oiler, 46cc 2-cycle full crank gas engine, 20-Inch low kickback bar, and chain
Final Words
The fact is the Craftsman brand has changed significantly over the years. Nevertheless, the company's chainsaws are still very reliable. But we need to consider the manufacturer in question.
The important thing is to know who makes craftsman chainsaws and that you make you feel confident while making a final decision. It is the best way to determine whether your Craftsman chainsaw will be worth the money.
Another interesting read: Best Ryobi Chainsaw Reviews