Butcher blocks are famously used as countertops because of their price, durability, and look. But maintaining its natural looks require more care than marble countertops.
Whether it is your cutting deck, wood counter, or other utensils, there is an economical way to increase their durability and preserve the natural look. It is by using the best butcher block sealer from time to time.
No matter how busy your food prep area is, there is no need to worry about maintenance. Check out our reviews on these useful mineral oils and treat the wooden surfaces without the help of a professional.
Another interesting read: How To Fix A Large Hole in A Hardwood Floor
What Is A Butcher Block Sealer?
You probably know that almost any type of wood is perfect for making butcher blocks. Among them, maple, cherry, and red oak are one of the most popular options. Bamboo is also widely considered for the end-grain construction of cutting tops.
What we are trying to tell you is that butcher blocks also require sealing like other wooden surfaces. A butcher block sealer creates a protective layer so that water can't damage it, or the surface gets dried and cracked prematurely.
However, there is a difference between the butcher block sealer and other types of sealer. As butcher blocks are mainly used in kitchens, you can't use toxic sealers. So, only food-safe mineral oils are permitted here.
We have researched a lot and gathered the necessary information about these products. Please read all of them carefully, along with our suggestions to choose the most suitable one for your home. The tips would help you get the best results and avoid mistakes.
Best butcher block sealer: The Review
1. Top Pick: Food Grade Mineral Oil for Cutting Boards, Countertops and Butcher Blocks
Hydrating, penetrating, and sealing capabilities of the Thirteen Chefs Food Grade Mineral Oil are the main reasons we have chosen it. Also, it is high-quality pure USP mineral oil which is 100% safe.
This sealer is a bit expensive, but the benefit is that only a few drops of it can seal large surfaces. Also, you will be able to preserve your high-carbon knives without worrying about rust.
Now, let's talk about the features of the oil. It is not only great for butcher blocks but also useful for other kitchen wares. A few drops of oil can cover a large surface, making it cost-effective.
If you have an old piece of cutting board, you can restore its color and smoothness with the help of this great sealer. For getting the best results, you should paint the entire surface two times maintaining a 3 to 4-hour drying time in between the coats. Those two coats are enough to get a shiny and waterproof layer.
Some customers who didn't study much bought this product seeing its ratings. Usually, there is a good chance of getting a bad or wrong product in such scenarios but not in this case.
After seeing the reviews of the customers, you won't find a single complaint regarding its quality. Apart from the bottle cap issue, you will love how well it spreads and saturates large surfaces. Trust us, order a bottle now, and you can tell the difference from other products right after the first usage.
A Tip: You must be careful with the bottle because the cap design is not very good. If you are not careful, it will drip and leak all over the cap. Clean the excess oil from the bottle after the application.
Pros
Simple application
Prevents cracking and splitting
Shines the wooden surface
Pleasant smell
Cons
It penetrates the wood and may end up with a darker finish.
Who Should Buy It?
If you don't want a sealing product that is too greasy, or smelly, Thirteen Chefs Food Grade Mineral Oil is the one to order. A few drops of this expensive oil can do the magic. So, no need to worry about the price as it can last longer than cheap-quality diluted oils.
2. Runner-Up: Howard Products Cutting Board Oil
The reasons for giving Howard Products BBB012 a place in our top list are versatile possibilities and perfect seasoning capabilities. Besides sealing butcher blocks, it can also take care of the bamboo cutting boards.
Another good reason is that this penetrating sealer is odorless and colorless. It will never go rancid, which is common for olive or vegetable oil. This mineral oil can penetrate the woods deeply and seal perfectly.
The days of tolerating dry wood in the kitchen are over as this oil has some reviving powers. After a few applications following the right guidelines, it can bring back the natural color of the butcher block countertop.
You can use this product to restore old cutting boards or butcher blocks. Just sand the item down slightly and apply a fine coat to get a gorgeous new look. Treating the butcher block from time to time can make it last longer than a lifetime.
The proof of its kitchen-friendly characteristic is the pure USP oil stabilized with vitamin E. So, you can use this food-safe butcher block sealer to coat other kitchen wares without any risk.
Before you make the final decision, take a look at another sealer. Watco 241758 Butcher Block Oil & Finish is also a popular choice for those who want a better finish than others. The only problem is that its application is not simple. You have to lightly sand with 220 grit sandpapers in between the coats to achieve the look it promises. However, you would love it after the final coat.
A Tip: Do you know that you can use it on other products than butcher blocks? We have seen wooden spoons and handles of kitchen wares get a good-looking protective coating from it. Use some beeswax to increase the durability of the coating.
Pros
Keeps the block look like new
Cost-efficient
Perfect to season
Easy application
Cons
The company needs to improve the packaging.
Who Should Buy It?
Whether it is a butcher block or your favorite cutting board, you can rely on the performance of Howard Products BBB012 Cutting Board Oil. You should get this perfect seasoning product and the best butcher block oil that can ensure a clear and protective coating.
3. Best Budget: UltraPro Food Grade Mineral Oil, for Lubricating and Protecting Cutting Board
Sale
UltraPro Food Grade Mineral Oil, 1 Gallon (128oz), for Lubricating and Protecting Cutting Board, Butcher Block, Stainless Steel, Knife, Tool, Machine and Equipment, NSF Approved
MINERAL OIL FOR EVERYTHING: White oil is used in food, automotive, beauty, construction and many more industries.
Won't you trust a product that is authorized by USDA to use in food processing plants? We would, and you should do too. UltraPro Food Grade Mineral Oil is an all-rounder product that can protect the wood as well as stainless steel.
The main benefit of buying this sealer is that you can get a gallon at the price of a quart of other top-rated products. But don't think that the effectiveness of this oil is less than its competitors. On the contrary, it is more versatile than the top pick or runner-up. It is because one can use UltraPro Food Grade Mineral Oil for lubricating some small machinery and kitchen knives.
From removing oil-based makeup to cleaning knives, you can do it all by using this oil. It is a fragrance-free product that can moisturize and seal the butcher blocks perfectly.
Vitamin E and a natural antioxidant in this sealer make it the perfect moisturizer for your skin. The sealer has no scent or color which is preferred by most of its users. If you don't mind buying a gallon of mineral oil at once, you can go for UltraPro.
A Tip: You can increase the longevity of the coating by slightly heating the oil with beeswax and applying it on the butcher block.
Pros
Protects metals from rusting
Value for the money
No smell
Cons
It is a bit thinner than the top-rated mineral oils.
Who Should Buy It?
For the price of 25 oz. of other high-end products, you can get 128 ounces of this one. It is a bit thinner, but you can check our tips to overcome the issue. Within a tight budget, you won't find a better option than this one.
4. Best Long-Lasting: Wood Butter – Butcher Blocks, Cutting Boards, and Utensils
So far, we have only talked about mineral oils. But there is another type of sealer that is more durable and effective than oils. It is the wood butter that can prevent bacteria growth on wood.
If you have ruined your kitchenware by accidentally dishwashing, this Wood Butter will be able to restore the damage. After a couple of applications, you will be amazed to see the results. Using a cloth to apply the butter may not be efficient. Take it out in small globs and spread using your hands. This way, you can get better results or coating.
Are you worried about its safety standards? Don't worry because it is nothing but the same old food-grade mineral oil mixed with natural beeswax. There are no artificial chemicals used in this product to kill the germs.
If you buy mineral oil and beeswax separately, heat, and mix them, you will get the same thing as this butter. This sealer is perfectly capable of preventing the wood countertop from drying and cracking.
For your information, the wood butter has a mild and subtle scent that is not bothering at all. The overall performance and healing power of this sealer are worth the investment.
A Tip: Apply the butter when it is a bit warm or soft which is no issue for hot regions. Leave it outside for 5 minutes under the direct sunlight, and it would be ready. If you live in a cold climate, you can achieve the same result by heating the butter until it is soft. 
Pros
No greasy or waxy residue
Resists water perfectly
100% food-safe
A pleasant and subtle scent
Cons
Some people with severe allergy problems doubt its ingredients.
Who Should Buy It?
Those who are plannihttps://www.amazon.com/dp/B078SK64LD/?tag=healthyhandymen01-20ng to spend their money on beeswax should check this one out. It is cheaper but high in quality. So, get this food-safe wood butter and protect your favorite utensils without any delay.
5. Another Option: Butcher Block Oil by CLARK'S
Here, we have got another economical product, but the price is not as low as our best budget pick. That doesn't mean you should not consider it at all. The unique feature of this natural oil is that it has a nice citrus note.
Mixing with the wood, this orange lemon Butcher Block Oil releases a soothing fragrance. None of the reviewed products has this characteristic. So, this one can also be a top priority for your kitchen items.
Now, let's talk about some real-life experiences. When you apply this oil in dry or untreated wood, the surface will drink up a lot of the oil almost instantly. However, it is true for other products too.
So, don't panic if you are using it for the first time. Some customers thought that it evaporates too quickly, which is not the case. If you like a gentle orange tone around the butcher block, this is the only product available right now. Get it now from Amazon at the best price.
Key Features Of The Best Butcher Block Sealer
We prepared the best butcher block sealer reviews keeping some parameters in our minds. If you want to research like us and find the right one for you, it would be best to read the following buying guide. It is important because no one wants to see their favorite butcher block counters getting cracks.
Sealer material
As we are dealing with food preparation tops, and utensils, it is very important to know about the sealer material. Use the ones that have food-safe mineral oils in them and don't harm in any way. One can only be assured if the product has pure USP mineral oil.
There are lots of different sealers in the market. Some offer extra durability, a better finish, and come at a very reasonable price. But they are most likely toxic. We researched and reviewed only selected ones that are entirely safe for your health once cured.
Looks
Most of the oils are colorless and enhance the butcher block's natural look. However, a few sealers can change the color of the countertop slightly. Check the specifications and descriptions of the product and know what you are getting.
Another must-read: Best Redwood Sealer
Scent
Yes, some mineral oils are odorless, and some have mild tones. One thing is sure that you won't get an irritating smell after the coatings. On the contrary, the product in the other consideration section has a citrus tone that becomes very soothing when mixed with the wood.
Versatility
Though butcher block sealers are to be used on woods, you should be able to use them for other purposes too. If you look at our selected products, you will notice that you can even protect metal utensils using sealers. It not only seals the wood but also prevents rust from building up on metal surfaces.
Application
Lastly, the sealer should not have a complex application process. The best option is to select such a sealer that you can apply only using a clean rag or brush.
How Do You Apply Mineral Oil On A Butcher Block?
If the cutting surface in your kitchen is newly made, follow the steps below.
Firstly, sand the surface using an Orbital sander. You can do it manually, but it would take a lot of time.
After that, clean the surface using a vacuum machine. It is possible without a vacuum but make sure that there is no dust on the surface.
Now, it is ready to take the first coat. Use an old and clean rag to apply the sealer. In the beginning, it may take more oil than usual which is normal.
Tip: Don't wash the rag as it takes a lot of oil for being saturated. A used rag can be useful for the next coat.
Next, drop the oil in a spiral pattern, slide it on with the rag, and don't worry about the thickness of the coating.
Finally, let the oil sit for a few minutes and then wipe off the excess sealer.
We hope that you understand the full process. If you are wondering how often you should do the coating, please see the FAQ section below.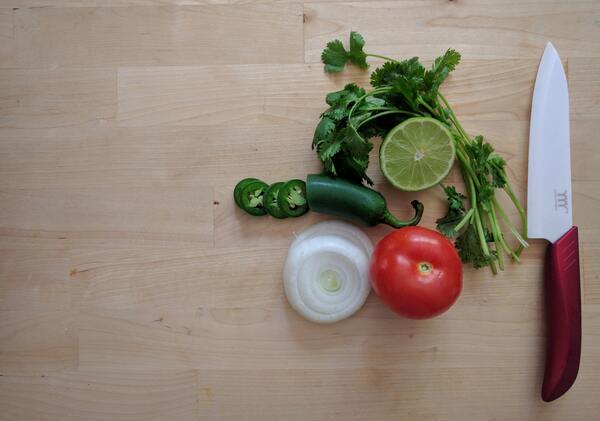 Frequently Asked Questions (FAQs)
Should Butcher block countertops be sealed?
Yes, butcher block countertops should be sealed if you want to prevent it from drying out and staining within a short time after installing.
How often should I oil my butcher block?
In the beginning, you have to do several coats every day for the first week. Then, do it every week for the first month, and every month for the first year. After the first year, you have to do it at least once every year, and the countertop would stay like new.
An easy way to know the right time to apply the sealer is to look for the dryness of the surface. If it is dry and chalky, you should not wait anymore and give it a nice coating.
How do you get mold off the butcher block?
Using chlorine bleach, you can get the mold off the butcher block. But make sure that you clean off the surface after disinfecting and apply sealing oil.
Is there a temperature preference for the oil application?
Yes, it is the best practice to apply mineral oil when the temperature is between 65 and 72 degrees Fahrenheit. Don't worry too much and do the coating at room temperature.
Can I use olive oil as a substitute for mineral oil?
Yes, you can use olive as a substitute, but it is not recommended. The reason is that olive oil goes rancid after some time which can be frustrating. There are no issues like that if you use the best butcher block sealer.
Conclusion
Furniture and wooden surfaces in the kitchen are the most vulnerable to humidity, mold, and other damages. Getting the best butcher block sealer and sealing the exposed surfaces is the only way to increase the longevity of your favorite countertop or cutting board.
Lots of people think that applying a sealer would take away the natural look of the wood. But it is not true as the mineral oils used in the sealer become transparent once cured. They are also safe around food preparation areas.
So, what are you waiting for? Set the budget, consider some factors mentioned in the buying guide, and order one from our reviewed list of sealers. Those who have skipped the reviews should know that Thirteen Chefs Food Grade Mineral Oil (available on Amazon) is the best butcher block sealer for the money.
Another interesting read: Best Marble Sealer