Sealing your concrete driveway is to fix the vulnerability of it from dust, stain, UV rays, and eventually sustain the rich color with a glossy finish. It is as vital as you are waxing your cars and applying sunscreen to your dry/oily skin.
While choosing the best penetrating concrete sealer, make sure you have done a complete inspection of your concrete areas. More or less every product can penetrate the porous gap but what impacts it will bring eventually is the key consideration.
A deep penetrating concrete sealer can do a lot of things to rejuvenate your driveway, no matter what is coming onwards. We examine many aspects of probable threats next to the concrete driveway and finally find the best penetrating concrete sealer that you can buy now. So, don't turn back and grasp the whole review today.
Another must-read: Best Concrete Countertop Sealers
Accessories You May Need for Applying the Best Penetrating Concrete Sealer
What Is A Penetrating Concrete Sealer?
A penetrating Concrete Sealer is a group of such a substance that is porous itself but never allows the foreign items to cause damage to the concrete floor.
More specifically, the sealer penetrates the surface creates underlying adhesion which is unlikely to peel, disseminate, or blister. It is widely used on any surface that is susceptible to water, oil, or any liquid substance.
Overall, it is an ultimate emulsify agent that is breathable so moisture will certainly diffuse up to 95% but does not change the color of the surface or any compounds.
What Are the Types of Penetrating Concrete Sealers?
Penetrating concrete sealers are of five types, and they are Silicates, Silanes, Silicones, Siloxanes, and Fluorinated substances. Let's start defining the first one sodium silicate. It is a densifier that makes barriers on concrete surfaces resulting in a consolidated form.
Except for Silicates the rest of the four compounds also penetrate the surface deeply but work as water repellent compounds. As a result, the surface can absorb very less amount of water. It helps concrete damages caused by water, and you won't see spalling, cracking, or pitting.
Another interesting read: Best Granite Countertop Sealer
Best Penetrating Concrete Sealer Reviews
1. Best Overall: Siloxa-Tek 8505 Ultra Concentrate Penetrating Concrete Sealer
Top Features
Water, salt, oil & stain repellent
Silane/siloxane compounds
Low VOC and Odor-less
Temperature ranges from 40 F
6 hours of Fast dry application
We know a concrete patio has so many harmful foreign objects, aside from water or spilled oil. You won't spend money separately and opt for the maximum results; this is why it seems the right trade-off.
The main reason why you get to see it in our first pick is because of its advanced composition backed by Nanotechnology. So, the chemical reaction turns out the molecule is as tiny as possible in return; it performs the deepest penetration.
The one perfect sealer is matched for many unique surfaces and many seasons. It is ready to diffuse moisture from rainy days, tackle the temperature in summer, and in winter able to protect from snow and salt.
Surprisingly, having many features won't lead to a tough application. It poured on the surface evenly, dried up pretty quickly, and become the best bait on the buck for deep penetration.
Pros
Leading innovation & set-off the best water blocking properties.
Versatile treatment for water, salt, snow, and even motor oil
Perform the fastest vaporization to all liquid-based molecules
Fast dries-up application and bring natural finish on the surface
Maximum coverage in one gallon up to 1250 square feet
Cons
Price is somewhat expensive to many consumers
2. Runner-Up: SX5000 WB DOT Approved Water Based Penetrating Concrete Sealer
Top Features
Water-based Silane Siloxane sealer
10X more active ingredients
Coating applications: Roller and Spray
Life expectancy is 7-10 years
Water absorption up to 95%
If the water penetration is the only key concern to have then SX5000 WB DOT is our Runner's up here to solve it. It is made from Silane based molecules that rapidly penetrate different arrays of surface such as concrete, brick, and paver driveways.
This Armor manufacturer won't allow you for any doubtful guess on its ability to penetrate pores thoroughly. Because they already get an appraisal from the Department of Transportation.
So, in many states, damages of roadways and bridges decks from water absorption are the key concern, the department encourages bringing forth it. People love to find Armor SX5000 WB as the right sealer when you want to get rid of soggy concrete driveways and at the same time don't get to see the discoloration.
Aside from the best bait of penetration ability, it falters in some areas while comparing with Siloxa-Tek 8500. Therefore, it may not outperform in many harsh climates but is considerable in heavy rainfall, snowfall, and notably alongside the pool decks maintenance.
Pros
Conduct the maximum barrier to water within the pores
Water beading performance last for 7-10 years
Matte finish overtakes the slippery surface and turns it non-slippery
No bad impact on color and keeps the original tone
10X more active ingredients from its competitors
Cons
Hardly cope up the salt damages and less effective in thaw cycles
3. Best Budget: MasonryDefender 1 Gallon Penetrating Concrete Sealer
Top Features
Water-based eco-friendly silane/siloxane
3 year warranty
90-150 sq.ft. of coverage
Applicable with a low-pressure sprayer
Fast dry up from 2 to 6 hours
The sealer can avoid the chloride ion process and thus aids in Masonry's work. If you are living in a cold region where ice melts down provoking salt damage, then the chloride ion process will save the surface.
Surprisingly, the eco-friendly compound ensures complete beading during heavy rainfall. But keep in mind, the Masonry Defender is not for the interior concrete surface when you want protection from discoloration, fading, and sheen. Rainguard micro-seal would be a good match for this particular feature with the non-yellowing and no-sheen formula.
In the overview of MasonryDefender, we found it safeguards the pitting and cracking issues of concrete areas. But it plummets in serving the other patios under heavy rainfall. If you overlook it and buy a different sealer at the same price, then it turns out the best affordable indeed.
Pros
Easy to apply the low-pressure pump
Safeguard from de-icing salts & freeze-thaw damage
Eco-friendly and breathable concrete sealer
Block foreign matter to sit on the deep surface
Cons
Unable to wipe oil stain thoroughly at first coat
Poor visual reflection after rain for sidewalks and patios
4. Best for Warmer Climate: Lithi-Tek 9500 Ultra Concentrate Penetrating Concrete Sealer
If your pavement is highly exposed to the temperature during summer, then having the penetrating concrete sealing feature alone won't be adequate. Keeping this in mind, we found LITHI-TEK 9500 a high enduring sealer ready to sustain temperature between 40 F – 95 F.
Aside from the temperature control, it keeps the original color of the basement, driveway, and walls from tarnishing away. The only downside of it is not having the right chemical reaction of deicing salts.
Pros
Best waterproof densifier for summer that prolongs life-span
Induced with Alkaline properties to keep the pH level adequately
Easy sealing application with all available tools (Sprayer, roller, brush)
Water-based formula with no odor and VOC content
Fast drying time (6 hours) and applicable for basement/patios/garage/concrete
Cons
Not the right bait for winter sealing application
Not for concrete blocks/cinder blocks, and bricks
5. Best Sealer and Densifier: Lithi-Tek 4500 – 1 Gallon Penetrating Concrete Sealer and Densifier
Every concrete sealer can densify the surface. But when opting for the best densifier, then Lithi-Tek 4500 is the right choice. Due to the chemical compound lithium silicate, it performs as the lithium-based concrete densifier. So, it is strengthening the surface up to 50% when regular sealing agents fall flat to outperform.
Let us not be forgetful to tell you the unique one-coat application of it. A single coat serves everything applying variable methods. As a result, it performs for polishing concrete not just sealing alone. Also, it keeps the natural tone of the surface and exhibits no fume, odor, and VOCs.
Pros
An advanced hardener sealing agent solidifies the surface
Take care of surface leaving the true appearance with no abrasion
Offer one coat only and dries up fast
Effectively creates a barrier to the substrate porosity
Cons
It falters often performing the 1000 square feet coverage in one coat for new concrete surfaces.
6. Best for Glossy Finish:Cryli-Tek 5505 Decorative High Gloss Wet Look Concrete Sealer
Do bubbles or streaks remain on the surface? Also, you want a sealer that brings a high gloss and long-term color enhancement. Then we introduce you to the right bait Cryli-Tek 5505-1 solvent-based sealer.
Different weathers, wind erosion, and organic growth of mold or mildew become unforgiving to our concrete surface. The Cryli-Tek for your surface traps polymer inside and exhibits aesthetic high-gloss color. Moreover, it offers the same bait of water penetration as any water-based sealant.
Sadly, but truly the high-gloss appearance on the stamped concrete creates a barrier to detect minor cracking. Things would be more deteriorating for relatively old concrete with some crannies. The semi-gloss EnduraSeal would be a more safe, inexpensive, and thus an alternative pick for you.
Pros
For a driveway, concrete treats harmful oil compound Xylene & Toluene
Prevents flaking, staining, non-yellowing, and exposing UV light
Cure bubbles which make the concrete dull & cloudy
Avoid water ingression, also keep the surface non-slippery
Protect from dusting, wind eroding and weathering effects
Cons
It seals the surface effectively but is unable to restrict any abrasive product which takes a little maintenance.
How to Choose the Best Penetrating Concrete Sealer
Depending on your driveway surface, there are a variety of sealers out there. For example, if the surface has a slope, then a slip-resistant sealer would be the right trade-off. On top of that, the wet areas are sealed through the porous elements resulting in a dramatic reduction of water absorption up to 95%.
To cure the faded colors, high gloss concrete sealers come with tint packs that make the surface transparent. Besides, different types of products vary in producing different gloss levels from mid to high range.
If your driveway is more susceptible to dust or stain formation, you need to opt for Sodium/Lithium Silicate concrete sealers. Notably, we get to see the surface often contaminated with leaves, pet urine, grease, sticky oil, and many more. The right bait will kick off all of them by digging inside the pores and creating a strong barrier to let them in.
Needless to say, how to freeze-thaw damage harms the surface in a very short life span. Here the best Water Repellent Sealers not only sink into the pores but also withstand the cold water. As a result, the chances of having a cracking surface reduce to a great extent.
Another aspect of enjoining the tough compound chemicals is to get protection from high temperatures when driveways are exposed to the sun. The surface also creates contact with UV rays, fading the true colors, and shine. In that case, an Acrylic penetrating sealer will be the perfect one.
Aside from the freeze-thaw damage, the driveway may have a cracking surface from excessive moisture resulting in a bloom surface at the end. Besides, salt damage is another phenomenon that leads to the same direction. A special sealer containing Alkali-Silica Reaction (ASR) will save the ass of such a surface. Because such a chemical can raise the reduced pH level and uplift premature degradation.
Another interesting read: Best Brick Sealer Reviews
How to Apply Concrete Sealer
Go ahead with the following step by step process to know the application process:
Step 1: Know your sealant first like the dry time, containing what amount of gallon.
Step 2: Start from the thin coating and smoothen the upper surface.
Step 3: After thin coating, pour a gallon of sealer covering the surface varying from 250 to 500 square feet.
A Tip: The more porous your concrete floor the more intensive sealing will require. The Interior floor should expose enough air and sunlight to let the coating dry faster.
Step 4: After the first coating, you will need to wait for one and half an hour at least based then go for the second one.
A Tip: Check out the manufacturer details to sort out the downtime.
Step 5: You may perform the first coating haphazardly like following either the vertical or horizontal method and no matter at what angle or in what direction onwards. But on the second coating, we recommend following the horizontal/upward direction, adjusting the right angle correctly.
Step 6: After coating each line at a 90-degree angle, mark the edge or hairline with chalk or any marker then keep doing until last.
A Tip: This is a technique that saves your sealant not applying it twice on the surface.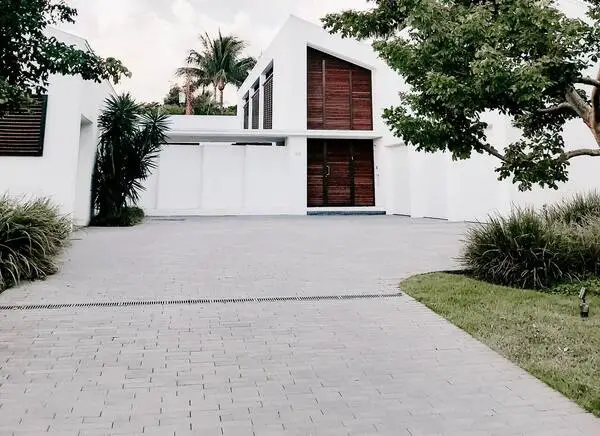 Why You Should Use A Concrete Driveway Sealer
Water is the worst enemy of any driveway surface like concrete. Needless to say, the importance of a sealer with the maximum penetration feature.
As a result, it slowly sinks inside and won't allow a liquid-like substance to diffusion outside. Here is why, your concrete driveway won't be shaky, soggy but in return, extends the maximum life expectancy, onwards.
We should use such a sealer that penetrates the concrete floor as deeply as possible and fixes everything that you expect to see.
Keeping this in mind the right sealer is pretty breathable so moisture won't sit inside the underlying layer of your concrete driveway. Surprisingly a good sealer is low in VOC, spreads fewer fumes, and holds up kinship to the environment.
In a deeper sense, you need an emulsifying agent which secures your concrete driveway surface from potholes, cracks, discoloration, stipping off, dust, mites, debris eventually, enough safe with low-VOC, non-toxic, or non-fumes particles.
Another must-read: Best Redwood Sealer
Frequently Asked Questions
What does a concrete floor sealer do?
A concrete floor sealer prevents foreign objects (dust, mites, debris, oil, grease, etc.) to weaken the surface from striving and deters water to let inside afterward making the surface soggy and damaged.
Is it better to roll or spray concrete sealer?
It depends on the sealer type which either offers the individual application or both. In a deeper sense, a sealer with a slow-evaporation process is a good fit for rolling, on the contrary, a fast-drying sealer allows spraying on the surface.
How long does the concrete sealer last?
It depends on the surface whether it is sealed previously or unsealed and new or old. Traffic exposure is another variant factor as well. Putting all the factors the concrete sealer may last from 2 years to 10 years.
How many coats of sealer can you put on concrete?
A sealer may apply the coat up to two times. Most penetrating concrete sealers usually require two times coating since it is pretty porous to the surface. The one-time coating is commonly seen with the solvent-based sealer with its densifier chemicals.
How long does wet look sealer last?
Wet look sealer doesn't resist abrasion and is more susceptible to peel off. So, if it contacts abrasive products closely it may last for 2 months. On-contrary, the sealer turns out durable for up to 5 years.
Do you have to acid wash concrete before sealing?
Yes, if you want to paint the concrete first and then apply the sealer onwards, then acid wash would be an effective and must-do task for you. Besides, the relatively old but unsealed concrete surface needs to go through it.
What happens if it rains on a concrete sealer?
When a concrete surface is sealed thoroughly, the water from rain won't sleep inside an integral part of it. So, you won't get to see wet or soggy surfaces even after intermittent rainfalls. The pores of the surface have barriers which are called water beading resistance.
Conclusion
Sealing, waxing, and guarding your concrete surface is a one-time decision for a session. Once you have invested then there is no way to return. Here is why choosing the Best penetrating concrete sealer is a painstaking job indeed.
You need to examine several aspects and get to see which sealer turns out great in what condition. After inspecting many weathering conditions, types of concrete surfaces, applications, and from affordable to expensive prices, we showed them all.