Though this is a moot point, nothing to be puzzled here. It?s because both the tools fall under the same genre of tools.
Both of them do almost the same job except for some minor differences in application and construction.
No matter how much confusion you have to choose between a brush cutter and string trimmer, I?m going to clear up all the clutter you are having.
Buckle your seat belt and stay with me. I?m going to discuss brush cutters and string trimmers with their uses, advantages, and disadvantages.
After reading this guide, you will have no confusion at all on choosing the best suit for you.
So, let?s begin.
Brush Cutter Vs String Trimmer
Preview
Best Brush Cutter
Best String Trimmer
Title
4-Stroke Brush Cutter - 25.4 cc.
WORX WG163 GT 3.0 20V PowerShare 12" Cordless String Trimmer & Edger
What is Brush Cutter? Its Uses, Benefits, and Pitfalls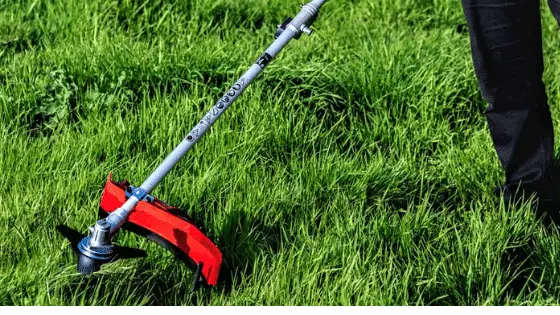 As the name suggests, the brush cutter is a tool that you will want to use for cutting thicker weed stems and tree trunks around your yard.
Where your lawnmower or rotary mower is not accessible, a brush cutter is a solution for you at that space.
Unlike the string trimmer, a brush cutter uses metal blades to cut things efficiently. Using a metal blade lets it deal with thick stuff.
You can use different blades and trimmer heads for a brush cutter, depending on the application.
Regarding the price, a brush cutter price is a bit on the higher side. However, the performance, longevity, and objective surely justify the cost.
Let?s sum up some of the benefits of brush cutters first.
Benefits of Brush Cutter
A brush cutter can cut thicker weed stems and tree trunks. So, if you want to get a heavy-duty solution then go for brush cutters.
It?s easily customizable in most cases. You can change the blade and trimmer heads.
If you need to clean a large lawn, then using a brush cutter is the best solution for you.
It can be a useful alternative for the places where lawn mower or rotary mower is not accessible. Meaning it reaches the hard to reach areas.
As it uses a metal blade, so, it?s durable, and you don?t have to change the edge frequently.
Now let?s point out some of the disadvantages of brush cutters.
Our recommended Brush Cutters on Amazon:?
Sale
4-Stroke Brush Cutter - 25.4 cc.
Multi-position lubrication system enables engine to be inclined to any angle for continuous operation.
Mechanical Automatic Engine Decompression for quicker, easier starts.
Includes brush cutter blade for cutting small trees and heavy brush
Compact design with less weight (only 12.1 lbs.).
Commercial duty dual stage air filter with large sealing areas is replaceable and easily accessible
Blue Max 52623 Extreme Duty 2-Cycle Dual Line Trimmer and Brush Cutter, 42.7cc
2 in 1 Brush Cutter/Trimmer
2-stroke, recoil starting system
Anti-vibe handles.Straight Shaft. Features : Antivibration, Attachment Capable
Ultra lightweight dual spool head.Note: Correct position is with the lever in the "on" to start and the "off" to run
Product Weight (lb):17. Refer instruction manual before use.
Disadvantages of Brush Cutter
The price is higher than the string trimmer.
If you hit a rock with a brush trimmer, then the unit tends to hit you back.
The rotating blade of this type of cutter also throws some object to you. That?s why cutting attentively is vital here.
What is String Trimmers? – Its Uses, Benefits, and Drawbacks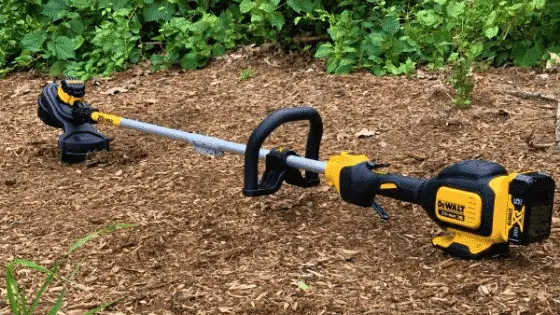 Like the Brushcutter, a string is also a tool that is used to trim grasses around the yard.
However, a string trimmer is not for cutting thick weed stems or tree trunks. You can cut only the small and easy to cut grasses and weeds using this tool.
Instead of using a metal blade, a string trimmer uses a monofilament/nylon line to do the operation.
It?s more lightweight compared to the brush trimmer and also costs way less. Nonetheless, the nylon is not as durable as the metal blade of a brush cutter.
A string can be of three types – gas-powered, battery-powered, and electric corded.
If you want to clean a large surface, then a gas-powered string trimmer is the best bet for you.
On the other hand, if you want to clean a smaller surface, then a battery-powered string trimmer is enough to serve the purpose.
An electric corded string trimmer allows an even more specific surface.
So, let?s sum up the benefits of a string trimmer.
Benefits of String Trimmers
It?s lightweight and easy to operate. That?s why a beginner or any DIYer can start using it comfortably.
A string trimmer costs pretty less compared to a brush cutter.
It can reach to a tight space.
You have the liberty to choose from different types of a string trimmer (gas, cordless, corded) based on your budget and needs.
Some string trimmers offer full rotation features that make it work as a lawn edger. That means where the weed mowers can?t reach; you can use a string trimmer as an alternative.
Our recommended String Trimmers on Amazon:?
Sale
WORX WG163 GT 3.0 20V PowerShare 12" Cordless String Trimmer & Edger
Power Source Type: battery-powered
INSTANT LINE FEED Innovative push button Command Feed spool system for instant line feeding. Plus, Free Spools for Life!
BATTERIES ARE INCLUDED 2 powerful and lightweight 20V Power Share MaxLithium batteries come with this tool, and can be used on any other tool in the WORX Power Share family
BLACK+DECKER 40V Max Cordless Sweeper & String Trimmer Combo Kit (LCC340C)
LST140 40 volt max string trimmer/edger with power drive high torque transmission for clean, fast cuts
Automatic Feed Spool AFS automatically feeds trimmer line as needed
LSW40 40 volt max sweeper a wind speed of up to 130 MPH easily clear debris from hard surfaces
Low noise design for quiet operation. Up to 130MPH
Both units offer a 'state of charge' indicator which shows your battery charge level. Products are compatible with our 36 volt lithium Ion system
WORX WG154 20V PowerShare 10" - 12" Cordless String Trimmer & Edger
Convert trimmer easily to an edger and vice versa in seconds
Convert the cutting path for a wider cut or extended run time
Fixed ergonomic front handle for maximum control. Charging time: ≈ 5 hours
100 percentage automatic single line feed for best cutting performance
Rotating head for easy edger conversion
Now, let?s point out some of the drawbacks of String trimmers.
Drawbacks of String Trimmers
It?s for light-duty trimming or cutting. You can?t cut thick weed stems or tree trunk using this tool.
The nylon line can easily break if you use the tool in the wrong way.
It turns gravel into projectiles. So, again, you must trim attentively.
Brush Cutter Vs String Trimmer – Which One is the Best?
While both of these tools do the cutting and trimmer, you saw some differences, if you read through the last couple of points.
It?s not that hard to tell which one is the best, but it depends on your application and budget.
Yes, both of these tools save money from spending a somewhat significant amount on hiring professionals to clean up the lawn.
However, a brush cutter costs more than $100; a good one requires even more like $200. Whereas, an electric string trimmer costs around $30.
So, if you want to go for the budget solution, then perhaps string trimmers are the ones you should be looking for.
With that said, as you saw, the application of both of these tools is not the same.
If you have to cut tree trunks up to 4? thick or thick weed stems, then you must go for a brush cutter.
On the other hand, if you have to deal with only small grass and weeds, then no need to spend money on a brush cutter. Better go for a string trimmer.
So, which one is the best? It depends on the application first, then the budget.
Frequently Asked Questions (FAQs)
Question #1. How to sharpen a brush cutter blade?
Answer: To sharpen the blade, you have to remove it from the brush cutter. Before you remove it, make sure the unit is turned off and then remove it from the cutting head.
You will want to use a flat file, whetstone, or grinder depending on the condition of the blade.
Use a flat file or whetstone if it's not that dull blade. On the flip side, use a grinder to sharpen a severely dull blade.
Now, after sharpening, check the balance. If you see an adequately balanced blade, then it?s ready to be used.
Question #2. How to sharpen a Husqvarna brush cutter blade?
Answer: There is not any notable difference in sharpening the Husqvarna brush cutter blade.
You need to use a single-cut flat file to sharpen the edges. Sharpening the blade in a vertical movement is highly recommended by the company.
You should sharpen all edges equally to maintain the proper balance.
Question #3. Which brush cutter blade to use?
Answer: Typically you see five types of brush cutter blades.
Chisel blade.
Knife blade.
Mulching blade.
Smasher blade.
Brush Destructor.
For cutting soft materials, a knife blade is perfect. On the other hand, a chisel blade is suitable for cutting hard materials.
Smasher blade is suitable for watery weeds and grass. The mulching blade is ideal for mulching leaves and branches.
A brush destructor blade is the most versatile one that can perform the task of all the above-mentioned types of blades.
Question #4. How to change the Ego string trimmer line?
Answer: Remove the battery line before changing the Ego string trimmer line. This will increase safety.
Now, press the release tab on the spool retainer and remove it by pulling it out.
Next, remove the spool and clean the inner surface of the spool base.
After that, it?s time to take a 16? of the new cutting line, then fold in half.
Next, hook the folded end to the spool on either side and wind it by the indicated direction.
Once you are done with winding, place the ends of the lines in the two opposite ends of the spool.
Then put the reel in the spool retainer, pull the lines to release them from the notch in the eyelet. Now snaps down the retainer so that it places evenly.
You are done.
Question #5. How to replace the string on the Ryobi trimmer?
Answer: Again, take the battery out to start the proceedings. Push the tabs to remove the gray cap. Now remove the black spool that holds the line.
To wind the line, you have a little hole in the spool. Put the line (about 1 inch) in the hole and roll it in the opposite direction. Keep rolling until you get to the edge of the outside lip.
Now, you will see a hole on the spool retainer to come out the line. You should line up the line and put it through the hole. Place the spool back to the retainer, keeping the gear head at the back.
Put back the gray cap; you are done.
Question #6. What is the best string trimmer?
Answer: Well, you have the liberty to choose from several high-quality string trimmers.
Out of many good string trimmers, I vote for the
Final Thoughts
So, this is it.
I?m sure brush cutter vs string trimmer is not a moot point for you anymore.
I hope you didn't miss out on the FAQ section to get the answer to the questions most of the gardeners ask frequently.
What do you think is the best suit for you? Brush cutter or string trimmer?