Gorilla glue Vs Super glue Vs Krazy glue – which one is the best?
Well, it's a moot point. Nevertheless, I'm not going to sit on the fence here.
In this article, I'm going to discuss in detail about Gorilla glue uses with pros and cons, Krazy glue uses with its upside and downside, and Superglue uses and its pros and cons too.
Then I will compare them based on the application, price, curing time, etc.
Later, I will answer a total of fifteen frequently asked questions to clear the air for you.
Sounds good?
Then let's begin with the Gorilla glue uses.
Gorilla glue Vs Super glue Vs Krazy glue
Gorilla Glue Uses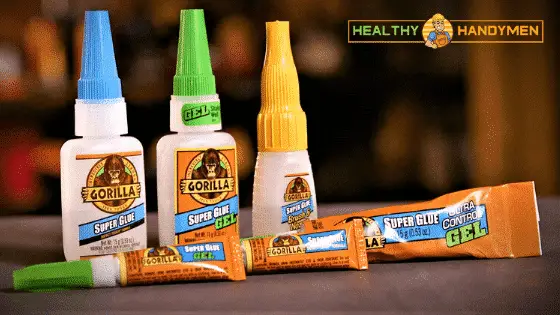 Gorilla, as a brand, has earned a reputation as a quality glue manufacturer. No wonder, Gorilla is not limited to only one type of adhesive. Instead, it makes several glue types.
Here, I'm going to discuss some of its most popular glue types and its uses.
Original Gorilla Glue
It's the first version of the Gorilla glue that you can use on several materials, including wood, foam, metal, ceramic, glass, etc.
Clearing the surface and making it dust free, dampening the surface with water, applying the glue correctly, and clamping the surfaces are few necessary steps to get the best result from this glue.
Clear Gorilla Glue
It's another versatile glue type that you can apply on various materials like glass, ceramic, stone, wood, foam, etc. With that said, it's best to use clear gorilla glue for bonding between transparent materials like glass.
It's non-foaming, crystal clear, water-resistant, and strong glue.
Lightly dampen the surface with water, applying a thin layer of glue, and clamping the two surfaces are the recommended steps to get the best result.
Gorilla Wood Glue
As the name suggests, this PVA glue is mainly made to target the woodworkers so that gluing two wood pieces becomes as easy as pie.
You can apply this glue on all types of wood, including woodworking projects in the kitchen.
Remember, use this glue only for wood to wood bonding. Making sure it's above 55-degree Fahrenheit when applying the glue to get the best bonding.
Cleaning and drying the surface, aligning wood grains, and applying the glue on one surface are the simple ways you need to follow.
Gorilla Super Glue
It offers high-strength and quick set time that makes it a perfect adhesive for household projects.
Gorilla offers its superglue in four different formulas.
It's a multipurpose glue. Therefore, you can use it on a variety of materials like wood, metal, ceramic, rubber, paper, shoes, etc.
Cleaning and drying the surface, using a small amount of adhesive on one surface, are required to get the optimum results.
Gorilla Epoxy
Gorilla epoxy is an ideal two-part adhesive for tough projects. It features two easy to use syringes.
The two parts (the resin and the hardener) are combined to make a strong bond.
Clean and dry the surface, mix the two parts perfectly and apply the glue within three minutes of mixing. Then clamp the surfaces for 30 minutes. You are done. Let it adequately cure for 24 hours.
Gorilla Glue
In general, Gorilla glues are cost-effective.
Most of the glues are versatile.
The glues offer strong bonding.
Easy to apply.
All the glue types come inside a quality container.
Take longer than expected time to cure fully.
Not so suitable for bonding plastic.
So here's our recommended Best Gorilla Glue:
Sale
Gorilla 5021801 Waterproof Polyurethane Glue, 1-Pack, Light Tan
Incredibly strong and versatile; The leading multi-purpose waterproof glue
Best for tough repairs on dissimilar surfaces, both indoors and out
100% Waterproof; Doesn't break down when exposed to outdoor elements
Versatile; Easily bonds wood, stone, metal, ceramic, foam, glass, concrete and much more!
Incredibly Strong: Expands 3 times into the materials to form an incredibly strong bond
Sale
Gorilla Micro Precise Super Glue, 5 gram, Clear, (Pack of 1)
Impact Tough: Reinforced to increase impact resistance and strength
Smooth Application: Precise, controlled dispensing tool that fits comfortably in hand
Fast Setting: Dries in 10-45 seconds, no clamping required
Versatile: Bonds plastic, wood, metal, ceramic, rubber, leather, paper, and more!
Krazy Glue Uses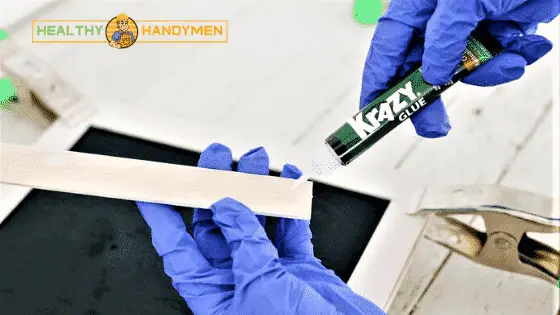 Like Gorilla, Krazy offers several types of glues. It's best to classify the Krazy glues based on the applicator types. So, here are the types of Krazy glue based on the applicator –
Gel
Brush
Precision
Pen
Tube
Single-use
Of course, Krazy released multiple versions under each of those types.
Let's talk about the use of some of the popular Krazy glue.
Gel Based Krazy Glue
You have the option to choose from five different gel-based versatile Krazy glue. All the gel-based glues have an easy to use a nozzle. The no-drip formula makes it easy to control the amount of adhesive you want to apply.
You have the no-run all-purpose gel glue that you can use on ceramic, wood, plastic, glass, metal, leather, rubber, vinyl, etc.
The Maximum Bond Krazy glue gives you extra strength and shock-resistant bond. While you can use this glue on several materials, it works best on porous materials like ceramic.
You have the craft no-run gel with skin guard that is also an ideal adhesive for filling gaps of materials like ceramic. Nonetheless, you can use it for wood, plastic, glass, metal, leather, etc.
Krazy skin guard gel is perfect for mismatched surfaces. On the other hand, home and office no-run gel are ideal for home and office use. It is suitable for both mismatched surfaces and porous materials.
Brush Based Krazy Glue
Here, you have the liberty to go for four different brush-based Krazy adhesives. The brush applicator lets you reach the tight spaces easily and cover large surfaces with ease.
The All-purpose brush-on version is ideal for applying on various materials, including wood, metal, ceramic, leather, glass, rubber, vinyl, etc. So, it's a handy option for household use.
Like the gel-based version, Krazy releases a specialized home and office brush-on version, too featuring the same application.
The color change brush-on version turns into purple when dries. The skin guard brush-on glue is there to be used on various materials as well.
Precision Based Krazy Glue
This type of glue comes with a hanger cap for secure storage. It has a precision tip which is an extended no-clog tip that reaches to the tight spaces quite quickly. The finger grip size makes it easy to control the amount of adhesive you want to apply.
Here, you are getting two different models – Maximum bond with an extended precision tip, and the other one is the craft with skin-guard. The latter is an ideal solution for craft materials like wood, ceramic, porcelain, etc. The maximum bond one works great on various materials.
Pen-based Krazy Glue
For the delicate repairing purpose, this type of pen applicator is one of the best options for you. Krazy's pen-based glue features a push and glue-based pen applicator that's easy to control.
Here, you will have two different models – the all-purpose Krazy glue pen, and Krazy home & office pen.
The home & office pen is suitable for home and office where you require accuracy. You can easily store the glue in your office drawer. You can use it on various materials like wood, ceramic, plastic, metal, vinyl, etc.
The all-purpose pen glue offers the same application and use.
Tube Based Krazy Glue
You guessed it right. This time you are going to get glue inside an easy to use tube.
The tube has a handy nozzle that makes it a perfect option for the porous surface.
This time you have five different versatile types of glue that you can apply on various materials like wood, glass, ceramic, metal, leather, vinyl, etc.
Single-Use Krazy Glue
These single-use glues are useful for a quick fix. You can go for the single-use glue when you need only a small amount of glue to fix something quickly.
This version of Krazy glue saves your money as you don't have to buy the big size ones unnecessarily.
All the single-use glues come with a storage box. They are small in size and easy to use too. The application and use are the same as the other type of adhesive.
Krazy Glue
Krazy offers different types of applicators to make life even easier for various applications.
All the glues are easy to control and use.
They are convenient to store.
All of them give you a strong bond.
They are cost-effective.
All the applicators serve their purpose well. Notably, these are some excellent glue for precision bonding.
Curing time is not so quick.
So here's our recommended Best Krazy Glue:
Krazy Glue Home and Office Brush-On Glue, 0.18 oz
The brush-on applicator provides excellent surface coverage that's easy to control on large surfaces and in hard-to-reach areas
Brush stays fresh in no-clog bottle and the bristles of the brush don't stick together
Great for office projects, school work and crafting
Krazy Glue Maximum Bond Super Glue, No-Run Gel, 20 Grams
Maximum-strength formula sets fast and delivers a durable, shock-resistant bond
Ultra-thick, no-run gel is great for vertical surfaces and difficult, mismatched surfaces
Designed to withstand impact and changes in temperature - ideal for objects used every day
Extended tip makes it easy to get the super glue into tight spaces
Bonds to a variety of porous and non-porous surfaces including ceramic, plastic, porcelain, metal, rubber and vinyl
Sale
Super Glue Uses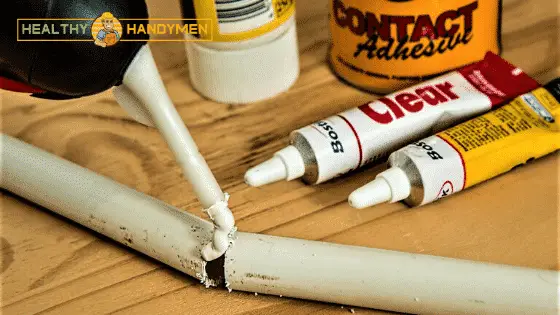 Well, generally, superglue is a type of adhesive that offers high-strength bonding. Super glue is made from cyanoacrylate.
Interestingly, like Gorilla, Krazy, Loctite, and some other brands, a brand named Super Glue also makes this type of glue.
Don't get confused.
Super glue is a brand name, as well as a glue type.
Regarding the application and use, super glue is applied to all sorts of materials like the other two brands I've discussed above.
As a brand, SuperGlue manufactures different types of versions of the super glue. They make gel type, liquid, epoxy, and the traditional super glue.
Super Glue
It offers a high-strength bonding compared to other types of adhesive.
Superglue dries relatively quickly.
It's a multipurpose type of adhesive
All the brands, including the Super Glue brand, offer easy to use a container with a handy tip to use the glue with ease.
It can make a mess if you are not careful enough while applying it.
The fume produced by the superglue is pretty sharp, and not suitable for health.
So here's our recommended Best Super Glue:
Sale
Super Glue 15187 , Clear- pack of 12
Original Super forms the strongest bonds on clean breaks of non-porous materials
Super Glue for wood, ceramic, fingernails, metal, pottery, plastic, china, jewellery, and more
Fast-drying formula bonds instantly and sets in 10-30 seconds; paintable and sand able
Precision applicator eliminates runs and drips
Reusable storage comes with 12-Count 2-gram tubes (24 grams total)
Sale
Loctite Ultra Gel Control Super Glue, 4-Gram Bottle, Clear, Model:1363589
RUBBER TOUGHENED: Loctite's most durable cyanoacrylate super glue formula resists water, impact, shock, vibration for materials subject to daily use and harsh conditions
NO DRIP OR RUN: No-mess formula is ideal for vertical applications and does not drip or run
VERSATILE: Works well on a variety of porous and non-porous surfaces including leather, china, wood, rubber, metal, paper, ceramic, hard plastics and more
INVISIBLE REPAIRS: Super glue gel formula sets without clamping and dries transparent for office, home, hobby, and crafting projects
Sale
Gorilla Glue Vs Super Glue Vs Krazy Glue – Which One is the Best?
Let's first talk about Gorilla glue vs. Krazy glue.
Gorilla glue offers a wide variety of glue types than the Krazy glue. On the other hand, Krazy glue focuses on different applicator for precision work.
If it's about merely repairing something, then Krazy glue is the best bet for you. For massive works like construction, the Gorilla is the perfect option for you.
Cleaning up the excess glue is more comfortable in case of the Krazy glue than the Gorilla glue.
The curing time required for each of the brands is almost similar. It takes about 24 hours for both brands. However, Gorilla glues are slightly quicker in curing than the Krazy glue.
On the other hand, super glue makes strong bonding relatively quicker than the different types of adhesives.
For single-material bonding, Superglue and Krazy glue works well. For different material bonding, the Gorilla glue is ahead of the other two.
Regarding price, both of these brands are cost-effective. Both of the brands feature easy to use the container.
Frequently Asked Question (FAQs)
Question #1. How long does it take for Gorilla glue to dry?
Answer: The fully curing time for all types of Gorilla glue is almost the same. It's for 24 hours.
However, the initial drying time depends on the particular type of glue. For example, the wood glue takes 20-30 minutes of clamp time. On the other hand, the Gorilla super glue takes 10-20 seconds to dry.
Question #2. How strong is Gorilla Glue?
Answer: The wood glue makes a strong bond for wood to wood. The other ones are also strong adhesives, particularly when you need to bond two mismatched surfaces.
However, Gorilla is not the best of the best solution for using plastic.
Question #3. Does Gorilla glue work on metal?
Answer: Yes, it does. Gorilla Weld is the one that you should go for in this case.
Question #4. Where to buy Gorilla Glue?
Answer: Gorilla is a famous brand. So, you can find it at almost any shop. If you want to buy online, sites like Amazon or Gorilla's website are the places you should browse.
Question #5. Is Gorilla glue toxic?
Answer: Yes, like several other glue Gorilla glue is also toxic. That's why it is recommended to keep the glue from children and animals. Don't let it come in touch with your eyes, and don't try to smell the glue intentionally.
Question #6. How long does super glue take to dry?
Answer: Super glue takes comparatively less time to dry. 10-20 seconds will be enough to let it dry.
Question #7. Is super glue waterproof?
Answer: In general, no. At best, superglue is water-resistant. However, you will find some specially made super glue that is waterproof.
Question #8. Is super glue conductive?
Answer: No. No cyanoacrylates (CA) glues are conductive. Super glue is a CA glue. It's a polymer-based formulation. Therefore, it's not conductive.
Question #9. Does super glue work on wood?
Answer: Super glue is not an ideal solution for using on wood. Nonetheless, it works, but you won't get the best result. Gorilla wood glue and some Krazy Maximum bond glues are suitable for working on wood.
Question #10. Does Super glue work on glass?
Answer: It's not suitable to bond something on glass. However, it's quite ok to use super glue for filling the gap between two glasses if you can exclude the air ingress.
Loctite glass glue is the best super glue to work on glass. It's particularly made to work on glass properly.
Question #11. Is Krazy glue waterproof?
Answer: In general, yes, most of the Krazy glues are waterproof. It depends on the glue type, though. Some Krazy glues are water-resistant only.
Question #12. Is Krazy glue toxic?
Answer: According to Krazy, its glues are made from ethyl cyanoacrylate, which is non-toxic. With that said, it's not a wise decision to be careless about any adhesives. Always better to remain cautious.
Question #13. How to open Krazy glue?
Answer: Krazy glue offers various versions of their adhesives based on the type of applicators, including gel, brush, pen, tube, etc.
The applying procedure is not the same for all types. Don't worry; it's quite easy to open every kind of Krazy glue.
Basically, except for the pen glue, the other variety of adhesives use the same sort of cap. You just have to open that cap to use the glue — nothing complicated here.
Question #14. How long does it take for Krazy glue to dry?
Answer: Krazy glue will dry within 10-30 seconds. However, you might need to let it dry for a whole day to cure it entirely.
Question #15. Does Krazy glue work on plastic?
Answer: The company doesn't recommend using Krazy glue on foam, paper, rearview mirrors, polyethylene, Teflon, or other fluorocarbons.
Except for those, Krazy glue works on everything, including plastic.
Final Words
Gorilla glue Vs Super glue Vs Krazy glue.
I hope this isn't an unclear topic for you anymore.
Now, you know the differences among them, their application, using instruction, some other facts like curing time, etc.
Different glue is best for various purposes. Therefore, you can't consider a particular one as a winner here.