Gone are the days when people used to use only sandpapers for the sanding task.
These days you have different types of sanders (both electrical sanders and hand sanders) to do different types of sanding, polishing, etc.
Different sanders work differently and serve different purposes.
You will be amazed at how easy it is to polish or shaping wood now.
Different Types of Sanders Explained With Pictures
Hold onto your hat as I am going to briefly discuss 21 common types of sanders, how they work, and their use.
What are we waiting for? Let's get started.
1. Orbital Sander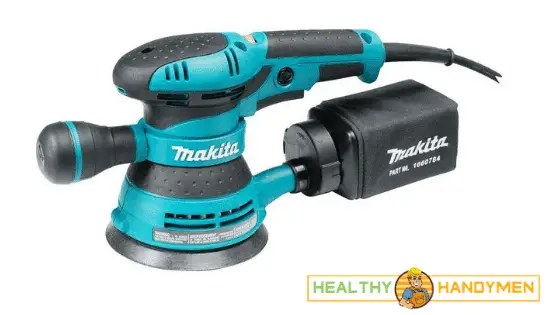 An orbital sander is a compact and lightweight tool. You can handle and maneuver it without any hassle whatsoever.
The surface of an orbital sander is square-shaped, and the most common-sized ones allow you to use a quarter of a sheet of sandpaper. That's why they are also called quarter-sheet sanders.
Even though you can easily reach tight areas with this sander, keep in mind, you won't be able to use this tool for complicated jobs. Why? Because it doesn't take off a lot of material.
One of the best uses of this tool is prepping before staining or painting.
Our recommended Best Orbital Sander on Amazon 
2. Random Orbital Sander
The core difference between this tool with an Orbital sander is the shape of the surface. Unlike the orbit sander, this tool has a round-shaped surface.
This tool operates differently, as well. A random orbital sander works like the earth orbits the sun and also spins. That means the disc circles and even turns. This movement results in no sanding marks behind.
Most of the random orbital sander offers to adjust the speed settings. So, you can remove more material than an orbital sander and can do anything with this tool.
Don't worry about size and maneuverability. It's compact and easily maneuverable. One of the downsides of this tool is – you have to use special sandpaper with this tool.
Our recommended Best Random Orbital Sander on Amazon 
3. Belt Sander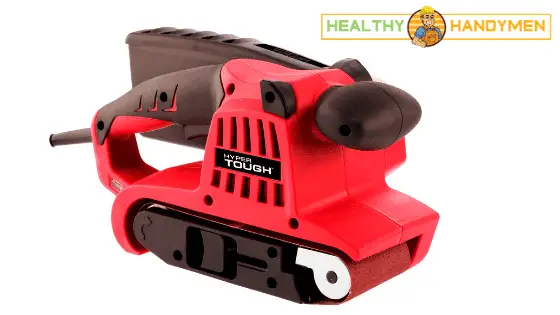 This is one of the most aggressive sanders out there and performs fast, as well.
A belt sander has two drums where the sandpaper is fitted for the operation. Usually, the rear drum is motorized, and the front drum moves freely.
If you want to remove a lot of material in a quick time, then this is one of the best options. They are easy to operate, handle, and maneuver too. You can use it for both wood and metal. Any grit sandpaper is ok with a belt sander.
Some downsides of this tool are – it's a tad loud, too powerful for some jobs, and not a good option for finishing work.
Our recommended Best Belt Sander on Amazon
4. Disc Sander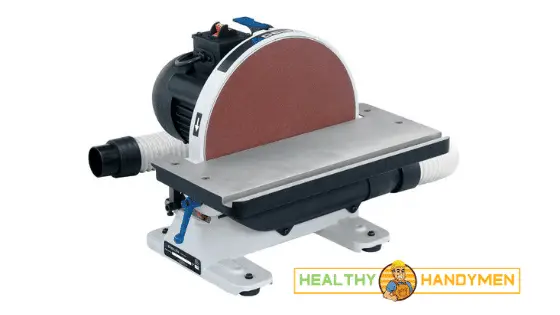 Disc sanders are an attachment for a drill machine. A disc is attached to the drill machine that spins to operate as a disc sander. That being said, table mount versions of disc sanders are also available.
A table-mounted disc sander uses a wheel instead of a disc. You can work on metal, plastic, or wood with this tool.
Using protective gear like goggles is a must to avoid any injury. Don't forget to keep your hands and fingers away from the rotating disk.
Our recommended Best Disc Sander on Amazon
5. Detail Sander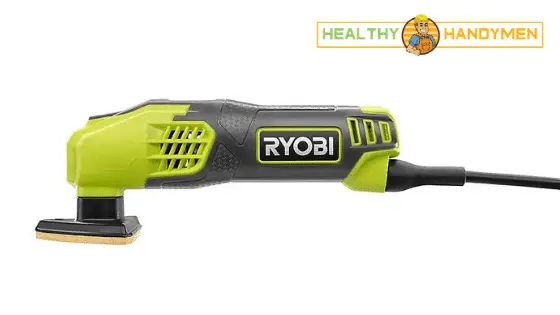 This one is also known as a corner sander, as you can use this tool for an excellent finish on edges, corners, and tight places. This powerful sander is also known as a triangle sander.
You can adjust the speed based on the application. Most of the excellent detail sanders come with an efficient dust collection feature. This is not the case for all of them, though.
They are compact (more like an iron), easy to handle and operate. A detail sander uses a particular type of sandpaper. So, if you want to deal with odd shapes, this tool is the best bet for you.
Our recommended Best Detail Sander on Amazon
6. Drywall Sander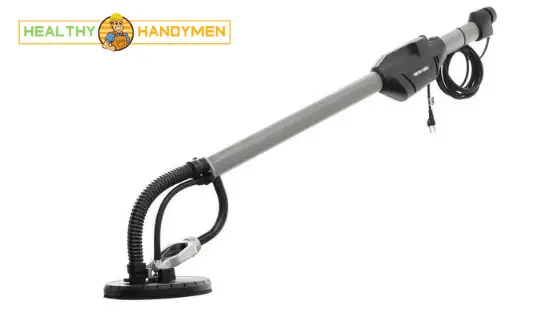 A drywall sander is a tool that you will want to use to smooth the plastering compound before painting while installing drywall. Mostly they are made to withstand tough jobs. Any good drywall sander is an industrial-grade product and has an efficient dust extraction system.
This tool has both a heavy and light version. To provide excellent and easy reach, it offers a long handle. The shape is more like a metal detector, I would say.
Most of the drywall sander comes with a sander disk included and a portable grip handle. You can adjust the speed of the operation too.
Our recommended Best Drywall Sander on Amazon
7. Manual Sanding Block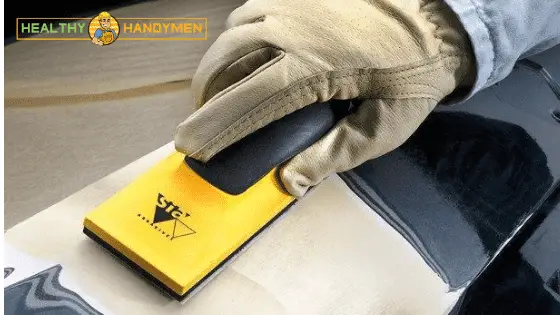 As the name suggests, these are manually operated sanding blocks. Meaning these are not like any power tools like I've been discussing so far.
These are some hand sanding blocks of different shapes with a good grip and a surface for fitting the sandpaper. Manual sanding blocks are small in size hence more comfortable to control. As they don't require any electricity, you can use them anywhere you want.
Out of many other manual sanding blocks, the foam block is one of the most commonly used ones. You can use this type of sanding block for drywall sanding too.
Our recommended Best Manual Sanding Blocks on Amazon
8. Dustless Turbo Drywall Sander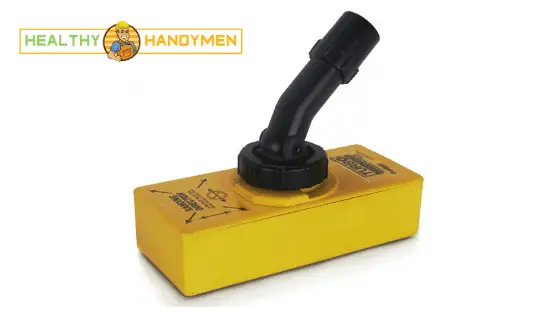 Typically this tool is lightweight and used with the help of a vacuum cleaner. The essential task of a dustless turbo drywall sander is to collect dust and other particles from drywall.
You can use both ordinary sandpapers and a particular type of sandpaper with a mesh backing. The latter tends to last longer and prevents clogging.
This tool is perfect for reaching the high ceiling and hard-to-reach areas due to its long handle and rectangular surface. Some versions of the dustless turbo drywall sander come equipped with an air turbine for quick sanding.
Our recommended Best Dustless Turbo Drywall Sanders on Amazon
9. Portable Cable Sander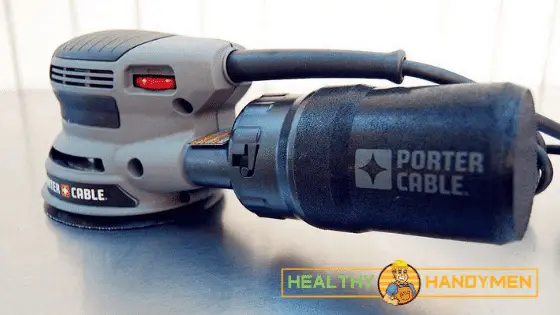 This is another aggressive tool on the list. You can reach high areas with a portable cable sander easily. Professionals commonly use this tool. However, this is a massive tool and a bit expensive as well.
Our recommended Best Portable Cable Sanders on Amazon
10. Orbital Drywall Sander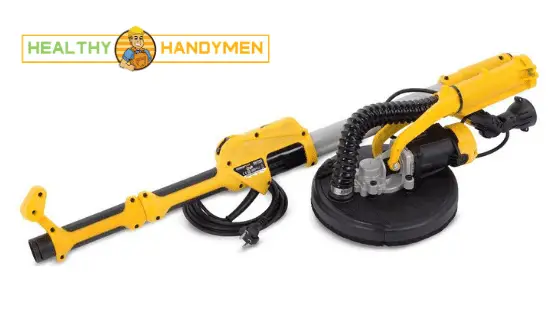 This is another type of drywall sander that you can use for sanding drywall. This one is a handheld tool, so you need to use a ladder to reach ceilings or high areas.
This is a comparatively lightweight and, of course, a compact tool. Orbital drywall sanders are perfect for different home improvement tasks, including removing rust and paint.
Our recommended Best Orbital Drywall Sanders on Amazon
11. Edging Sander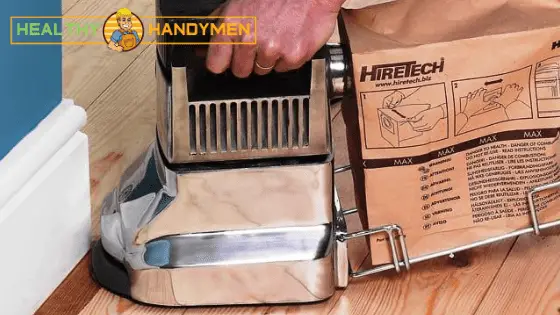 This falls under the category of a floor sander. Meaning this tool is used for prepping floors only. An edging sander is more significant than a handheld sander, but it's a heavy-duty solution for you.
Can you guess one of the top features from the name of this tool? Yes, you are right. An edging sander can reach the edges of the floor. It uses a disc for its sanding process.
Here is a list of preparation you must follow before using this tool.
You should wear protective gear like gloves, goggles, knee pads to avoid any injuries.
Remove all furniture, wall hangings, and curtains from the room.
Use a nail punch and a hammer to drive the protruding nail heads below the surface.
If you have any gap between the floorboards, better fill the gap before you use the sander.
Make sure the room is well ventilated.
Our recommended Best Edging Sanders on Amazon
No products found.
12. Drum Sander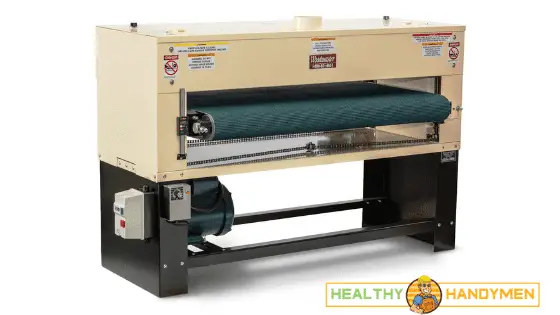 This is another floor sanding tool but is bigger and heavier than the edging sander. Not to mention, this one is a super powerful tool and capable of providing a smooth finish.
You should take the same preparation before using a drum sander. I mean the list of preparation that I mentioned earlier in case of an edging sander.
As this one is a large and powerful unit, you have to control it properly. Never let the drum rest on the floor when the sander is on. Otherwise, it would make a hollow into the floor.
You can use a drum sander in two ways. Either go along the length of a floorboard or diagonally. You are free to choose different types of sandpaper based on the condition of the floor.
Our recommended Best Drum Sanders on Amazon
13. Table Sander
A table sander is also known as a bench sander. A stationary belt sander is combined with a disc sander in most cases. When a stationary belt sander is mounted on a table or bench, we call it a table sander or bench sander.
So basically, the working procedure is almost similar to the belt sander that I discussed earlier. However, this one is not a portable handheld belt sander but a stationary belt sander. So, here, the object is moved to the sanding belt.
Typically this big sander is powerful and primarily used in big woodworking shops and factories. If you want to remove hardened glue and rust, prepare the surface for vanishing, or you want to smooth out patches, then this is the perfect tool for you.
Unless you use fine-grit paper, this sander is not a good option for smooth finishing. Nonetheless, it removes a lot of material in a quick time.
Our recommended Best Table Sanders on Amazon
14. Oscillating Spindle Sander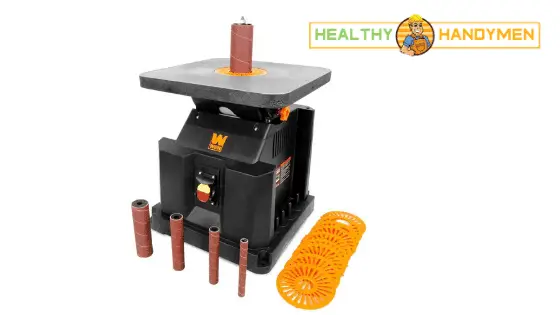 All of your woodworking works require sanding only straight lines and edges. Right or wrong? Wrong. Sometimes you need a sander for curves, angles, and some other unique shapes too.
An Oscillating spindle sander does precisely that. Not to mention, this tool is also useful for sanding straight lines.
The working procedure is pretty simple. Here you will see a sander protruding from a base. The sanding is done by an oscillating spindle that moves up and down in a circular motion. It uses a rubbing sleeve for sanding. The drum size of an oscillating spindle can vary.
Our recommended Best Oscillating Spindle Sander on Amazon
15. File Sander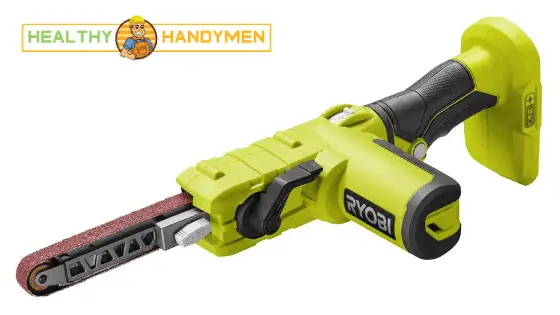 A file sander is also known as a finger sander. A file sander uses a belt for the sanding operation. It can be either an electric unit or an air-powered unit. The belt is exceedingly narrow; hence you can use it for reaching the hard-to-reach places. This can be an excellent tool for detail work.
Our recommended Best File Sander on Amazon
16. Sandpaper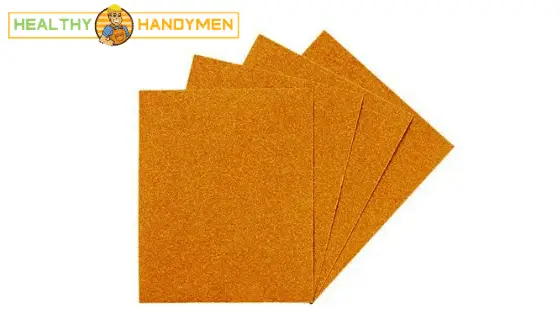 Initially, manufacturers used to use sand for making sandpaper, hence the name of the product. Things have changed. Now they mostly use silicon carbide or aluminum oxide for making sandpapers.
How is sandpaper constructed? Well, sandpapers have an abrasive material glued with a bonding agent to material like kraft paper.
Sandpapers are composed of different materials, and they are used for sanding different materials. Sandpapers that you use for sanding wood might not be the perfect choice for sanding metal.
You will see different grades of sandpaper. The various category represents the various quality of the abrasive, bonding agent, and the backing material.
One of the common characteristics of all the sandpapers is the grit system. Grits can vary between 24 to 2000+.
What the heck is this grit number do? It indicates how soft or hard that sandpaper is. The larger the grit, the smoother the sandpaper. So 24 grit is used for removing hard material, and 2000 and beyond is for the delicate tasks.
Mostly you will see four types of sandpaper grit: aluminum oxide sandpapers, ceramic sandpaper, garnet sandpaper, silicon carbide sandpaper.
Our recommended Best Sandpaper on Amazon
17. Hand Sander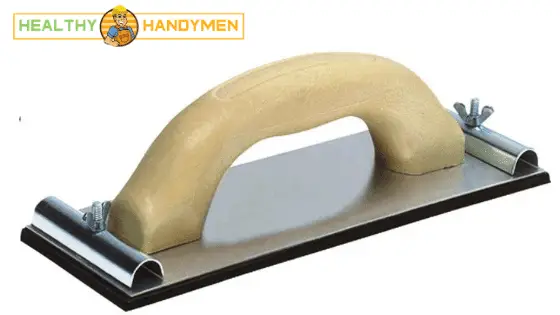 A hand sander is more or less similar to the manual sanding block that I discussed earlier.
So, nothing much to tell here. You will want to use a hand sander instead of merely using sandpaper. Because a hand sander can cover a greater area and provides even pressure on the surface you work on. Meaning it performs better and quicker than using only sandpaper.
Our recommended Best Hand Sander on Amazon
18. Strip Sander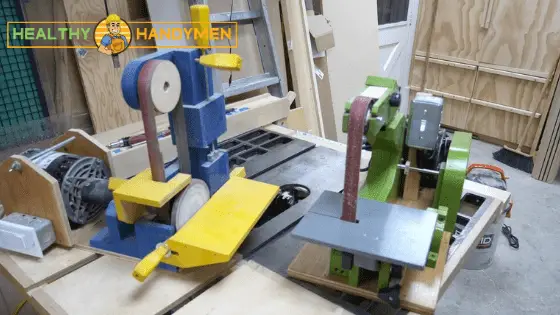 This is more like a belt sander or the table sander. The structure and working procedures are the same, also the use. So, better read the belt sander section of this article.
Our recommended Best Strip Sander on Amazon
19. Bow Sander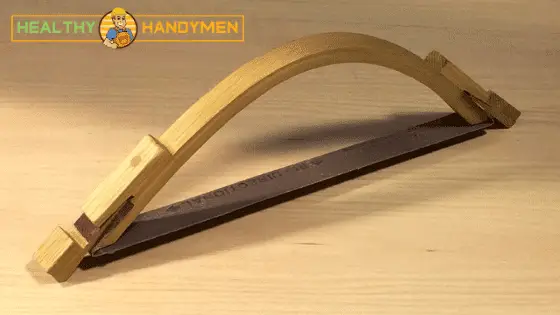 A bow sander is shaped like a bow, and of course, it is a hand tool. So this is one kind of a hand sander, I should say. Making a bow sander is a super easy task if you know woodworking a little.
You need some wood to make the bow and belt for the sanding. Make a bow using any wood like hickory. Then make the end caps. End caps protect the paper. The wood that you use to make the bow is hard, and it will eventually break through the belt if you don't use the end caps.
A bow sander is a perfect hand sander for sanding rounded surfaces as well as the molded surface.
Our recommended Best Bow Sander on Amazon
20. Palm Sander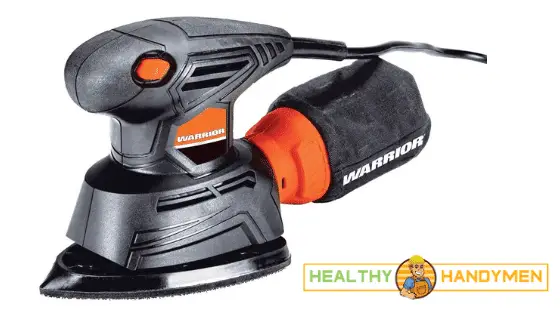 As the name suggests, a palm sander will fit into your palm very easily. Meaning it's a small type of sander but a handy one. A palm sander is a lightweight tool and not for heavy-duty tasks.
For shaping wood, you will want to use this tool. Besides this, it can be used for shaping corners, smoothing paint or varnish, etc. A palm sander typically uses 160-220 grit sandpaper.
A square pad moves in a small circular orbit and uses spring-loaded to hold the sandpaper in place properly. Don't push too hard while using a palm sander. It can damage it. A gentle push is well enough to do the trick here.
Our recommended Best Palm Sander on Amazon
21. DIY toothbrush Sander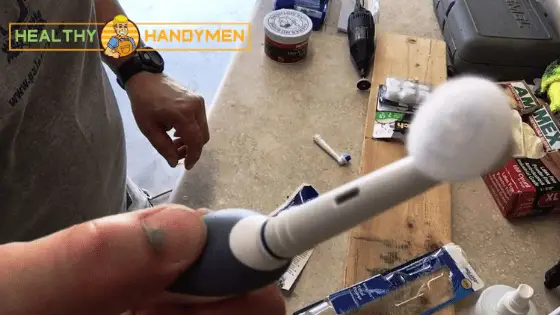 This is an exciting type of sander that you will make yourself. I'm sure an electric toothbrush is nothing new to you. Just turn that toothbrush into a sander, and you are done.
But how? You will take advantage of the rotating head.
First of all, remove all the hairs from the brush head. You can use a bandsaw or any other tools you think goes well for cutting the hair. Then use any other sander like a belt sander to smooth the head. Next, use double-sided tape to glue sandpaper to the head.
All done. Now you have a micro sander. Use it for small detailing.
Final Words
Let's recap. In this article, I've discussed different types of sanders (total 21 to be exact), how they work, and where you should use them.
Later, I tried to give a glimpse of an idea on orbital sander vs. palm sander and belt sander vs. orbital sander.
I believe you are now up-to-date on these different types of sanders. I won't be surprised if you have some more questions to ask. Just use the comment box below to get in touch. Thanks for reading.
Another must read: 4 Main Powerful Torque Wrench Types
Frequently Asked Questions