The worst enemy for cinder blocks is water. The moisture in cinder block walls weakens the structural integrity over time. There is also a chance of molds and mildew growing on them.
To extend the lifetime of your cinder block structure, you should use sealers. They protect the blocks from the water doing any real damage. Sealers also prevent mold and mildew from getting into the wall. So, it will reduce your maintenance cost.
But which sealer will for best for you? It can get very confusing as there are hundreds of brands and non-brand sealers available. So, we have made a list of the best cinder block sealers after hours of research to ease your work.
What Is Cinder Block Sealer?
Cinder blocks are made with concrete and cinder. Cinders are solidified lava. Once made into a block, they have a lot of tiny pores on them. Water molecules can easily pass through those pores. The water weakens the molecular structure of the block. They also play a role in growing molds and mildews.
A sealer is a product applied to structures to protect them from damage. Cinder block sealers also maintain the same philosophy. They repel water. As a result, water cannot pass through the pores. The sealer protects the block from water, molds, and mildews. They play a significant role in extending the lifetime of cinder blocks.
What Is The Difference Between A Cinder Block And Concrete Block?
Although the cinder block and concrete block look similar, they have some significant differences. They both are made of different materials. The cinder blocks are made of solidified lava. While for concrete blocks cement, wood or steel is used. For this reason, cinder blocks tend to be lighter than concrete blocks.
Cinder blocks are not as hard and strong as their concrete counterpart. It cannot withstand extreme pressure. So, they are used for small projects and concrete blocks are used for large and heavy construction.
Cinder blocks are very prone to damage. Their repair cost is also higher than concrete blocks. But they cost less than a standard concrete block.
Another interesting read: Best Asphalt Driveway Sealer 
Best Cinder Block Sealer Reviews
1. Best Silane/Siloxane: Siloxa-Tek Penetrating Concrete Sealer
This is a nanotech-based deep penetration and breathable sealer. It also offers many great features. For this reason, we've picked this as our top pick.
It is an industrial-grade sealer made with a water-based formula. It is excellent at reducing moisture and water intrusion while protecting the block from chloride and other salts. So once applied, you won't have to worry about water or salt damaging the structure.
This sealer does not change the appearance of the surface. It will not break down by UV light when exposed. That means you could use it inside as well as outside. This sealer is also resistant to organic growth and alkali attack. You will not have to worry about molds or mildews growing on the surface.
Applying it is relatively easy. You could use a sprayer roller or brass to apply. For this reason, you will be saving on buying applying equipment. It has a shallow level of VOC. You don't have to get worried about any health implications.
A Tip: Use sand to make the surface slip-resistant after applying. Other chemicals might ruin the sealer protection.
Pros
Low VOC
Admirable penetration and water beading effect
Moisture resistance
Excellent waterproofing
Industrial-grade sealer
Cons
Summary
This is the best cinder block sealer if you want absolute quality. It is an industrial-grade sealer and has excellent penetration and water beading effect. It may cost a little higher, but it is worth it.
2. Best Water-Based: Drylok Masonry Waterproofer
Sale
This water-based sealer can withstand tremendous hydrostatic pressure. It is suitable to apply where water remains stuck. This sealer will give you excellent protection against water anywhere.
It also blocks the radon gas from penetrating the surface, by reducing vapor transfer. The VOC requirement is met by all standards. Also, this sealer is made with low odor formula. These features make it extra safe to use. When applying, it does not require premixing or pre-wetting. That makes it very easy to apply.
This sealer can stop all kinds of water seepage. Because unlike paint it deeply penetrates into the pores and seals them off. If the water leakage is the primary concern, then it has got your back.
A Tip: Put two coats on the interval of 3-4 hours of drying
Pros
Great water resistance
Easy to apply
Seals very well
Cons
It does not stick well on efflorescence
Summary
If water is the most prominent opponent for your exterior and interior, you have found the solution. This is the best cinder block water sealer.  However, if you like siloxane repellant here is another interesting pick.
3. Best Liquid Rubber: Liquid Rubber Foundation and Basement Sealant
Liquid Rubber Concrete Foundation and Basement Sealant - Indoor & Outdoor Waterproof Coating, Easy to Apply, Black, 5 Gallon
PROTECTIVE FINISH FOR - Foundations, ICF's, Basements, Shower Liners, Deck and Fence Posts, Planter Boxes, Metal, Wood, Concrete and more
We chose this product because it is an excellent eco-friendly alternative for sealers.
This water-based liquid rubber sealer turns into a tremendous waterproof membrane. It creates a watertight seal to keep moisture out. You could use it anywhere, especially in the basement. Once applied, you will have excellent protection from water and moisture.
The rubber membrane is highly flexible. If leaking cinder block basement wall is the problem, it got you covered. There is no solvent or VOC mixed into this sealer. It doesn't damage plants or animals. You won't need to worry about your pets or the environment you live in.
Being non-flammable takes up the ease of use a few degrees. It is very straightforward to apply. Just use a brush, roller, or spray. It is so easy to apply that anyone can do it.
A Tip: It cannot handle long-term UV exposures. It is safe for plants and fish.
Pros
Eco-friendly
No mixing required
Decent coverage
Cons
A bit too thick
Not UV ray resistant
Summary
If you are looking for the best basement cinder block sealer, then look no further. In case you need a smaller amount, check out this one-gallon sealer.
4. SX5000 WB DOT Approved Water Based Silane Siloxane Penetrating Concrete Sealer
This is a tremendous water-resistant sealer that offers protection for salts too. When applying, there is no need to dilute it. For this reason, it is effortless to apply. Other than the cinder blocks, it can be used on masonry, concrete, brick and etc. So, in case, there are any leftovers, you could use it on other projects.
If appropriately applied, this sealer can last up to 7 to 10 years. Another great thing about this is that it won't make the surface slippery when wet. The looks and texture of the surface won't change. So, you won't need to worry about matching and designing the area once the sealer is applied.
Just like every other thing, it has drawbacks too. It is not UV ray resistant. If you apply it where there is the constant exposure of UV rays, it might not last long.
5. Lithi-Tek 9500 Penetrating Concrete Sealer
This sealer is not only waterproof but also acts as a densifier. It was designed to densify, waterproof, and strengthen the blocks. Once applied, it will not only make the blocks waterproof but also stable and more robust.
It prevents efflorescence, reduces hydrostatic pressure and water vapor transmission. As a result, the block lasts longer. It is one of the first ultra concentrate sealers. 1 gallon of the sealer should be mixed with 4 gallons of water. The 5-gallon mixture could cover up to 1000 square feet per coating.
This sealer is super UV stable. Which means that it is resistant to radiation of ultraviolet rays. The coat will not fade over time due to the light exposures.
The downside is that it only offers limited use. You cannot use it on break and concrete blocks and colored concrete. This cannot be used as a substitution for or vapor barrier or Foundation membrane.
What To Consider Before Buying Cinder Block Sealer
There are a few things to consider when buying the best cinder block sealer. Here are some must-have features to look for in the sealers.
Types
There are four types of sealers. They are acrylic, epoxies, polyurethanes, and penetrating sealer. The acrylic sealers are the best quick and inexpensive solution. Epoxy is a popular but costly choice, and polyurethanes are best for indoor applications.
Amount
Sealers come in amounts from a few ounces to 5 gallons. Most of the time, they are packed in a way, buying more will cost you less per unit. You will need a gallon to cover 100 to 400 sq. feet of area.
You should get an accurate checking of the area. Even getting a few ounces more than necessary at a lower cost per unit could be a better idea.
Compatibility
Sealers are not a one-stop solution to all the problems. They are made in specific ways to cope with particular situations. The sealers should be compatible with the applying surface.
For example, polyurethane works best in an indoor environment. Applying it to outside will get you the minimum result but not the best. To bring out the best performance, you should look for sealers that are made for your specific situation.
Exposure
The amount of exposure affects the lifetime of sealer coating significantly. Applying the wrong sealer on the wrong spot will only increase your cost. Because they would not last long. On the other hand, if you apply sealer taking exposure into account, you will get a much better result.
For example, applying an indoor sealer on the outside will yield a bad result. Because they don't have much tolerance for harsh weather.
VOC
The term VOC means Volatile Organic Compounds. VOC contains many types of chemicals that affect health. It can cause many kinds of health problems, such as irritation, headache, fatigue, nausea and etc.
So, before buying, check if the seal contains VOC and meets the requirements. You will need to follow proper guidelines when applying. Or, you could call professionals to handle the rest.
Breathability
Most penetrative sealers are breathable. The breathability of sealers means if they can provide a way for trapped moisture to get out. They have to be water-repellent too.
If the sealer cannot breathe out the moistures, the moistures will remain trapped. Over time, it will weaken the structure of the block, and the whole establishment can get in harm's way.
Life expectancy
The life expectancy of cinder blocks depends on their types. How long they would last depends on exposure and their build material. Different types last for a different amount of time. For example, epoxy and polyurethane last for 5 to 10 years before re-coating. Acrylic does not last as long as them. Acrylic usually lasts for 1-5 years before you will need to do a re-coat.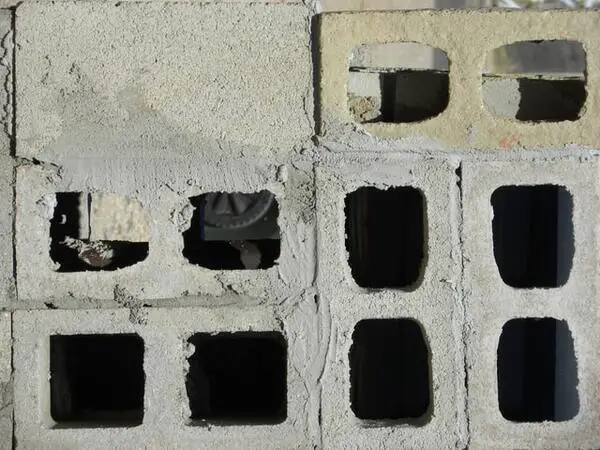 How To Sand Cinder Block Walls And Apply The Sealer?
The most important thing to do before sealing the block is to sand it. Sanding evens out the whole surface. It closes up any empty spaces and gives a plain surface to work on. Sealers last for a long time on sanded blocks. Here is how to sand cinder blocks.
Wash the entire wall with soap water. Then rinse the soap residue with water and sponge. Let it dry overnight.
Get a diamond sanding pad or similar ones. Because these blocks have a hard surface, regular sanding pad won't give the expected result. Only diamond pad and their similar types can cut through the top layer. You could also use a wire brush.
Attach the pad to the grinder and pressure against the block. The keep the grinder moving. After some times, the surface will get ready for sealing.
Once you are finish grinding, wipe the concrete walls to get rid of sand dust. Your wall would be ready for sealing as soon as you wipe all the sand dust.
Applying sealer is a reasonably easy task. Follow these steps when sealing the cinderblock.
Make sure the blocks are correctly sanded.
The blocks should be clean and dry before applying the sealers.
If there are any holes, patch them up.
Apply sealers on the wall surface and let it dry. Then apply the second coat.
Another must-read: Best Redwood Sealer
Frequently Asked Questions
Do cinder blocks need to be sealed?
Are cinder blocks waterproof?
No, cinder blocks are not waterproof.
Are concrete and cinder block sealers the same?
What happens if the exterior is not sealed?
It gets waken over time due to water, molds, and mildews.
How does the surface look after sealing?
How long do sealers last?
Usually, they last from 5 to 10 years.
Conclusion
Nobody likes the things they own getting ruined. Especially if they are heavy structures made with cinder blocks. These blocks are vulnerable to weather and need great care.
For this reason, it is essential to get the best sealer to sustain the integrity of your structure. Hopefully, from this detailed review, you would be able to pick the best cinder block sealer for you. We are very confident that these cinder block sealers will serve you great if properly applied.